This Twitter thread of animals taking selfies will brighten everyone's day
It seems everybody, even animals, wants to get in on the Instagram selfie trend!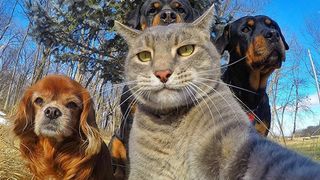 (Image credit: Twitter: @JoaquimCampa)
The need to create the ultimate 'selfie' has had people doing all kinds of things to get that perfect shot, but now it seems that animals have been capturing amazing pictures of themselves without even trying.
To prove this, Twitter user Joaquim Campa has trawled through archives of animal photos to find those apparently taken by the animals themselves, not to mention also pulling all the faces and poses you would typically see on an Instagram feed. The Twitter thread has garnered an awful lot of fans, as who can say no to seeing loads of cute and hilarious shots of animals in selfie mode?
This isn't the first time Joaquin has made the news with his funny animal photo collections. At the start of the year his Twitter thread of animals interrupting wildlife photographers also amassed a lot of interest, praise and laughter, and it was while he was putting that thread together that he noticed all the animal selfies out there.
As Joaquim told Newsweek: "When I was doing that thread I found some pictures of 'selfies', I laughed a lot and I thought that one day I would do a new thread about it and then I did some search in Google, Reddit and Pinterest to collect photos and complete this thread."
"Honestly my thing is history, old footage, books, things about my city Barcelona," he added. "People really love funny threads of animals, me too, but I even prefer more threads like ones on beautiful libraries of the world."
Despite his preference for architecture, he clearly has an eye for finding adorable animal themes - his animal selfie collection took Twitter by storm, with thousands of people reposting the adorable shots, as well as adding captions to them, adding their own pet selfies and even reposting photoshopped versions of them.
omg can my cat join this thread? 😻 https://t.co/1q8OZJ8b0Q pic.twitter.com/ZY71DfIvj4April 27, 2021
Interspersed with the pets were a few more exotic animals including lion cubs, elephants, seals, monkeys and sloths, all of whom seem just as keen on self-portraiture as any of us!
Get the best advice, tips and top tech for your beloved Pets
Jamie Middleton is a freelance editor and writer who has been editing and creating content for magazines and websites for over 20 years. As well as writing about the pets he loves, he has helped create websites about tech and innovation like TechRadar.com, Innovate UK and TechSPARK, written programmes for music festivals, books on inventions and architecture, TV listings magazines, and edited publications about cars such as Lexus, Toyota and Jaguar. In his spare time he writes fiction books and poetry - or at least he does when he is permitted to by his cat Pirate, who enjoys the warmth of laptops too much to allow being creative to get in the way.