Wally the emotional support alligator proves that help can come in many shapes and sizes
60-pound emotional support alligator hands out hugs and kisses to cheer up his owner when he's depressed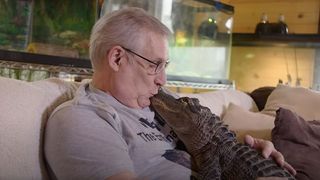 (Image credit: Barcroft Media)
It isn't usually a five-foot emotional support alligator that springs to mind when you think of supportive animals – but Joie Henney from Pennsylvania would disagree. As Joie explains, "He's far from a typical alligator, he loves cuddling and he loves giving kisses."
That's not to say Wally doesn't turn heads when he's taken for walks by Joie to parks, malls and even restaurants, but 65-year-old Joie can think of no better companion after the 60-pound pet helped him through his dark days of depression. Refusing medication, and with his doctor's approval, Joie turned to his alligator for comfort, and Wally quickly gained a special place in his owner's heart through their friendly interactions.
Joie's house is a proper reptile zoo, featuring a variety of reptiles, ranging from bearded dragons to ball pythons, but Wally, who shares an indoor plastic pond with a smaller rescue alligator named Scrappy, is Joie's favorite. Describing him as a big teddy bear, he points out that Wally, who is a rescue animal himself, has never tried to bite anyone and is afraid of cats. He even tries to befriend the goldfish and bullfrogs he's meant to eat!
Wally is now a fully licensed emotional support animal, and his loving ways have earned him many fans. He has a team of volunteers who help out Joie on Wally's regular visits to schools, birthday parties, minor-league baseball games and other events.
Wally also has his own Instagram page and even his own merchandise, such as mugs and T-shirts, to celebrate the impact he's had on Joie's life.
It's a good job Wally is so placid, as this four-year old alligator is likely to reach 16 feet long when he is fully grown. Still, all the more to love!
Get the best advice, tips and top tech for your beloved Pets
Jamie Middleton is a freelance editor and writer who has been editing and creating content for magazines and websites for over 20 years. As well as writing about the pets he loves, he has helped create websites about tech and innovation like TechRadar.com, Innovate UK and TechSPARK, written programmes for music festivals, books on inventions and architecture, TV listings magazines, and edited publications about cars such as Lexus, Toyota and Jaguar. In his spare time he writes fiction books and poetry - or at least he does when he is permitted to by his cat Pirate, who enjoys the warmth of laptops too much to allow being creative to get in the way.