Watch: German Shepherd chilling in the pool with his noodle is the sweetest thing you'll see today
The coolest pooch in the pool has become a massive TikTok hit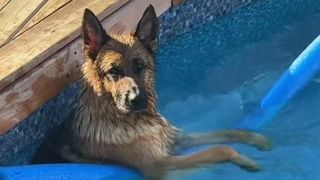 (Image credit: TikTok / /@mohamedboutaleb35)
There's nothing dogs love more than enjoying their own water supply in summer, as this adorable German Shepherd chilling in the pool with his noodle will testify to.
Loved over 1.9 million times over on social media platform TikTok, this simple video will make you long for days spent by the pool during your next vacation.
What's not to love? That's definitely one of the most laid-back dogs we've ever seen, kicking back with his noodle and just watching the world go by, to the strains of Bobby McFerrin's classic 'Don't Worry, Be Happy'.
His name's Shiva and his video's already amassed over 21 million views on TikTok, and there's plenty more on his human's TikTok account to give you even more summer feels, including this adorable video of him paddling around with his inflatable unicorn.
The lesson here's clear: if you want your mutt to become a viral Internet star, all you need to do is invest in the best swimming pool for dogs that you can afford, and then wait with your phone at the ready for him to do something unbelievably cute.
It's 15 seconds of sheer summer bliss: he's just having the best time being on his noodle and feeling the music!
Get the best advice, tips and top tech for your beloved Pets
Jim is a writer, performer and cat-wrangler based in Bath, who last year adopted a pair of sibling rescue cats who turned out to be effectively feral, and has spent a lot of time since then trying to get them accustomed to people (some success) and each other (ongoing project).