Watch: The terrifying moment swimming dog disturbs herd of manatees
A golden retriever got more than she bargained for when she went for a swim off Bear Point, Alabama.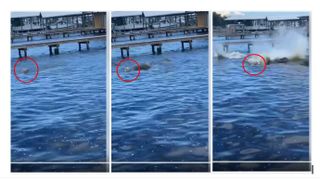 (Image credit: Facebook)
The story broke on Orange Beach, Ala on Tuesday that a dog swimming in the bay disturbed some manatees and was almost washed away by the wave they created. The dog, a retriever-type called Flip, quickly returned to shore when her owner called, "a little shaken up but otherwise ok."
Sage Taylor, Flip's owner who took the video, says that her dog is doing fine after the encounter with the manatees. "I took the video, Flip is our family dog…. she is okay everyone!" she says. "There were about 8-10 manatees hanging out for about 2 hours"
While the incident only lasts a few seconds, the shocking size difference between the dog and the manatee is quite stark. Thankfully, Flip, an experienced swimmer, came back to shore with no further trouble
A facebook user, Brandi-Lynn Parton suggests that Flip scared the manatees, which made them react so explosively. "Flip accidentally scared the manatees which … caused a reaction… it scared Flip as well," she theorizes.
In the clip (above), you can see that the manatees got close to Flip and splashed the water, possibly because the dog startled them. Adult manatees are usually 9-10 feet long and weigh a whopping 1000 lbs, which is a lot heavier than even the largest dog.
A comment from the Mobile Manatees Sighting Network on the Facebook video said that Flip likely surprised the manatees while they were sleeping. "It is not uncommon for them to tail flip and travel when startled, which in turn startles their neighbor," they said. "It can look very dramatic. We are glad Flip was unscathed and remind everyone to take care around all wildlife. Manatees are not aggressive but they are large and powerful."
Get the best advice, tips and top tech for your beloved Pets
Lou is an experienced writer and keen dog lover who works at PetRadar's sister site, LiveScience. When Lou isn't covering health and fitness, she's busy spending time with her family dogs or growing all kinds of veggies and flowers on her allotment.