32 best dog breeds if you're short on space
No room to swing a cat (as if you would!)? Then check out dogs that don't need much room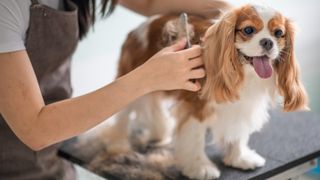 (Image credit: Getty Images)
If you're interested in discovering the 32 best dog breeds if you're short on space, then it's highly likely that you don't live in a mansion. But who does? Many of us are living in homes that don't have a great deal of space. Even when we do live in houses that have large rooms, we tend to find we're more than capable of filling them so it makes perfect sense to want to find a pet that won't need masses of space to roam.
To assist, we've compiled a list of dogs that are suitable for a variety of reasons. In the majority of cases, the pets are small but we've also looked at other important things such as whether a dog is a natural barker (not always great in small spaces) and whether or not their fur is going to be shed all over the little space you have. If you have allergies, this could actually be a nightmare – there would be little chance of escape. So let's take a look at the 32 best dog breeds if you're short on space.
32 best dog breeds if you're short on space
1. Yorkshire Terrier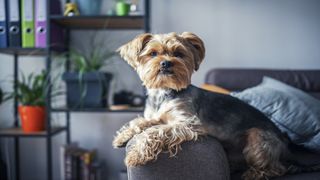 These tiny dogs take up very little room given they are just seven inches (18 centimetres) tall and weigh between three and seven pounds (1.36 to 3kg). In fact, they are so small, some airlines will even allow you to take them on board a plane and because they only need 15 minutes of exercise a day, they're not going to need masses of space in which to dart around.
2. Shiba Inu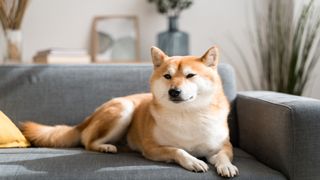 One of six national breeds in Japan, Shiba Inus are cat-like in the way they move and in their stubborn, free-thinking approach to life. While they love to explore and are prone to trying to escape to go on a lonesome adventure, so long as you're taking them for walks and burning off their energy for about an hour a day, they'll happily potter around an indoor space.
3. Poodle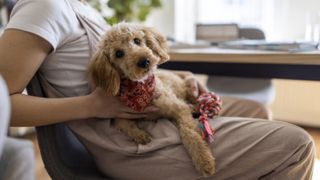 Not only are poodles very cute, whether toy or miniature, this super-intelligent breed is perfect for anyone living in an apartment or small house. The toy poodles weigh less than 10 pounds (4.5kg) and the miniature breed weighs less than 17 pounds (8kg). So while they do love attention and require stimulation and exercise, they're tiny enough to cope if you're short on space. They're also low-shedding.
4. Pug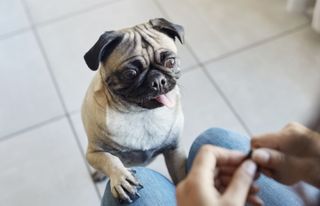 It's hard not to fall in love with pugs and, because they don't need a lot of exercise, you won't find them needing large rooms in which to roam. They're also very laid back and they will be happy enough simply curling up on the sofa or, even better, camping down on your lap while you chill out in front of the TV or play around on your phone.
5. Greyhound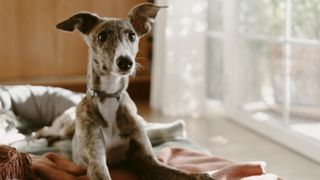 Surely some mistake? Greyhounds in a small space? Actually, yes. Although they are known for their love of racing and can run at some speed (they're the fastest dog in the world), they would much prefer to be in your home sitting on the sofa with you. Just take them out for an hour or so each day.
6. Brussels Griffon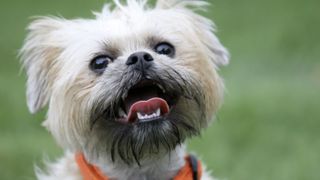 As one of the most unusual dog breeds, you're bound to double-take when you see a Brussels Griffon. Tiny but mighty and full of character, they need a lot of exercise and mental stimulation but they'll cope with small spaces. They love being around people pretty much every waking hour so they will want to follow you around.
7. Havanese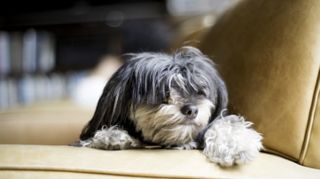 The Havenese breed is the national dog of Cuba which is perhaps why it's a hit with Hollywood actress Ana de Armas. But while she is unlikely to be short on space, you don't actually need to live in a mansion to take one in as a pet. Leave them to their own devices and these small dogs will become an adorable couch potato that doesn't need much exercise.
8. Pomeranian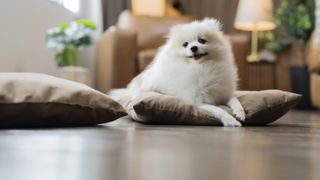 Pomeranians will be perfectly happy if you have a little bit of outdoor space for some off-lead fun. Indeed, some play inside will more than suffice on some days. This is a breed known for being adaptable and able to live in just about any home. Just be aware that Pomeranians are naturally barky.
9. Toy-Fox Terrier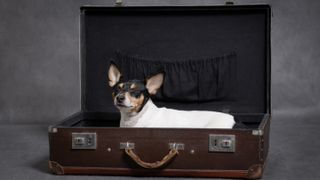 Known for being more at home in the home, the Toy Fox Terrier doesn't require huge amounts of space in which to exercise so you're going to find they fit well in apartments. As such they don't require you to have a backyard. Simply take them out on your adventures to get some fresh air.
10. Boston Terrier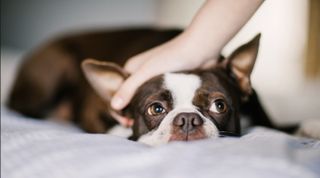 Good behavior is crucial if you haven't got a lot of space in your home. After all, a destructive dog can tear through a small room in no time. So let's hail the Boston Terrier. Friendly, cuddly and pretty quiet, they'll be able to live happily in a small-ish space. We say small-ish because they will likely need a teeny weeny bit more room than some other breeds here but a lot depends on how energetic an individual proves to be
11. Silky Terrier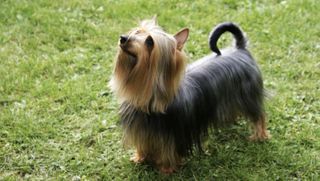 While the Silky Terrier is an active dog and so requires lots and lots of exercise, you can satisfy the breed's needs in a small, safe, enclosed area in a short amount of time. Work on the barking otherwise that could lead to frustration or, at the very least, the purchase of some earplugs. Otherwise enjoy this toy dog with bags of personality.
12. Japanese Chin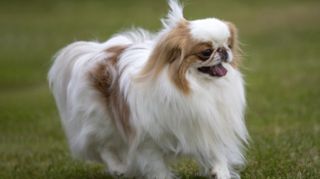 Security is important if you have a Japanese Chin. Give them an opportunity to slip through a small space and they'll take it so making sure a backyard is well-fenced and secure is so important. Indoors, however, you're not going to have the same issues and the dog is small enough to cope when toddling around a small home.
13. Löwchen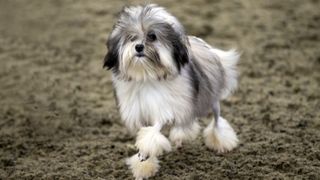 Short on space but not short on cash? Then the Löwchen breed may be for you. The breed is one of the 32 most expensive dog breeds because of its rarity so you're looking at more than $5,000 for a purebred puppy. But consider the translation from German: "little lion dog". These dogs are small and cute and, no, they're not actually lion-like; they're gentle. They don't need to prowl far!
14. Cavalier King Charles Spaniel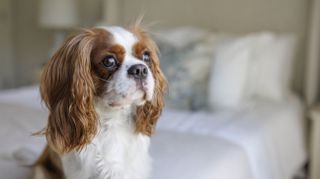 The small size of the Cavalier King Charles Spaniel means the breed is classed as a toy dog. The males will grow to an average weight of 18 pounds (8.2kg) and the females around 13 pounds (5.9kg). They'll follow you around but you don't need an abundance of space. They're easy to train and love being in any size home.
15. Rhodesian Ridgeback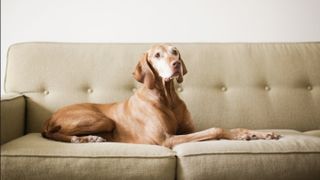 Sure, the Rhodesian Ridgeback is a larger dog than most on this list but the breed is quiet and rarely barks. It also spends lots of time hanging around on sofas or on the floor, chilling out until you decide it's time to take them for a walk. As one of the fastest dog breeds, this is when they can really let rip.
16. Chihuahua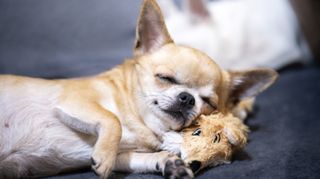 Not only is the chihuahua crowned most popular dog breed on Instagram, it's also the shortest dog breed in the world as confirmed by Guinness World Records. Stands to reason, then, that these dogs are not exactly going to eat away at the space in your home. They can even find happiness tucked in a corner!
17. Bichon Frise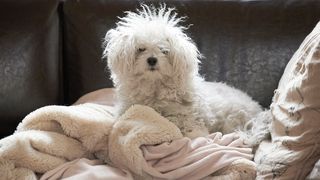 They look adorable with their curly hair but while that makes a Bischon Frise's head look a little large, these are nevertheless tiny dogs that don't shed much which makes having them around small spaces particularly joyful. They don't bark much either which is great for your ears if you're cooped up with a dog in a studio apartment.
18. Beagle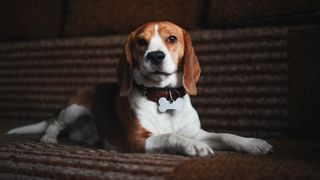 As well as being low shedders and wonderful around children, Beagles feel at home in smaller spaces. As with all dogs, you just need to ensure they get sufficient exercise outside – and with Beagles that can mean getting rather active to burn off their huge amounts of energy. Do so and they'll fit in anywhere.
19. Miniature dachshund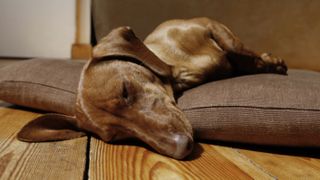 Miniature dachshunds don't mind living in homes that are short on space. While you will need to keep their mind active because these dogs get bored if they are not mentally stimulated, the minis don't need a lot of exercise. Instead, they'll be more than content following you around and staying close.
20. Pekingese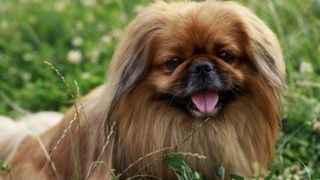 They're not overly clingy but Pekingese form very tight bonds with their humans. It does mean that they're going to generally stick around in whichever room you tend to be in and they only need minimal living space as a result. Their small size makes them portable and they'll tend to spend great amounts of time on your lap.
21. Chinese Crested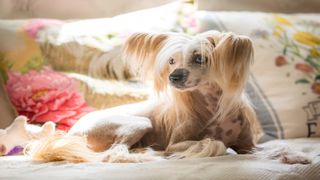 One particular member of this breed has been named among the ugliest dogs in the world and it's true to say these canines have a unique appearance. But they're small – just 13 inches (33cm) high and weighing 10 to 13 pounds (4.5 to 5.9kg) – which means your small space will feel much larger to them. You'll rub along just fine.
22. Affenpinscher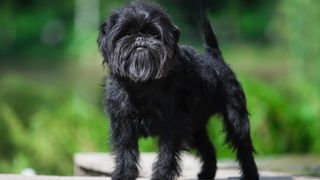 Although the Affenpinscher will need a bit of training in order to get them used to your home, they shed little and they're quiet and those are two key positive attributes to have if you're short on space. They are also one of a number of hypoallergenic dog breeds so good if you suffer from allergies.
23. Maltese
Just look at their size! You know instantly that the Maltese breed is going to fine in smaller homes. Once a lapdog for the ancient Greeks, Romans and Egyptians, they originated in Malta, love to be scooped up in your arms and weigh no more than four to eight pounds on average. They shed little too.
24. Manchester Terrier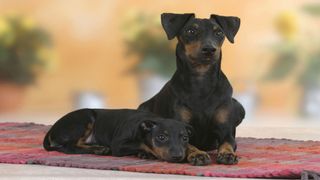 With few behavioral problems to report and training being relatively straightforward, you'll find Manchester Terriers will be totally fine in your home. They settle down quickly so long as you've taken them out for their exercise and, because they're naturally clean, you're not going to worry about having to keep on top of added mess.
25. Coton de Tulear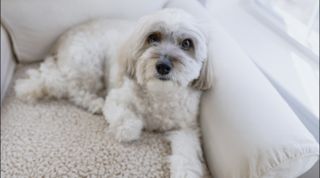 If you have a small amount of room but somewhere secure outside for this breed to run and play outside, then a Coton de Tulear will feel totally at home. That's pretty much their only housing requirement along with somewhere sufficient to groom and bath them which makes for a very adaptable dog.
26. Peekapoo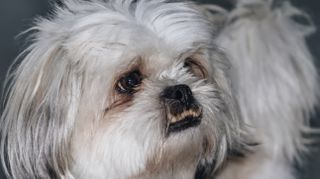 This cross between a Poodle and Pekingese doesn't need much room to roam. Being on the small-size, they're a loyal and devoted dog who would rather be snuggled up with people than spending time nosying around your home. The big consideration is whether you have the time to devote to them. You'll need to learn how to reduce separation anxiety in dogs if you bring one into your home.
27. Lhasa Apso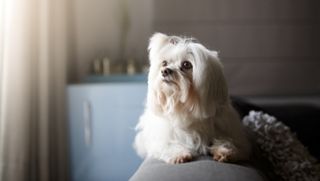 Fancy a hipster dog? You know, one with a beard? Well, that's what we have here. Despite the fur, however, the Lhasa Apso is actually a low shedder so you don't need to worry that masses of hair will cover your short-spaced home. Since this breed is a low-energy dog, you don't need heaps of room either although you will need to be aware that the Lhasa Apso will try to rule whatever roost you have.
28. Bolognese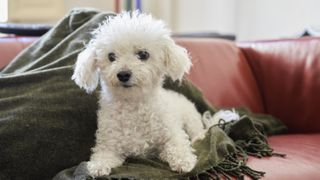 No spaghetti to be had here. Instead, you've got a little ball of fluff hailing from the Italian city of Bologna. Low shedders and a hypoallergenic breed, they're actually part of the Bichon family. And they're small. You're looking at nine to 12 inches (23 to 30cm) in height and a weight of between eight and 14 pounds (four and six kilograms).
29. French Bulldog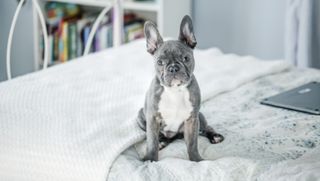 In a sense, the French Bulldog is a controversial inclusion. The breed's flat face can make breathing during exercise rather difficult and its known for putting on weight and overheating. Despite that, there's no getting around the fact that their compactness makes them ideal for small spaces.
30. Papillon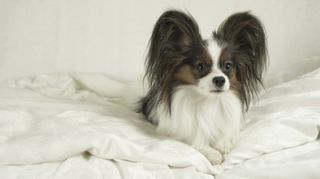 One of the important things to bear in mind if you're short on space is whether or not your dog is going to be easy to train. In the case of the Papillon, there's no such worry. They're among the most intelligent breeds in the world and among the best dog breeds for first-time owners too – people who generally live in smaller homes.
31. Yorkipoo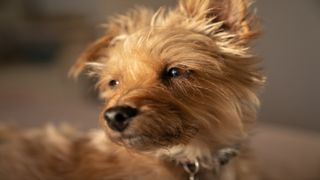 Feisty and affectionate, the Yorkipoo is a cross between a poodle and Yorkshire terrier. The breed has hypoallergenic hair, learns quickly and requires very little maintenance. They do well in small spaces and they're popular among people living in apartments. But don't be entirely fooled: they have a BIG personality too.
32. Shih Tzu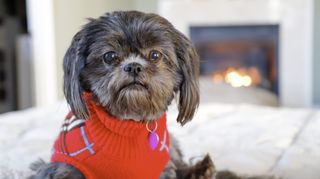 This breed ticks a lot of the essential boxes. Relatively quiet? Tick. Small-sized? Tick. Affectionate? Tick. And it's attributes such as these which make them ideal if you're short on space. They're just difficult to housebreak to be patient and consistent. They need some space for grooming too – daily brushing is needed.
Get the best advice, tips and top tech for your beloved Pets
David Crookes has been a journalist for more than 20 years and he has written for a host of magazines, newspapers, websites and books including World of Animals, BBC Earth, Dogs and Canines, Gadget and The Independent. Born in England, he lives in a household with two cats but he's also keenly interested in the differences between the huge number of dog breeds — in fact, you can read many of his breed guides here on PetsRadar. With a lifelong passion for technology, too, he's always on the lookout for useful devices that will allow people to spend more time with their pets.