Purina vs Royal Canin cat food: Which one should you pick?
By Steve Wright
The royal rumble: Purina vs Royal Canin cat food. They're both top cat food brands, but which one is the best?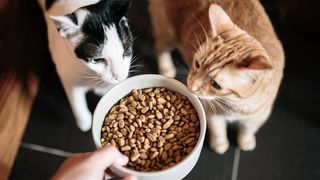 (Image credit: Getty Images)
Purina vs Royal Canin cat food – now there's a conundrum. Both are very popular when it comes to choosing the best cat food and for good reason. They both have strong reputations for producing high-quality kibble, available in a variety of flavors and at a varying range of prices.
Although we would happily give our seal of approval to any products made by either Purina or Royal Canin, ultimately there will always be influencing factors when choosing which one to go for – which is where this guide will hopefully come in handy. Throughout the course of this article, we will compare and contrast the two different brands, looking at their strengths and weaknesses, and what you may reasonably expect.
About Purina
As its reputation suggests, Purina has a lot of things going for it. Having the enviable reputation of both being of high quality and relatively affordable, its different products are tailored to particular ages – or even dietary plans - ensuring that whatever you have in mind for your cat, Purina will likely have a food to suit.
It's one of the oldest pet food companies in the world, having been founded in 1894, expanding and growing in popularity over the years. Its 2001 merger with Swiss food company Nestlé allowed it to expand even further, and to this day it remains at the forefront of the cat food market.
What's good about Purina?
First off, there are a number of different imprints within the Purina brand, offering customers a variety of choice. For instance, Purina ONE is its highest quality food, Friskies is aimed at lower budgets, and Beyond focuses on formulas with natural ingredients.
For the most part, Purina reliably uses real meats as its primary ingredient. This is the case in its Purina ONE Tender Selects Adult Dry Cat Food (chicken), Purina Cat Chow Gentle Dry Cat Food (chicken), Purina ONE Indoor Advantages Dry Cat Food (turkey) and Purina Beyond Simply Adult Dry Cat Food (white chicken and whole oatmeal). This helps support a healthy diet, making these foods a reliable source of protein and fiber, with very little in the way of artificial preservatives. Furthermore, Purina is transparent regarding the sourcing of its ingredients, so you're left in no doubt as to what's in your cat's food, and what's gone into creating it.
What's not so good about Purina?
Although Purina's products tend to have a good reputation, the level of quality involved hasn't always been consistent across the range of products it plays host to.
As an example, although its Friskies line has gained renown due to its affordability, the higher-end lines inevitably aren't as accessible. While many of Purina's other products boast genuine meat as their primary ingredient, Friskies instead lists by-product meal as its focal point, accompanied by artificial flavors and added salt. It is formulated to be 100% balanced, which adds some confidence when buying, but it's still not ideal.
Another thing to bear in mind is that Purina can't compete with Royal Canin when it comes to choice; Royal Canin has far more products, and a lot more flavors.
Another troubling fact is the food recalls that Purina has been host to. It's a big company, so these are to be expected, but it might be something you'll want to read up on in greater detail.
Purina: The verdict
To summarize, Purina has a lot of positive things to recommend about it. While it doesn't have as many products as Royal Canin, there is still plenty to choose from, and you can be sure that its food is of a high quality. Moreover, Purina has always been transparent when it comes to the source of its ingredients, so you will always know where your money is going.
Purina ONE Tender Selects Adult Dry Cat Food
A high-protein product aimed at supporting the growth and health of adult cats, this Purina line of food is great for everyday use, with few real drawbacks to take note of.View Deal
Purina Cat Chow Gentle Dry Food
Want to give your kitten a healthy start in life? This could be the way to go. The pieces included here are nice and small, so your cat shouldn't have trouble consuming them.View Deal
Royal Canin, founded by vets
Vets always seem to speak highly of Royal Canin, and it's no surprise, considering the company was founded by one. In the 1960s, French vet Jean Cathary started experimenting with his own cat food formulas in response to a number of skin complaints suffered by his customers' cats. Such was his success that he created his own cat food line, which continues to this day. Here, we talk through the essential information you need to know about Royal Canin cat food products…
What's good about Royal Canin?
When looking at Royal Canin's most popular and widely reviewed products, the verdicts tend to be pretty positive. Royal Canin Feline Health Nutrition Dry Food comes recommended very highly, both in its original form, and in its appetite control for spayed cats form, delivering a good mix of proteins, minerals, and vitamins. The Royal Canin Adult Instinctive also comes across well thanks to its high protein levels and popularity with cats.
Part of what makes Royal Canin so appealing is that its products are tailored to specific conditions. One such example is the Gastrointestinal Fiber Response Dry Cat Food, its proven ability to help cats with constipation brings it many recommendations from satisfied owners.
This all stands as a testament to why Royal Canin is so easy to recommend. While brands like Purina undoubtedly offer reliable all-round diets, Royal Canin presents an almost unrivalled capacity to concern itself with cats who have specific ailments, and for that it should be applauded.
Minus marks include...
One possible negative point against Royal Canin is the high level of carbohydrates present in its products. In some cases this van potentially lead to higher rates of obesity in cats.
Products where this could be the case include the Royal Canin Veterinary Diet Urinary SO Moderate Calorie Dry Cat Food and Royal Canin Gastrointestinal Fiber Response Dry Cat Food (this also has high plant-based content, which isn't the best source of vitamins). While they're great for cats with particular conditions, they may be less ideal as a day-to-day food source.
Moreover, the high price of Royal Canin can't be ignored, as Royal Canin's products are significantly more expensive than Purina's equivalent. Some may argue that you're getting food of a higher standard for your buck, but in all honesty it really depends on what your cat's requirements are.
Royal Canin: The verdict
While Royal Canin has a reputation for quality supported by vets, and comes in a wide variety of forms to suit your cat's requirements, some of its products may not be the best all round choice for everyday consumption, and there's also the high price to consider. Still, its long-standing reputation should serve as a confidence booster for any potential customer and, while the levels of carbohydrates and plant-based content are high in some products, it deserves its reputation as a trusted brand of good quality cat food.
Royal Canin Feline Health Nutrition dry food
If you want to give your kitten a healthy start in life then you'll not go far wrong with this. While the pieces in some brands' dry cat food can prove to be too big, this is the perfect size.View Deal
Royal Canin Gastrointestinal Fiber Response Dry Cat
Some cats are unfortunate enough to suffer from tummy issues. Luckily, Royal Canin is on hand with this product, which is specially formulated to help out cats with gastrointestinal problems.View Deal
Steve has combined editing and writing for publications like SciFiNow, How It Works and All About History with being a doormat to various cats and dogs. He lodges with two moggies called Giles and Willow, and will be told off if he doesn't mention his girlfriend's magnificent pooch, Toby.
Get the best advice, tips and top tech for your beloved Pets
Thank you for signing up to Petsradar. You will receive a verification email shortly.
There was a problem. Please refresh the page and try again.