Purina vs Royal Canin cat food: Which one should you pick?
By Steve Wright published
The royal rumble: Purina vs Royal Canin cat food. They're both top cat food brands, but which one is the best?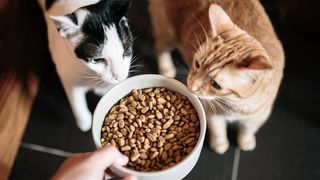 (Image credit: Getty Images)
Purina vs Royal Canin cat food is likely to be one of the biggest dilemmas you'll face if you have a feline friend and is it any wonder? After all, when it comes to selecting the best cat food, both are popular brands with strong reputations, so choosing one can feel overwhelming.
But it doesn't have to be that way. When it comes to choosing a cat food, there are always going to be various advantages and disadvantages no matter what brand you opt for. And yet, as long as the brand you go with is known for producing some of the best dry cat food and wet cat food formulas, you can rest assured your kitty will be getting everything they need to thrive.
Thankfully, both Purina and Royal Canine have created quality kibbles that are packed full of vitamins and minerals, and they also lead the way with some of the best wet cat food options as well. Where they tend to differ is their ingredient choices and their affordability, two things we'll delve into in more detail below.
So, without further ado, let's take compare and contrast these two brands, looking at both their strengths and their weaknesses so that you can fill your foodie fur baby's bowl with the best food to meet their needs and your budget.
About Purina
There's little doubt that Purina holds one of the most enviable positions in the cat food market. Not only do they consistently deliver high quality products, but they're also relatively affordable, meaning that as a pet parent you can feed your kitty a nutrient-rich diet without your wallet taking too much of a hit.
Purina is one of the oldest pet food companies in the world, having been founded in 1894, expanding and growing in popularity over the years. Its 2001 merger with Swiss food company Nestlé allowed it to expand even further, and to this day it remains at the forefront of the cat food market.
What's good about Purina?
First off, there are a number of different imprints within the Purina brand, offering customers a variety of choice. For instance, Purina ONE is its highest quality food, Friskies is aimed at lower budgets, and Beyond focuses on formulas with natural ingredients.
We like that Purina tries to use real meats as its primary ingredient wherever possible. This is the case in its Purina ONE Tender Selects Adult Dry Cat Food (chicken), Purina Cat Chow Gentle Dry Cat Food (chicken), Purina ONE Indoor Advantages Dry Cat Food (turkey) and Purina Beyond Simply Adult Dry Cat Food (white chicken and whole oatmeal).
The benefits of this is that your cat is getting a clean and reliable source of protein, with very little in the way of artificial preservatives. Furthermore, Purina is transparent regarding the sourcing of its ingredients, so you're left in no doubt as to what's in your cat's food, and what's gone into creating it.
What's not so good about Purina?
One of the big issues with Purina is that although they have a good reputation, they tend to be lacking in consistency when it comes to the quality of their products, with some clearly being head and shoulders above others in terms of ingredients.
Take Friskies as an example. Yes, it's super affordable and that's a huge plus if you find that the higher-end lines in the Purina range simply aren't accessible to you due to cost. But what you gain in affordability can be lost when it comes to quality, with Friskies containing animal by-products instead of real meat and with a dose of artificial flavors to top it all off.
Another thing to bear in mind is that Purina can't compete with Royal Canin when it comes to choice; Royal Canin has far more products, and a lot more flavors. And then there's the issue with food recalls, with Purina having had more of these over the years than Royal Canin. While not a massive problem, it's worth reading up on this in greater detail if you're concerned.
Purina: The verdict
To summarize, Purina has a lot of positive things to recommend about it. While it doesn't have as many products as Royal Canin, there is still plenty to choose from, and you can be sure that its food is of a high quality. Moreover, Purina has always been transparent when it comes to the source of its ingredients, so you will always know where your money is going.
Royal Canin, founded by vets
Vets always seem to speak highly of Royal Canin, and it's no surprise, considering the company was founded by one. In the 1960s, French vet Jean Cathary started experimenting with his own cat food formulas in response to a number of skin complaints suffered by his customers' cats. Such was his success that he created his own cat food line, which continues to this day. Here, we talk through the essential information you need to know about Royal Canin cat food products…
What's good about Royal Canin?
First things first, if you did a scan of the reviews across the entire range of Royal Canin products, what you'd quickly find is just how popular and well loved this brand is. With largely positive reviews, it's clear that Royal Canin remains at the forefront of feline nutrition.
Part of what makes Royal Canin so appealing is the way that each formula has been specially tailored to meet specific conditions. One such example is the Gastrointestinal Fiber Response Dry Cat Food, which has been proven to help relieve the constipation suffered by many cats.
While brands like Purina undoubtedly offer reliable all-round diets, Royal Canin is well worth considering if you're looking for a brand that offers an unrivalled capacity to concern itself with cats who have specific ailments, something that gets a huge round of applause from us.
Minus marks include...
Okay, so we admit, it's not all sunshine and rainbows when it comes to Royal Canin! There's no doubt there's a lot to love, but we do have to remove a few points for the high level of carbohydrates that are present in a lot of their products. While this isn't such an issue for active cats, it could cause weight gain and even obesity in those that live a more sedentary lifestyle.
Products where this could be the case include the Royal Canin Veterinary Diet Urinary SO Moderate Calorie Dry Cat Food and Royal Canin Gastrointestinal Fiber Response Dry Cat Food (this also has high plant-based content, which isn't the best source of vitamins). While they're great for cats with particular conditions, they may be less ideal as a day-to-day food source.
And then there's the price. Let's not beat around the bush - Royal Canin is significantly more expensive than Purina and that's potentially going to make it a no-go if you're on a tight budget. Some may argue that you're getting food of a higher standard for your buck, but in all honesty it really depends on what your cat's requirements are.
Royal Canin: The verdict
While Royal Canin has a reputation for quality supported by vets, and comes in a wide variety of forms to suit your cat's requirements, some of its products may not be the best all round choice for everyday consumption, and there's also the high price to consider. Still, its long-standing reputation should serve as a confidence booster for any potential customer and, while the levels of carbohydrates and plant-based content are high in some products, it deserves its reputation as a trusted brand of good quality cat food.
Steve writes and proofreads buying guides, news stories and advice for Pets Radar, drawing on his lifelong experience as a pet owner. Currently sharing his house with two cats and a dog, he draws on the many highs and occasional lows of pet ownership he has borne witness to in his writing. He has worked in publishing for 15 years as an editor, sub editor and writer on a range of titles, such as SciFiNow, How It Works, All About History, Real Crime and Horrorville. You can follow him on Twitter @stevewright22
Get the best advice, tips and top tech for your beloved Pets
Thank you for signing up to Petsradar. You will receive a verification email shortly.
There was a problem. Please refresh the page and try again.