Why is my cat walking in circles? What's normal and not
A cat walking in circles can be normal or abnormal, depending on the context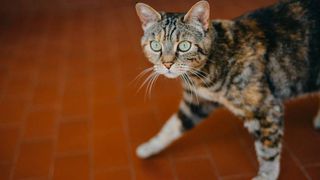 (Image credit: Getty Images)
If you were to see your cat walking in circles, how would you react? On one hand, you might be tempted to dismiss your cat's circling as another quirky cat behavior.
On the other hand, your mind may immediately jump to the worst, convinced that your cat has experienced a stroke or is suffering from some other serious illness. In reality, either one is possible.
Some circling is normal or relatively insignificant, while other circling indicates a serious underlying disease. Determining the significance of your cat's circling will likely require careful observation and the help of your veterinarian.
Is it normal for a cat to walk in circles?
Circling behavior can be normal or abnormal. You will need to look closely at your cat's circling, the contexts in which they circle, and your cat's overall behavior.
In some cases, circling can be a predictable response to something in a cat's environment. When you walk your cat on a cat harness or a leash for the first time, for example, they may walk in circles a bit until they are accustomed to the feel of the harness or leash.
Similarly, your cat may occasionally circle you or other pets during play sessions, or circle a toy during play. Your cat may also wander in circles while following a scent trail around your home. Circling in these contexts is normal, and not a cause for concern.
Abnormal circling looks different. This type of circling is repetitive and habitual, occurring in a variety of contexts. You may have trouble distracting your cat from their circling. In some cases, abnormal circling may be accompanied by other concerning clinical signs, such as weakness, stumbling, loss of coordination, and changes in appetite.
Why is my cat walking in circles?
There are several potential causes of circling in cats. These include behavioral causes, conditions that affect the brain and/or vestibular system (which is responsible for balance), and other medical concerns. Common causes of circling in cats include:
1. Pacing, especially in intact cats
Intact female cats often pace when they go into heat. While this pacing isn't exclusively in a circle, cats that pace in a small room may appear to be walking in circles. This form of circling can be treated by having your cat spayed.
2. Anxiety
Anxiety can also cause pacing in cats. Depending on where your cat is pacing, this may look like your cat is walking in circles.
3. Cognitive dysfunction
Like humans, cats often experience behavioral changes with age. In some cases, cognitive dysfunction (or dementia) can lead to circling, along with other behavioral changes.
4. Idiopathic vestibular disease
In this condition, which resembles vertigo in humans, cats suddenly experience a loss of balance. Affected cats often walk in circles, in addition to experiencing difficulties with balance and falling to one side. You may also notice a head tilt and rapid back-and-forth eye movements (nystagmus).
5. Head trauma
A blow to the head can cause damage and inflammation in the brain, which may result in circling. In the case of a traumatic brain injury, your cat will likely also experience other neurologic and behavioral changes.
6. Brain tumor
In older cats, tumors within the brain are a potential cause of circling. Brain tumors are also often associated with other neurologic changes.
7. Stroke
While strokes and other vascular incidents are less common in cats than humans, they can occur and they are a possible cause of circling.
8. Inflammatory brain disease
Toxoplasmosis, cryptococcosis, and other infections can cause neurologic changes, including circling.
The causes of feline circling can have significant overlap in clinical signs, so it's usually not possible to determine the cause of your cat's circling from simple observation. Diagnostic tests are typically needed to determine the cause of a cat's circling.
Why is my senior cat walking in circles?
Like any other cat, the list of potential causes for circling in a senior cat is long. In an older cat, though, some conditions are more likely than others. Your veterinarian will probably want to first rule out a brain tumor or stroke, because these are serious conditions that are more likely to occur in older cats.
If your cat is not showing signs of a stroke or brain tumor, your veterinarian may instead suspect idiopathic vestibular disease or cognitive dysfunction as the cause of your cat's circling. A thorough workup will likely be needed to determine the cause of your cat's circling.
When to visit your vet
If your cat seems to be circling, take a few minutes to observe the behavior more closely. Is your cat truly circling, or is your cat pacing along a route that happens to be circular? If you determine that your cat is pacing, the next step is to consider whether this behavior came on gradually or suddenly. Are there any identifiable triggers for this new behavior?
If you recently moved to a new home or added a new pet to your family, for example, there's a readily-identifiable trigger that may be causing stress that would result in pacing. This isn't to say that pacing doesn't warrant a talk with your veterinarian. Your veterinarian may be able to prescribe treatments to help with your cat's pacing. However, pacing may be less urgent than true circling in a cat.
If your cat experiences a new onset of circling that is repetitive and habitual, especially if accompanied by other neurologic or behavioral changes, an urgent veterinary visit is in order. This sort of circling is more likely to be associated with an underlying medical condition, which may require treatment.
Your veterinarian will begin by performing a physical exam, as well as some baseline blood and urine testing, in order to narrow down the list of possible causes for your cat's circling. Your veterinarian may refer you to a veterinary neurologist for more specialized testing.
If you're unsure whether or not your cat's circling is significant, it's best to see your vet. Worst case scenario, you will pay for an exam or file a claim with your pet insurance company, only to be told that your cat's behavior is normal and have peace of mind. If your cat does have a serious underlying condition, early detection can improve your cat's prognosis.
Summary
A cat walking in circles could be completely normal, or could have a significant underlying condition. As a pet owner, your first step should be to closely observe your cat's behavior, with the goal of determining whether this is an isolated incident or a repetitive behavior. If your cat is repetitively walking in circles, a veterinary visit will be needed to determine the cause of your cat's circling and any recommended treatments.
Get the best advice, tips and top tech for your beloved Pets
Dr. Barnette is a graduate of the University of Florida, where she received both her B.S. in Zoology and her Doctor of Veterinary Medicine (DVM). She has 15 years of clinical experience as a small animal veterinarian, treating dogs, cats, and occasional exotic patients. She now works as a freelance veterinary writer, creating educational content for veterinarians, veterinary team members, and dedicated pet owners. Dr. Barnette lives in southwest Florida with her husband and daughter (plus two cats, a dog, and a rescued dove!) and enjoys kayaking, biking, and hiking. Learn more about Dr. Barnette at www.linkedin.com/in/catherinebarnette.