DIY cat treats you can whip up in under 30 minutes
These DIY cat treats will win over even the fussiest feline and even better? They're super simple to make!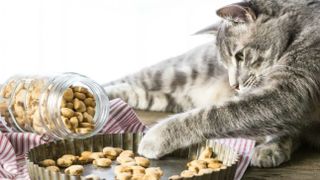 (Image credit: thecookierookie.com)
Our favorite DIY cat treats are the key to your kitty's heart – seriously, they're that good! Not only are they mouth-wateringly delicious and healthy, but these cat treats are also quick and easy to make – don't you just love a win-win?
While there's definitely nothing wrong with filling up those cupboards with the best cat treats from the supermarket, if you enjoy getting creative in the kitchen and baking up a storm, then showering your favorite feline furkid with some homebaked love will score you some serious brownie points.
And if you've been asking yourself the question 'are cat treats healthy?' then you'll be pleased to know that when served in moderation and made with low-sugar ingredients, treats can be a lovely way of rewarding good behavior.
You'll want to make sure that the bulk of your furkids diet is made up of the best cat food, but there's nothing wrong with using treats as a way to add some variety, and when you whip up any of our favorite DIY cat treat recipes, you can rest assured that only the highest quality nutrition will be making its way into your moggy's mouth.
Three-ingredient salmon cat treats
Ingredients:
10 ounces canned salmon, undrained
1 egg, beaten
2 cups wholewheat flour
Method:
Preheat oven to 350 degrees F (180 °C).
Pulse 10 ounces of undrained, canned salmon in a food processor to chop as finely as possible.
In a stand mixer, combine salmon, 1 egg (beaten), and 2 cups whole wheat flour until dough forms. If the dough is too dry, add up to 1/3 cup water. If it's is too wet or sticky, add a bit more flour. The dough should be tacky but not sticky.
Roll dough on a floured surface until about 1/4-inch thick. Use a 3/4-inch cookie cutter in the shape of your choice to create your treats.
Place treats on a parchment-lined baking sheet and bake at 350° for about 20 minutes. When they're slightly browned and crunchy, they're done.
Allow to cool before serving.
Store in an airtight container for up to 2 weeks.
Carrot and catnip kitty cat treats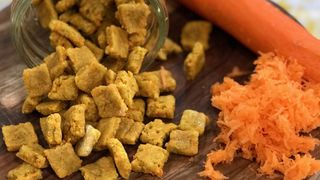 Ingredients:
2 tablespoons of coconut or olive oil
1 ¼ cups of flour + additional flour for rolling dough in
1 tablespoon of dried catnip
¾ cup of finely shredded carrot
1 large egg, lightly beaten
Cold water as needed
Method:
Preheat oven to 375 degrees F (180 °C).
Line a baking sheet with parchment paper.
In a medium bowl add oil and mix in 1 cup of the flour until the mixture looks sandy.
Stir in catnip and carrots.
Mix in egg. Add a little water if the mixture looks too dry and isn't holding together. Add a little flour if the mixture looks too wet and sticky. Sometimes the carrots can be more wet or dry.
Sprinkle a flat surface with a little additional flour and roll or pat out dough to ¼ inch thickness. Sprinkle dough with additional flour as needed.
Prick dough all over with a fork. Use a pizza wheel to cut dough into 1/2 inch squares.
Arrange squares on the prepared baking sheet.
Bake for about 12 minutes or until starting to brown. (Bake longer for drier texture.)
Cool on the baking sheet.
Store in an airtight container for a week or freeze for longer storage.
Sardine and flaxseed cat treats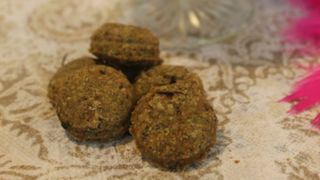 Ingredients:
1 3-4 oz. package of sardines
½ cup whole wheat flour
2 Tbsp. flaxseed
¼ cup parsley
1 egg
2 tsp. coconut oil
Method:
Preheat oven to 350 degrees F (180 °C).
Line baking sheet with parchment paper or aluminum foil for easy clean-up.
Stir together flour, flaxseed, and parsley.
Place sardines, oil, and egg in a food processor or blender and mix until finely pureed.
Combine wet ingredients with dry, stir to combine.
Flip dough out onto flour lined counter, press to ¼" thickness with your hands, the dough will be sticky.
Cut out small squares or use very small cookie cutters to make shapes.
Bake on cookie sheet for 10-12 minutes.
You want them hard and crunchy, this will help remove plaque from your cat's teeth.
Allow to cool and store them in an airtight container for up to a month.
Pumpkin and tuna cat treats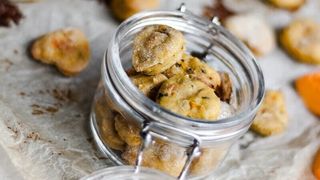 Ingredients:
7 oz (200 grams) fresh tuna
1 egg
0.7 oz (20 grams) carrot
0.7 oz (20 grams) pumpkin
1.5 tablespoon (20 grams) olive oil
1 teaspoon catnip herb
0.8 cup (200 grams) integral oat flour
Method:
Preheat the oven to 350 degrees F (180 °C).
Roast fresh tuna and pumpkin. Cool and crush.
In a bowl, beat the egg, add peeled and grated carrot, catnip herb, olive oil, tuna and pumpkin. Add the oat flour and mix until homogeneous dough forms. Rest 5 minutes.
Spread the dough up to 0.5 inches thick. Cut with molds of your choice. Place the cookies on a greased paper tray and bake at 350 °F (180 °C) for 10-15 minutes. Rest at room temperature.
Store in a tightly sealed container in the fridge for a maximum of 1 week.
Get the best advice, tips and top tech for your beloved Pets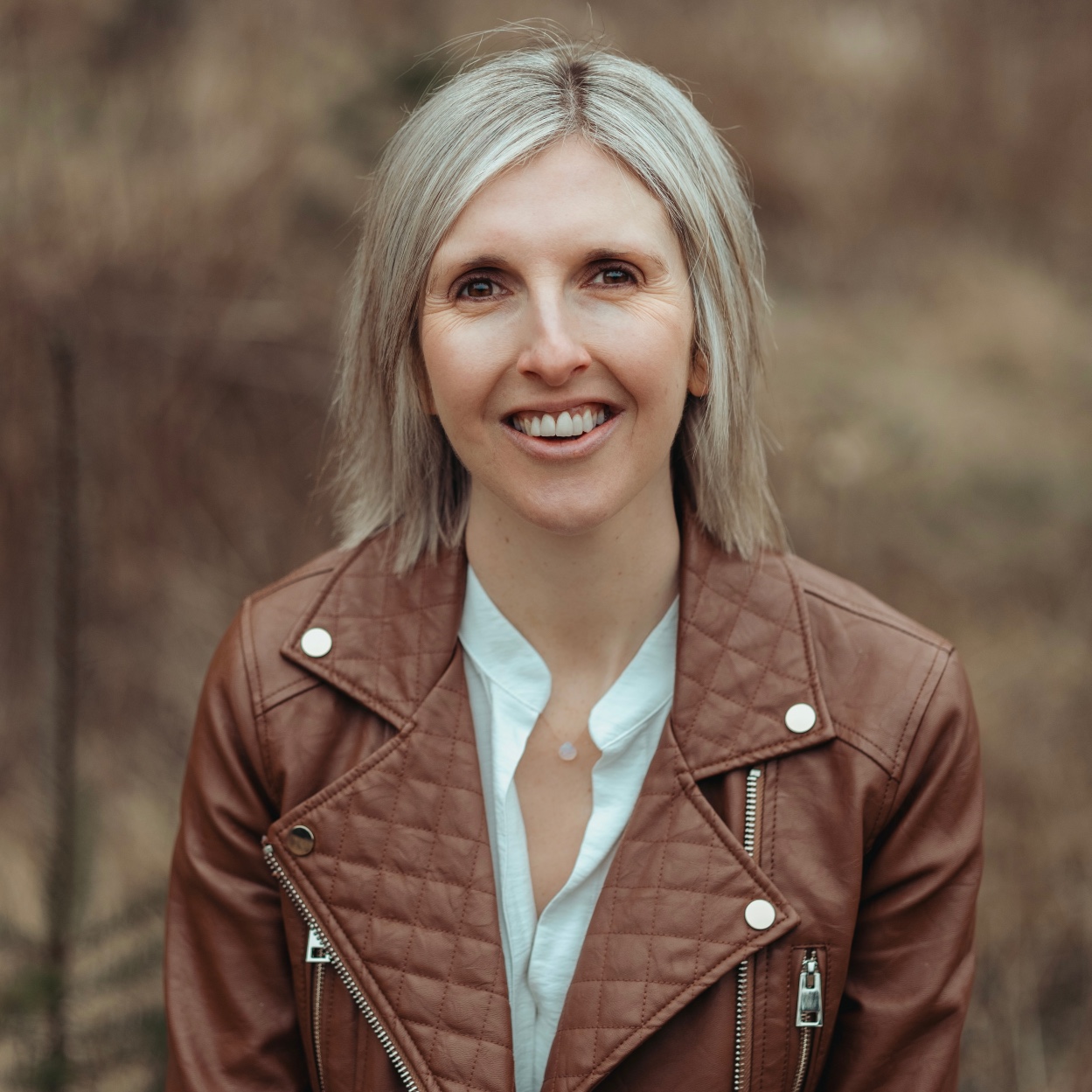 Kathryn is a freelance writer who has been a member of the PetsRadar family since it launched in 2020. Highly experienced in her field, she's driven by a desire to provide pet parents with accurate, timely, and informative content that enables them to provide their fur friends with everything they need to thrive. Kathryn works closely with vets and trainers to ensure all articles offer the most up-to-date information across a range of pet-related fields, from insights into health and behavior issues to tips on products and training. When she's not busy crafting the perfect sentence for her features, buying guides and news pieces, she can be found hanging out with her family (which includes one super sassy cat), drinking copious amounts of Jasmine tea and reading all the books.