DIY Puppucino recipes: Four pup cups you can try at home
Recreate this popular pet food trend at home with some DIY Puppucino recipes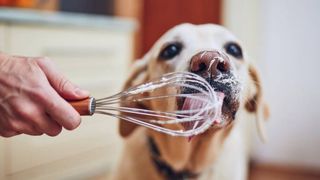 (Image credit: Getty Images)
If your pooch loves a good pup cup, then these DIY Puppucino recipes will help you recreate the popular pet foodie trend at home.
Of course, nothing beats a journey to your local Starbucks to pick up the real thing - just ask for one when you're next ordering your latte - but for lazy days spent in the kitchen, these recipes can whip up a real nice homemade dog treat.
From a basic Starbucks-style recipe to ones with a few tasty twists, all you really need is a blender or whisk, plus some common ingredients from your fridge, and you'll be ready to create your own take on the Puppucino in a flash.
Fancy some more dog treat inspiration? Create your own dog smoothies and frozen dog treats in style at home with our foodie guides.
What is a Puppuccino?
The Puppucino is essentially a small cup of whipped cream that both dogs and owners go wild for. It was created as part of a Starbucks' secret menu in 2015 but has skyrocketed in popularity since then thanks to its enduring appeal over social media.
Many pet owners post videos of their poochy pals lapping up their cup that is created to be the ideal size for a dog's nose.
Are Puppucinos safe for dogs?
Dairy products are usually safe in small quantities for most dogs every once in a while. However, you shouldn't be giving your dogs a Puppuccino every time you grab yourself a morning coffee.
Similar to human consumption of whipped cream, it's pretty unhealthy and full of sugar for your dog too. Giving your dog too much can result in internal problems; look to consult your vet in particular if your dog has a history of stomach issues.
It's best to consider it an extra-special treat for when your fur baby is behaving well.
DIY Puppucino recipes
Homemade Starbucks Style Puppucino Recipe
If you're looking for a Puppucino recipe that's as close to Starbucks' own as possible, then this try this tasty homemade version.
@lolo.sweets

Reply to @brookiegambello Homemade Starbucks puppuccino!##foryoupage ##fyp ##puppuccino ##starbucks ##puppy ##petroutine ##petsoftiktok ##cute ##dogsoftiktok

♬ Buttercup - MixAndMash
Ingredients
• 1/2 cup heavy cream
• 1 tsp sugar
• 1/4 tsp vanilla
Method
• Mix all ingredients on medium in a blender
• Spoon the mixture into a disposable coffee cup and serve
Recipe via Lolo Sweets / TikTok
Three Puppucino recipes with a twist
Twist up your pup cup with these alternative DIY Puppucino recipes created from pumpkin, coconut milk or goat milk.
Coconut Milk & Pumpkin DIY Puppucino
Ingredients
• 3/4c unsweetened coconut milk
• 1c pumpkin
• 1/4 tsp cinnamon
Method
• Combine all ingredients into blender and blend well until mixed.
• Garnish with whipped cream and cinnamon.
Recipe via britspetsitting / TikTok
Goat Milk DIY Puppucino
Ingredients
• 1 egg white
• 1/4 cup raw goat milk
• 1/8 tsp lemon juice
• Sprinkle of cinnamon

Method
• Whip the egg white and lemon juice together for 3-5 minutes
• Gently fold in the raw goat milk
• Spoon the mixture into a cup and top with cinnamon
Recipe via samanthadepeel/ TikTok
Greek Yogurt DIY Puppucino
Ingredients
• 1 tbsp Plain Greek yogurt
• 2 tbsp goat milk
• 1 egg white
Method
• Add the Greek yoghurt and goat milk to a bowl and whisk
• Crack an egg into a bowl and separate the egg whites
• Whisk together until light and fluffy
• Top with your dog's favorite treats
Recipe via Chefs & Dogs / TikTok
Get the best advice, tips and top tech for your beloved Pets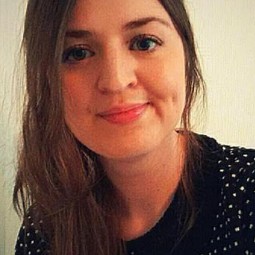 Ashleigh is Digital Editor on PetsRadar. With over 8 years of experience in print and digital media, she has acted as an editorial lead on a variety of projects, with animal themes a keen interest. As an avid animal lover, you can often find Ashleigh checking out the newest trends in animal care or looking at cute cat videos on TikTok.