32 super cool dog breeds from the United States
Can you name them all? Discover the dog breeds that were bred and born in the U.S.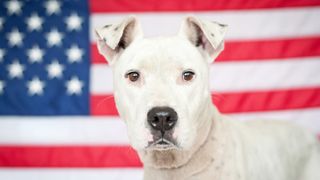 (Image credit: Getty Images)
If you are four paws away from your American dream, look no further as we're unlocking the best of the all-American bunch!
There are thousands of breeds out there, with varying attributes, personalities, coat variations, and a hierarchy of needs making the task of finding the perfect pal for you and your four walls can feel near on impossible.
But instead of looking far and wide, why not start with those right on your doorstep? We're talking about the American-born and bred pooches.
If American dogs are your thing, then do keep reading to find the best and coolest of dog breeds from the United States.
32 super cool dog breeds from the United States
American Bulldog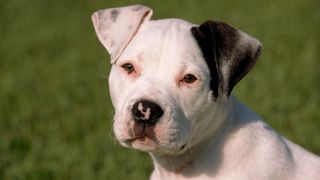 Despite their muscular build and sad expression, American Bulldogs are sensitive souls who thrive in the company of their human companion. If you're considering this stubborn breed, make sure your fences can cope with the Bulldog's bounce, as they can reach up to 7 feet in the air — which is pretty impressive, right? These pooches are more than happy to chill on the couch which is ideal for your days off, but not every day. Make sure you encourage these dogs to exercise, otherwise they're more inclined to sit and do nothing.
American Pit Bull Terrier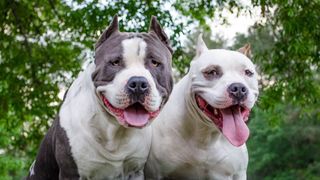 These are perhaps one of the first breeds that come to mind when you think of all American dogs. And it's for good reason. These canines arrived in the U.S around 1845 to 1860, when the dog fighting practice had a following. And it's due to their strong jaw, strength and determination that some American cities impose restrictions and bans on the breed. Despite this, public opinions remain split right down the middle, some deeming them dangerous and others adamant they're the ideal family dog.
Chinook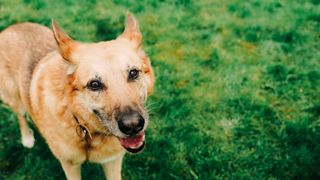 Branded as one of the most intelligent breeds money can buy, who wouldn't want a cool sidekick with the IQ to match? Chinooks, which were developed in New Hampshire during the early 20th century, are strong, rugged working dogs built to endure but eager to please. This tawny-colored pup is favored among families on the go! Along with being a smart pooch, they are also said to be amongst the rarest dogs in the world. So if you're lucky enough to be the proud pet parent of, well done you!
Alaskan Malamute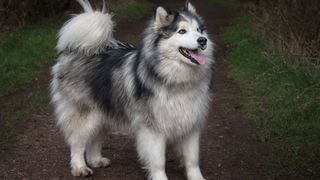 Much like a husky (but larger), this breed is often compared to a wolf by appearance. Their size, power, and high-spirited demeanor derive from their sled-pulling past. So they're a cool pup with an even cooler story to tell. But can you home a Malamute? Their serious looks might cause them to look standoff, but in reality, the Alaskan malamute is an affectionate and loyal dog who loves playtime with their pack (humans included). They make for good family pets, who enjoy mother nature.
Australian Shepherd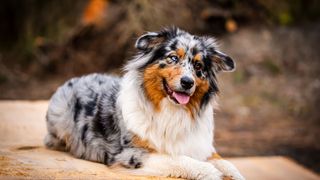 Australian Shepherd dogs are known best for their looks as they are one of the few breeds prone to heterochromia (eyes of two different colors) and tortoiseshell coats making them an incredibly unique canine. Originally developed in California, Australian Shepherds tend to get along with other pets in the household and their easy-going temperament means they are good with children so ideal as a pet in an active household. Needing around two hours of exercise a day, the more outdoors time you can give them the better.
American Water Spaniel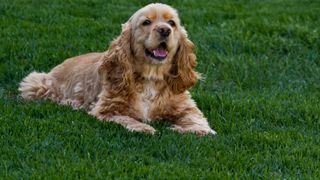 Look at these curly-haired cuties! Recognized as the state dog of Wisconsin, the American Water Spaniel remains a rare breed, often unknown outside of the United States. If you can find yourself a Water Spaniel puppy you will have a strong swimmer, with a curly coat and a well-loved teddy bear appearance on your hands. Requiring lots of exercise these skilled swimmers make for great family companions. Providing you can keep up with these energetic enigmas, you'll have a great addition to your home.
Chesapeake Bay Retriever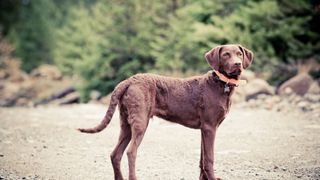 The Chesapeake Bay Retriever is a skilled hunter, with waterfowl at the very top of its list. With regimented routine, however, there is plenty of love to go around and there's nothing the Chessie loves more than finding some calm in their companion. Their origins date all the way back to Maryland in early 1800 where they were thought to have been rescued from a ship. These water-loving dogs get on well with children and most other pets too. So can be a great addition to pet-loving homes.
Coonhound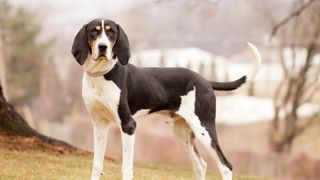 Believed to have originated in the Deep South of America in Louisiana, Coonhounds are best known for their long silky ears which, beyond being a beautiful feature, are designed to brush along the ground stirring up the scents of racoons as they go. In recent years those very same ears have gone on to break world records with the sheer size of them. Nothing says cool quite like record-breaking lobes. Loving a cuddle, patient with children and all other family members, a Coonhound makes for a brilliant family pooch.
Rat Terrier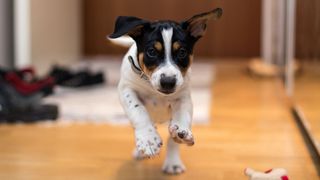 Ah, a Rat Terrier…perfect for the time-poor. Mixed from a Fox Terrier and various other terriers to help control pests — there is a dog out there for everyone, and a Rat Terrier is made for those searching for a friend within their overwhelming schedules. Minimal grooming, a consistent routine and daily exercise are all that's required to keep this low-maintenance, happy-go-lucky, high-energy dog happy and healthy. Keep them by your side and your pet pal will thrive.
Foxhound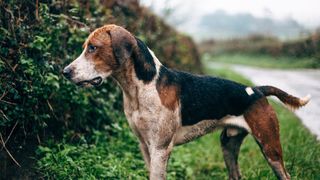 Being strong-willed, energetic but good-natured dogs bred for the hunt — Foxhounds can be quite the handful. However, if you're looking for a four-legged friend to join your adventures, with a commitment to training, you will have a pet pal for life. These pooches can be devoted and mild-tempered around the right people and they get along well with kids. If they don't get enough physical stimulation they will develop unwanted behaviors. So teach them the basics and make sure they master them too.
Majestic Tree Hound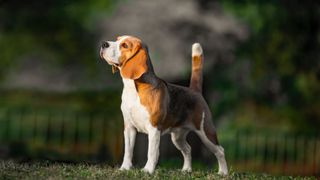 Despite their whimsical name, these dogs mean business. Bred in the early 20th century, they were carefully crafted to create a superior hunter designed to hunt large game such as mountain lions, bears, and bobcats. This makes them ideal for hunters. This relatively new scent breed is believed to belong to the coonhound/bloodhound group and just like its predecessors, it's large, averaging in at over 100 pounds. But for their size, they can be quite gentle and playful along with being affectionate with kids.
Teddy Roosevelt Terrier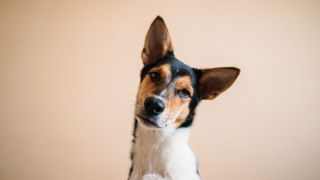 Introducing the Teddy Roosevelt Terrier — which is known best as a big dog in a little package. While this terrier's physical attributes like its lower-set legs and muscular build may stand out from the rest, it remains a recognizable terrier at heart. It was developed in the US and is said to be a mix of an Italian Greyhound, Manchester Terrier, Bull Terrier, Smooth Fox Terrier, Beagle, and Whippet. Always prepared for their next adventure, this dog might be the breath of fresh air your family needs.
Treeing Cur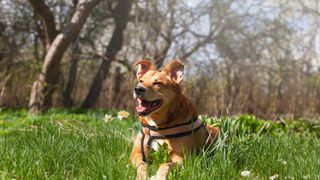 Treeing Curs were bred in remote areas of America for the purpose of big game hunting. They are identifiable by a number of physical attributes including their body, eye size and tail position to name a few. However, this is not an easygoing breed. They are athletic and possess a level of intelligence that begs for stimulation and engagement. So if you can't keep them busy or don't have the time for long walks, runs or games, a Treeing Cur might not be the perfect match for you.
White Shepherd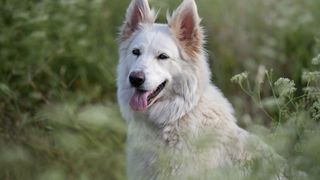 White Shepherd dogs are a variation of the much-loved German Shepherd, bred in the United States. Known best for its eye-catching all-white coat, and wolf-like features, this chatty and vocal pup lives its best life alone, happiest as the only canine in the castle. Due to their bright white coloring, you'll need to maintain their coat with regular trips to the groomers or be prepared to get stuck in yourself. This intelligent, fearless and devoted dog loves fiercely and forms bonds quickly.
Plott Hound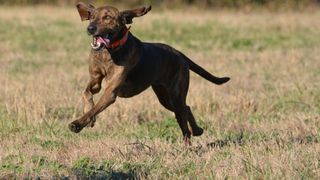 Bears beware! Bred as a large scent dog, the Plott Hound, which originates from North Carolina is known best for its courage, confidence, and fearless nature. Despite being bred to hunt bears, their passionate personalities make for a super protective dog. But do take note — this breed is always seeking its next hunting opportunity. So keep them busy with regular walks and runs and avoid leaving young children alone with them.
McNab Dog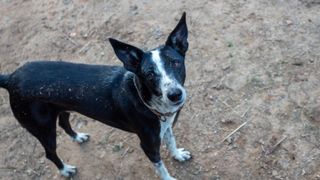 McNabs, similar to their Border Collie cousins, are hardworking, dependent herding dogs. Despite being closely related and sporting that recognizable black and white coat, McNabs are a dog in their own right standing out from the crowd with their cat-like feet and agility to match. While these dogs have been known to thrive in active households, they're not the best match for those with small kids as their strong herding abilities could lead them to chase children or herd pets.
Mountain Cur
Mountain Cur dogs take pride in their place at the forefront of every pack. This all-American frontier pup was essential to guarding their families and livestock. As their name highlights, they are a courageous breed that thrives off the beaten track when put to work. So if long treks, mountain climbing, and lots of exercise sound like your type of day out, a Mountain Cur will be the dog to do it all right by your side. Provided they get enough mental and physical stimulation, they will be happy and healthy.
Silken Windhound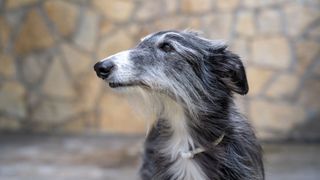 Silken Windhounds are the epitome of elegance. As their name suggests, their silken coat waterfalls away from their faces creating stunning sweeping lines - which, are of course, notable features of course hounds. Windhounds are affectionate and playful pups, happiest among an active human pack. So if your family loves the outdoors, we know a dog who loves it as much (if not more). Train these pooches from day dot and you can both live together in harmony!
Denmark Feist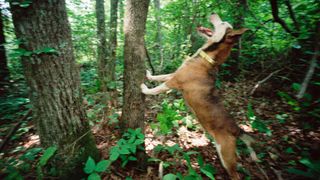 If you can meet the needs of this active pup, they will form a fantastic part of your pack from day one. Formally bred to hunt squirrels, feral pigs, and bobcats in Virginia, Denmark Feists are a high-energy companion best suited to those with time to invest in this playful pooch. Their name could fool you into thinking they come from across the pond. But its name 'Denmark' actually refers to the two creators of this breed, Dennis Willis and Mark Slade.
English Shepherd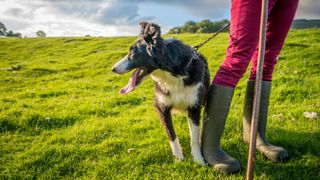 Despite its name, the English Shepherd is an American breed of herding dog. The worker within this breed creates a determined domesticated dog, quick to learn and respond to commands. They're also energetic, intelligent, agile, and active so they make for a great all-rounder. Got small kids in your home? Their gentle nature lends itself to a busy family with small children, making them a popular choice for first-time dog owners and busy families.
Louisiana Catahoula Leopard Dog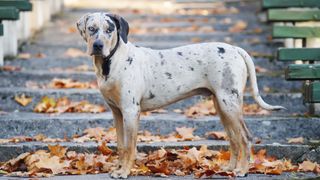 If you're looking for a pup to stand out from the rest, the Louisiana Catahoula Leopard dog, with its variable coats, and eye color combinations, is a great choice. This multi-purpose muscular breed is fit to work, guard, and protect. Today, in its home state of Louisiana, these versatile working dogs are still used for hunting, herding and as a guard dogs. But if left to its own devices, it's even happy to live life in the slow lane as your companion.
American Hairless Terrier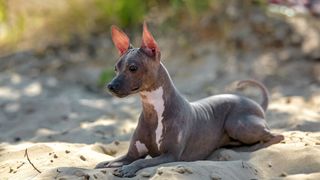 The American Hairless Terrier was the first hairless dog breed in America and has earned a special place in our hearts ever since. A Louisiana native, these little cuties measure in at around 12-16 inches tall and have smooth skin that's warm to the touch. But don't mistake their cuteness with coyness. These dogs are fun, loving, and excitable with quite the prey drive. If you can keep up with them, this rare breed is an awesome addition to your pack.
Carolina Dog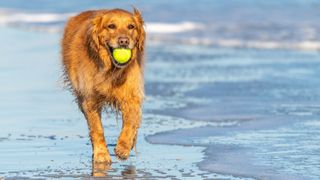 This sunset pup, which can also be called the American Dingo, Dixie dingo, yellow dog or yaller dog, is known best for its tan-colored coat, striking ears, and curled fish-hook tail. There's no two ways about it, it is the picture of sophistication. Independent by nature (so much so, that you'll often spot the Carolina roaming the streets by itself in some southeastern states) this breed enjoys exercising its body and mind with open access to an outside space.
Boston Terrier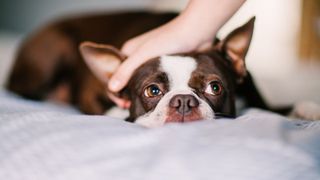 Its recognizable 'tuxedo' markings are first to spring to mind when you think of the Boston Terrier, followed quickly by their lively nature far exceeding any initial expectations of their small frames. But either way, you think about it, these handsome little dogs, whilst high-spirited and funny, are calm and dignified when they want to be. They get on well with most kids and are happy in pretty much every environment. So if you ask us, they are the perfect addition to any home.
Boykin Spaniel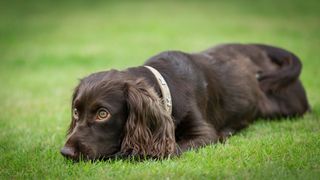 Heard of a Boykin Spaniel? With its waterproof curly coat and docked tail, the Boykin Spaniel is a hunter's companion. Back in the day, it was bred for hunting ducks and wild turkeys in the Wateree River Swamp, South Carolina. But in more recent times, this bright, energetic, all-American breed is popular among boaters, kayakers and canoer-lovers due to their water-loving nature. They also make for great family pets, as they are fiercely loyal and affectionate.
Blue Lacy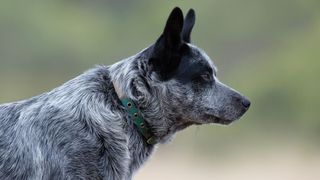 Known as 'a true Texas breed' this intense canine is both a hunting and herding dog. So you get two for the price of one. Despite originating in the State of Texas in the mid-19th century, it was many years later in 2001 when this dog was first recognized by the Texas Senate. They are fiercely intelligent, hard-working and determined. However, a Blue Lacy is highly trainable, making this dog suitable for every family if you put all the work in upfront.
American Staghound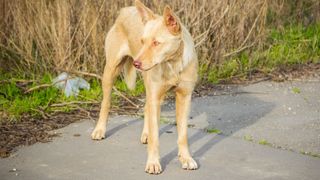 The American Staghound, is a course-haired, rough-coated dog with a slender lurcher frame. Bred in the U.S during the 19th century, they were predominately used for hunting and it's all thanks to their remarkably agile mannerisms, quickness and their very high prey drive. Despite their need for speed, once the working day is done they love nothing more than home comforts and a quiet space to retreat to. So carve out some room on the couch and prepare to hunker down for hugs.
American Cocker Spaniel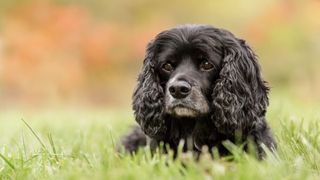 Cocker Spaniels are a merry breed, keen to please their owners and are packed with personality and they have been since they were first bred many moons ago during the 20th century. But how does a Cocker Spaniel differ from their American counterparts? The American Spaniel is most recognizable by their cool coat, often groomed in a skirt-like fashion. As long as these family dogs are trained and socialized properly, you'll have a welcoming and affectionate dog on your hands.
Alaskan Husky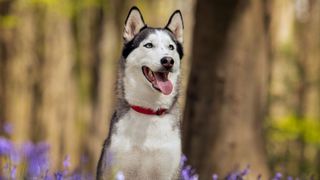 The clue is in the name of this breed. Originating from Alaska, word has it that they were first spotted more than 12,000 years ago. But, of course, you can't talk about Alaskan Huskies — more informally known as Huskies — without mentioning those piercing eyes. Despite not all Huskies carrying the infamous look, for those that do, the icy blue windows to the soul cutting against their dark and fabulous fur never fails to turn heads and capture hearts.
Redbone Coonhound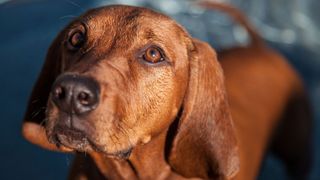 You might have heard of these hounds before. But did you know the Redbone Coonhound is born and bred in the USA? Enjoying outdoorsy activities like swimming, hunting and running, this beautiful-looking breed does also enjoy some periods of downtime to catch its breath. Medium-to-large in size, these beauties are best known for their remarkable red and majestic mahogany coats which seem to glitter and gleam even when the sun isn't shining. Fast, agile and keen to be on the move, this dog really is the American dream.
Toy Fox Terrier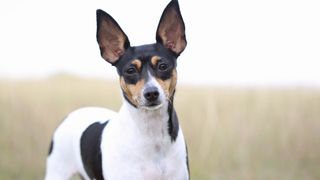 Athletic, inquisitive, partial to a cuddle, and intelligent, the Toy Fox Terrier ticks a lot of boxes. They're best known for their noisy nature and their high activity level which may lead them to destructive behavior if they're not kept entertained. If you've got time to spare, you can create a bond like no other. Toy Fox Terriers can thrive in busy homes, however, due to their small stature, these toy dogs are not always the best match for homes with small kids.
We've also got guides on the rarest dog breeds and answer what dog breed is the smartest. Wondering what are the most expensive animals in the world? Or curious about the cutest dog breeds? Head this way.
Get the best advice, tips and top tech for your beloved Pets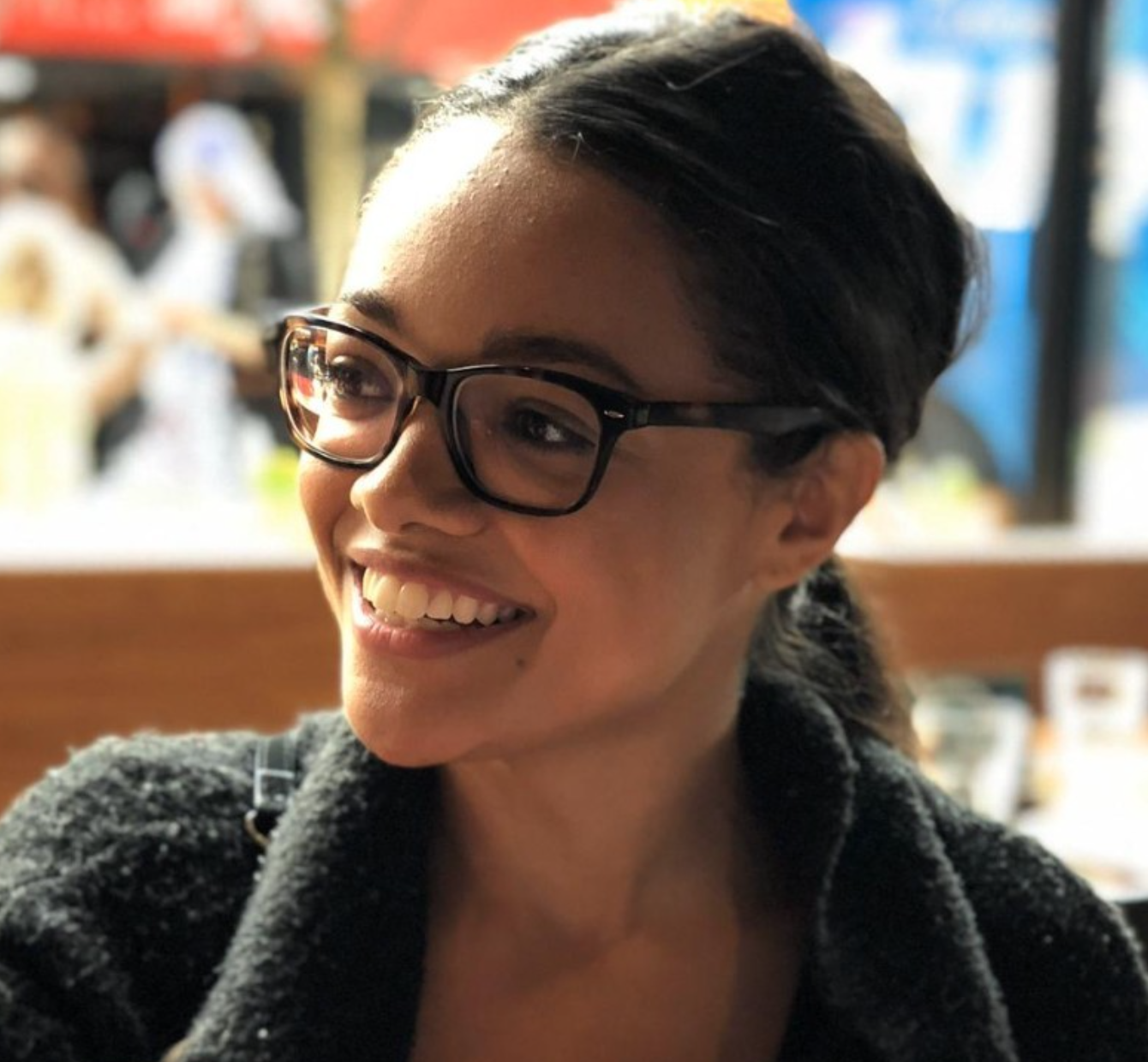 Becks is a freelance lifestyle journalist who has more than 9 years of experience in the world of digital and print journalism. She covers health, wellness and family interests for a range of titles. When she's not putting pen-to-paper (or finger-to-keyboard) she's reading, in the gym, or taking her Dog Aunt title very seriously looking after the handful of four-legged creatures in her life.