How to get pet insurance: Is it required and where to find the best cover
Wondering how to get pet insurance and why you should bother? We give you a head start on finding the best policies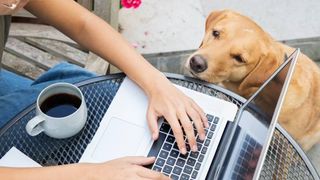 (Image credit: Getty Images)
If you have ever wondered how to get pet insurance, then it's very likely you're concerned about future veterinary bills. After all, as our pets grow older, there's a greater chance they will develop health problems and yet treatments are often expensive. This will only add stress during an already worrying time.
In some ways, having the best pet insurance in place for your furkid is like a superhero, removing much of the financial worry surrounding their wellbeing. It's why more and more owners are taking out policies, giving them greater peace of mind. And yet insurance doesn't appear to be all that widespread.
While take-up is relatively high in the United Kingdom (around 3.6 million owners have pet insurance), it is notoriously low in the United States, where just 2% of pets are insured. At the same time, claims have risen hugely over the past decade.
Statista Research says claims in the UK alone amounted to £452 million in 2012 and £815m in 2019, with most of the money presumably spent on veterinary treatment. But it's not just about protecting your pet's health. Pet insurance providers go further, paying out for pets who are lost or stolen as well as those who die or cause damage to property.
The important thing is to work out if a policy will perform well for you – and whether you can even get cover for your pets in the first place!
Should I get pet insurance?
At the very least, you should consider getting pet insurance. Although you may look at the UK figures and assume the increased claim payouts are due to more people owning and insuring their pets, that's not actually the case. The number of pet owners taking out insurance has remained steady throughout that period so something else must be happening!
Indeed, what you are seeing is reflective of increased treatment costs which are rising the world over. So while the vast majority of pet owners in the US pay for veterinary bills out of their own pocket, for instance, there's no getting around the fact that the costs are continuing to go up.
It means there's no real way of knowing just how much vet bills will be in five or 10 years from now. What we do know is that they're not getting any cheaper. A five-day stay in a pet hospital could set you back an average of $1,500 to $3,500 with X-rays costing between $150 and $250 and oxygen therapy $500! In the UK, ongoing treatment for a cruciate ligament could, says Tesco Bank, cost as much as £4,383!
Certainly, 80% of vets recommend getting pet insurance, as veterinarian Dr Joanna Woodnutt MRCVS points out when listing 7 reasons to get your pet insured with the best policy possible. And while some people may prefer an alternative option of setting money aside, those savings pots can take time to build. Even then, you can't be sure that you'd have enough in there.
Of course, the benefit to a savings pot is that, if nothing untoward happens, you have a wodge of cash to spend. Yet in reality, that's not going to be likely – pets do get ill and bills will rack up. But, if you are still wondering, "is pet insurance worth it?" then you could do worse than read our guide by vet Catherine Barnette DVM which breaks down the pros and cons. And remember, there are different policies to suit different circumstances and budgets.
Can you get pet insurance with a pre-existing condition?
In general, the earlier you take out a pet insurance policy, the better. If you consider how pet insurance works, then you'll quickly understand why: insurance companies don't like taking risks when the odds are firmly stacked against them so if your pet has begun developing conditions, there's a greater chance they are going to be paying out large sums.
As such, the vast majority of insurance companies are going to steer clear of pets suffering an illness or injury that requires ongoing treatment. But that doesn't necessarily mean your pet simply cannot be insured. Depending on the pre-existing condition, they may simply decide not to cover you for that particular problem or anything related to it. What's more, if a pre-existing condition has not been an issue for a long time, then there's a chance it could be insurable again.
In any case, you'll only know for certain if you try so don't be afraid to approach an insurance company, especially those that will offer the best pet insurance for pre-existing conditions. It's definitely important to be honest when applying for a policy and declare any pre-existing condition. You will also find policies that have 14-day exclusion periods for new customers. These protect insurance companies from fraudulent customers who want to avoid paying for emergency treatment.
Where to get pet insurance
The best place to get pet insurance is online where you will find dozens upon dozens of companies willing to offer you a policy. The big benefit of browsing for insurance is the ability to compare and analyze policies from the comfort of your home, ensuring they work well for you and your pet. There's no pressure to make snap decisions.
Before you go looking, however, it's important to know how to choose pet insurance. You should also check out our guide to the best pet insurance so that you have an idea of what's available.
One thing you don't need to do is go from website to website, constantly tapping in your details to discover prices. Instead, the easiest way to make sure pet insurance is a perfect fit for you is to try a financial services comparison site such as GoCompare. Just input the level of cover you require and you can obtain quotes in seconds from respected brands.
Get the best advice, tips and top tech for your beloved Pets
David Crookes has been a journalist for more than 20 years and he has written for a host of magazines, newspapers, websites and books including World of Animals, BBC Earth, Dogs and Canines, Gadget and The Independent. Born in England, he lives in a household with two cats but he's also keenly interested in the differences between the huge number of dog breeds — in fact, you can read many of his breed guides here on PetsRadar. With a lifelong passion for technology, too, he's always on the lookout for useful devices that will allow people to spend more time with their pets.