Purina One vs Purina Pro Plan cat food: Which one reigns supreme?
By Kathryn Rosenberg published
Weighing up Purina One vs Purina Pro Plan cat food? We give you the scoop on these two quality contenders vying for a spot in your furkid's food bowl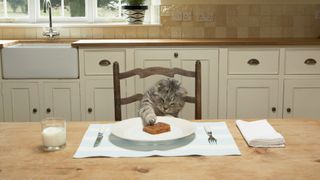 (Image credit: Getty Images)
Trying to choose between Purina One vs Purina Pro Plan cat food is a bit like trying to choose whether to have a chocolate or a strawberry milkshake – both taste lip-smackingly good and have their own unique set of positive and negative points.
Known for producing some of the best cat food in the world, Purina has always had an outstanding reputation for delivering the perfect balance of vitamins and minerals, all wrapped up in flavor combinations that make foodie felines drool.
Purina One and Purina Pro Plan are two of the brand's most popular lines and regularly scoop up awards in both the best dry cat food and best wet cat food guides. So, given that they're both super popular, which one is the right choice for your feline furkid?
We peered inside the bags and peeled back the lids to get the scoop on these two fan favorites so that we could put the Purina One vs Purina Pro Plan cat food debate to bed once and for all. Here's what we uncovered...
About Purina One
Introduced in 1986, Purina One is a natural cat food formula that uses only the best quality ingredients to create a blend that has all the vitamins, minerals, and nutrients that your kitty needs to thrive.
The team at Purina has worked to create a formula that leads to visible changes in your kitty's health within 28 days. After a week of eating Purina One, you may notice an increase in your cat's energy levels with digestion improving after two weeks, and brighter eyes and a shinier coat becoming visible after just three weeks.
In fact, the crew is so confident that you'll notice positive changes in your furkid's health that if you sign up to take the Purina One 28-day challenge, they'll knock $5 off your first purchase. There's a handy quiz too that will help you determine which of the Purina One formulas you should start your cat off on.
Available in both wet and dry versions, Purina One covers everything you would expect from a brand of this quality, with formulas for older cats, hairball control, and blends designed for those with sensitive stomachs.
What's good about Purina One?
Across both their wet and dry formulas, Purina One stacks up well against its competitors when it comes to the quality of the ingredients used. We love that all the blends are free from fillers, most have real meats as the first ingredient, and they all come packed with plenty of vitamin-rich fruits and vegetables.
The vitamin and mineral content on the whole is impressive, with everything your cat needs to keep their bones and heart strong, their immune system firing on all cylinders, and their coats looking glossy.
Highly digestible ingredients make Purina One a good choice for those cats with gastrointestinal issues and they have a formula especially for sensitive stomachs as well as grain-free options, so if your cat has allergies and needs something even more gentle, these would be a great choice.
Overall, the formulas are low fat and low in calories and many of their wet food blends have a higher moisture content than some competitors, clocking in at an impressive 78%. Purina One is also usually the cheapest of this brand's premium range and it's vet-approved, which is another big tick in its favor.
What's not so good about Purina One?
When it comes to the dry food options in this range, the high carbohydrate content is a big drawback. It's recommended that cats eat a high protein, moderate fat, low-carb diet, and with their kibble clocking in at over 40%, so even with the low fat and calorie content, the kibble isn't ideal for sedentary cats.
We're also not huge fans of the artificial caramel coloring that goes into their dry food either, it seems unnecessary and for cats with allergies, it would be best if this was omitted from future iterations of the products.
While Purina One doesn't contain any fillers, corn and soy pop up frequently, neither of which offer any nutritional value for your cat and animal by-products feature on the list too, which is sadly a fairly common feature for a lot of brands.
The verdict on Purina One
Yes, it does have some drawbacks, but overall Purina One is a solid choice for kittens and adult cats. Nutritious and vet-approved, the majority of pet parents say their cats give both the wet and dry formulas a huge paw up.
We love that this range is budget-friendly but doesn't compromise on health, with quality ingredients and plenty of vitamins and minerals. Because it provides 100% complete and balanced nutrition, you don't need to supplement with anything else, and they have a variety of different blends, so whatever the needs of your cat, you're bound to find a formula to suit.
Purina ONE Indoor Advantage Adult Cat Food
The perfect calorie-controlled meal for indoor and sedentary cats, this protein-rich kibble features a satisfying crunchy texture with real turkey as the first ingredient and plenty of vitamins and minerals to keep your kitty glowing from the inside out.
Purina ONE Grain Free Natural Pate Wet Kitten Food
A fantastic choice for your furbaby, this pack of 24 tins of chicken and salmon-flavored goodness will have your kitty purring with delight. High in protein to support growing muscles and DHA for brain and vision development, this nourishing formula ticks all the boxes.
About Purina Pro Plan
Purina Pro Plan is the brands most innovative formula to date, offering the most advanced nutrition available to nourish your kitty from the inside out. Available in both wet and dry formulas, the Pro Plan range includes more than 100 specially formulated blends across six categories:
Indoor/sedentary
Weight management
Urinary tract health
Hairball control
Sensitive skin and stomach
Allergen-reducer
Backed by 500+ Purina scientists, including nutritionists, animal behaviorists, and vets, Pro Plan offers outstanding nutrition and extensive variety no matter your furkid's age or stage.
What's good about Purina Pro Plan?
As you'd expect from Purina, real meat is almost always the first ingredient on the list and Pro Plan is no exception. High-quality salmon, poultry and lamb feature heavily throughout this range and nearly all of their dry blends are fortified with guaranteed live probiotics for gut and digestive health.
The protein content is high, sitting above 40% across most of the dry range and the carbohydrate count mostly sits under 35%, which is better than the Purina One blends. Over on the wet food side of the fence, the moisture content remains high at 78%, with protein sitting around 12% and fat around 6%, which is a good ratio.
The LiveClear allergen-reducing range is particularly impressive, having been voted the 2021 product of the year by the Consumer Survey of Product Innovation. This revolutionary blend has been proven to reduce the major allergen in cat hair and dander by an average of 47% – a huge relief for any pet parent who suffers from allergies.
Again, like with Purina One, the vitamin and mineral count across the range is impressive, with high levels of Omega 6 fatty acids and Vitamin A for skin and coat health, taurine for eye health, and calcium and other nutrients for strong and healthy bones.
We really like that Purina Pro Plan dry range omits the use of the artificial colorings and animal by-products used in Purina One, opting instead for more natural alternatives, that's likely partly the cause of the inflated price tag though, so let's take a closer look at that.
What's not so good about Purina Pro Plan?
The biggest drawback to Purina Pro Plan has got to be the price. At almost double the cost of Purina One, it's definitely not a budget-friendly buy. The question is, is the whopping price tag worth it?
From what we can see, we'd have to say no, with the exception of the LiveClear range which offers some real benefits to pet parents suffering from allergies. That aside, when you compare each category with it's Purina One counterpart, there simply isn't enough difference to justify the price hike.
Let's take the indoor range as an example. While ever so slightly higher in protein, fat, and fiber, the vitamin and mineral content is almost identical, with Purina One containing a broader range. Pro Plan also contains the same use of soy and corn, which has been genetically modified, and while the dry range steers clear of animal by-products, the wet range doesn't.
The verdict on Purina Pro Plan
Purina Pro Plan is another tasty range that your feline furkid is bound to go wild for. The quality of the ingredients is high and the nutritional value is excellent. The ratio of protein, fats, and carbohydrates, is balanced, and it's great to see real meat topping the ingredient list.
The Purina Pro Plan LiveClear formula is the shining star across this range and it has the potential to make a huge difference in your life if you're an allergy sufferer.
If your wallet can justify the big price tag, you'll be getting a high-quality product that contains everything your kitty needs to thrive, but having compared it closely to it's cheaper sibling, we feel Purina One offers better value for money with roughly the same level of nutrition.
Purina Pro Plan LiveClear with Probiotics
Quality tested and winner of the 2021 product of the year in the Consumer Survey of Product Innovation survey, this kibble has been proven to reduce the major allergen in cat hair and dander by an average of 47%. It also comes packed full of live probiotics for immune and digestive health.
Purina Pro Plan Urinary Tract Health
Providing low dietary magnesium to reduce urinary pH and help maintain a healthy urinary tract, this wet cat food is perfect for cats that are prone to suffering from bladder infections. Every serving provides 25 essential vitamins and minerals, including taurine for overall health and wellness.
If you're interested in how Purina stacks up against other brands, check out our piece on Purina vs Royal Canin cat food, where we put two of the best cat food brands in the ring to see who comes out on top.
Kathryn is a freelance writer who has spent the past two years dividing her writing time between her two great loves - pets and health and wellness. When she's not busy crafting the perfect sentence for her features, buying guides and news pieces, she can be found hanging out with one very mischievous Cocker Spaniel, drinking copious amounts of Jasmine tea and attempting to set numerous world records for the longest ever FaceTime calls with her family back home in NZ.
Get the best advice, tips and top tech for your beloved Pets
Thank you for signing up to Petsradar. You will receive a verification email shortly.
There was a problem. Please refresh the page and try again.