32 quick and easy tricks to teach your dog
From sit and stay to whisper and wave, try out these quick and easy tricks to teach your dog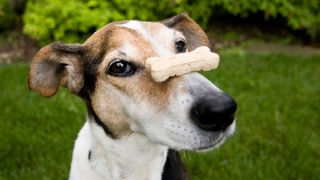 (Image credit: Getty Images)
The best quick and easy tricks to teach your dog help to keep your pooch sharp, mentally stimulated and physically fit. So it's a win for both health-conscious pet parents and fun-loving pooches.
Dogs are clever creatures and most four-legged friends love nothing more than playing with you, which in turn strengthens your special bond. And teaching your dog the top tricks can help you both enjoy your time together, while learning something new.
You might want to teach your dog some tricks to show off how amazingly brilliant your furry friend is to friends and family. Or perhaps you're thinking about entering some competitions. Either way, the best dog treats go a long way at helping your cute companion master a range of tricks to add to their repertoire.
So, whether you've just welcomed a puppy into your home, you've adopted a fur friend or have just decided now is the time to teach your dog some new tricks, we've got just the thing.
32 quick and easy tricks to teach your dog
1. Sit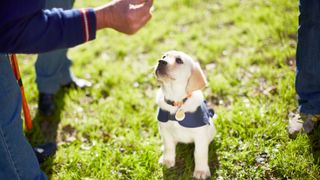 Teaching your dog to sit might be the oldest trick in the book. But it's also believed to be the easiest. Plus once they've aced this, it gives them a good foundation to learn other tricks.
2. Roll over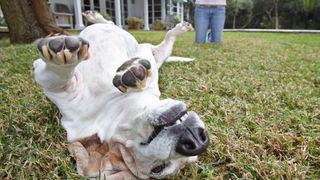 Once armed with some of the best puppy treats, you can teach your pooch to do just about anything. Including learning the art of rolling over.
3. Fetch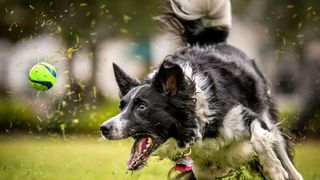 Play time goes a long way in helping create a bond between you and your furry friend. And a game of fetch is a firm favorite for pet parents and their pets. So stock up on some of the best dog toys and prepare to get lost in some furry fetch fun.
4. Lie down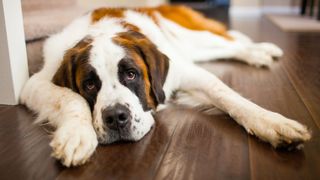 Whether you use a voice que, their favorite tasty treats or a mixture of the both, teaching your dog how to lie down can come easier once your four-legged friend has mastered the art of sitting.
5. Paw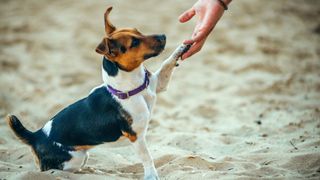 Perhaps one of the best tricks in the book, teaching your dog how to give its paw can help better your bond, flex their flexibility and calm their concentration levels too.
6. High five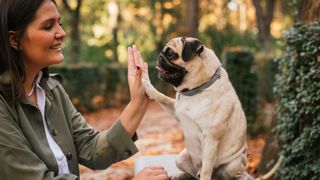 Dogs are clever creatures and can master all manner of tricks — including how to high five with their paws.
7. Place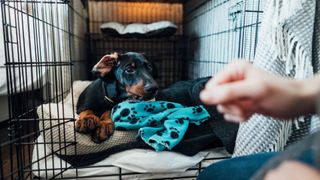 Wondering how to train your dog how to go to their bed? Taking them on a road trip and they need to get into the car? Or are you searching for the answers on how to crate train your dog? Then coaching your pooch how to go to their place will be particularly useful.
8. Stop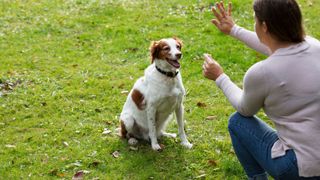 Serving a practical purpose, the stop command can help keep your dog safe and sound while on a walk, near traffic or around other pooches.
9. Nudge nose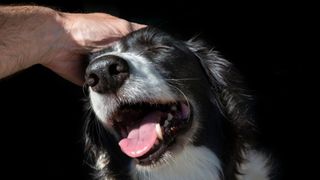 Your dog or pup probably already does this trick without even knowing to try and get your attention. It can be a great way to communicate.
10. Head down command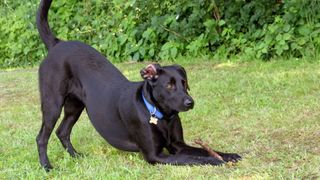 As the name suggests, the idea is to get your dog to lower its head down as close to the floor as possible. Like most of these tricks, dogs are more likely to listen if there are some tasty treats up for grabs. So grab some of the best dog treats before you start.
11. Watch me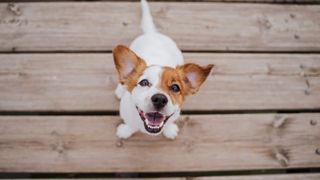 This trick can prove to be very beneficial, especially if you have a dog who's easily distracted while being out and about. Teaching your dog to 'watch you' can also be useful while training, as it means you'll have their whole attention.
12. Walk slowly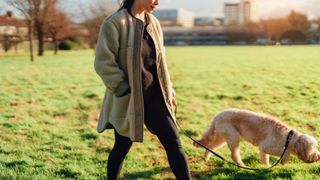 Wondering how to stop a dog pulling on a leash? Make this 'walking slowing' command your next trick to teach.
13. Bow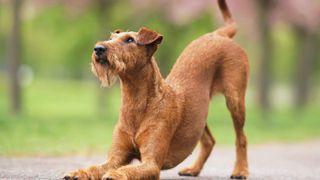 In the dog world, this fun trick is used by pooches to initiate play with other dogs. If you've ever had your dog bowing to you, your furry friend is trying to engage in friendly play with you.
14. Take socks off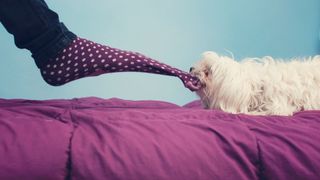 This fun and impressive task is a tug game that encourages a gentle pulling action.
15. Weave through your legs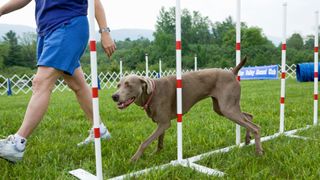 Scoring all the points for being one of the most impressive dog tricks? It has to the leg weave. The trick will see your pooch weave a figure of eight in between your legs. Along with looking fancy, it's great for coordination.
16. Look right-left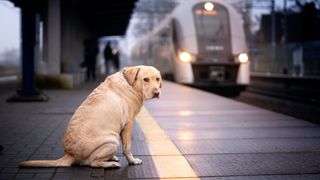 Thought your dog didn't know its left from its right? Think again. With a few treats, your pooch can learn the basics when it comes to agility, herding, retrieving and while out on walks.
17. Twist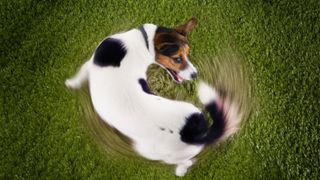 This trick might seem hard, but being able to twist is good for both their mental and physical stimulation. It will also give them a good foundation for different types of agility training exercises.
18. Nose target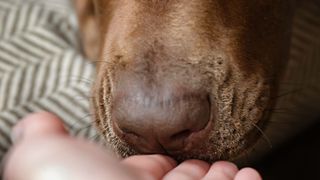 Nose targeting which can also be called 'touch' is all about having your dog touch a target with the tip of their nose. The idea is that anywhere their nose goes, their body will follow.
19. Walking backwards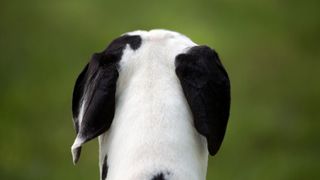 Dogs have a natural instinct to turn around a walk forwards, rather than reversing backwards. So this move also has a functional purpose and can help if you're in a tight spot, or you are trying to get through the door.
20. Center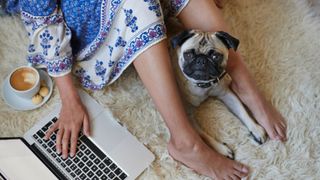 Teaching your dog to 'center' or 'middle' between your legs is one of the top tricks to have up your sleeve. This command helps your pet feel safe, secure and can become a tool for communicating with them as most dogs take up this position naturally when they're feeling anxious.
21. Jump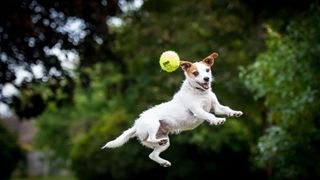 This trick will have them (and you) jumping for joy. However — before attempting this high impact command do assess whether or not this is safe for your pooch to do.
22. Into the collar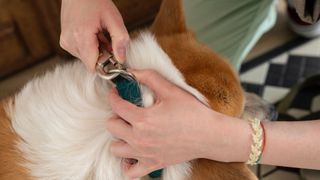 If the mere mention of the 'w' word sends your dog's energy levels sky high, you might wish to learn this clever 'into the collar' trick which could help you (and them) tick off their walkies with ease.
23. Wave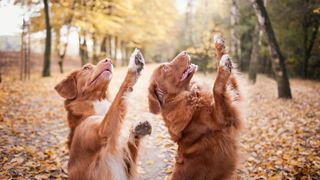 Adorably cute and funny, teaching your dog how to wave hello or goodbye might possibly be one of the best things you could do.
24. Whisper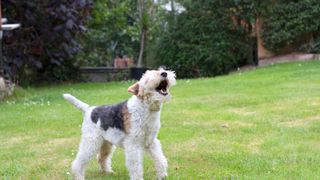 This trick will teach your pooch how to bark quietly — which is always practical. However it's advisable to teach your dog how to master the basic four commands like 'sit', 'come', 'stay' and 'down' before taking on this trickier trick.
25. Kiss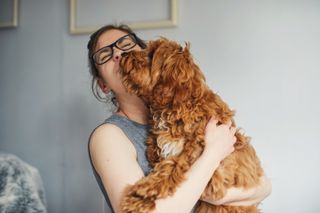 This trick is pretty self explanatory, and for some proud pet owners receiving dog kisses might already happen on the daily.
26. Around the tree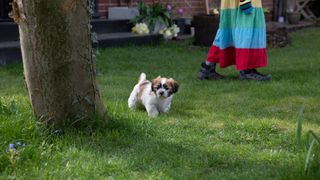 This is a nice agility exercise that can mix up walks and help keep your furry four-legged friend entertained while out exploring.
27. Jump on pedestal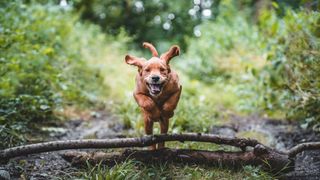 Normally used for agility exercises, you can teach your dog how to jump on a pedestal by placing a box on the floor. But do note this trick isn't for more senior dogs or those who struggle with joint issues.
28. Play dead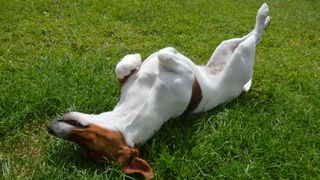 Teaching your pooch how to play dead can help give them some rest when they're in need of some R&R. Heads up: your dog will need to know how to complete the 'down' command before taking on this more complex challenge.
29. Holding an item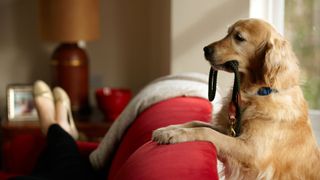 Want them to hold their leash? Or do you just want them to fetch something for you in their mouth? Either way, this trick will come in handy.
30. Catch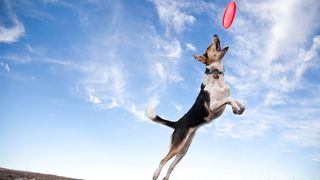 Teaching your dog how to catch is ideal for flexing your pooch's coordination and stamina. It's recommended to start with something small, like a treat, and then work your way up to a larger object like a toy. You could also take a load off with one of the best ball throwing machines for dogs, as these convenient solutions can keep your furry friend entertained for hours (even if you're struggling to keep up with your energetic companion's demands).
31. Go around an object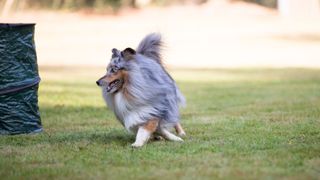 This training exercise will test their mind and body. Whether it's a cone, stool or table, this useful skill will most definitely be used in everyday life as well as competitions.
32. Army crawl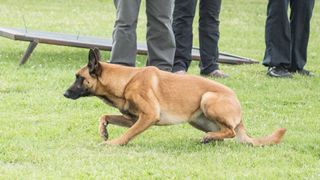 The reason we've left this trick until now is because it's dubbed the hardest command to teach your pooch. But that's not to say that you should avoid it at all costs. A healthy dog is a happy dog and the army crawl can boost your dog's strength and stamina. What more could you (and they) want?
Now you've tracked down the best quick and easy tricks to teach your dog, why not consider these practical tips for training your dog on your own? You might also like these easy ways to teach your dog new tricks.
Get the best advice, tips and top tech for your beloved Pets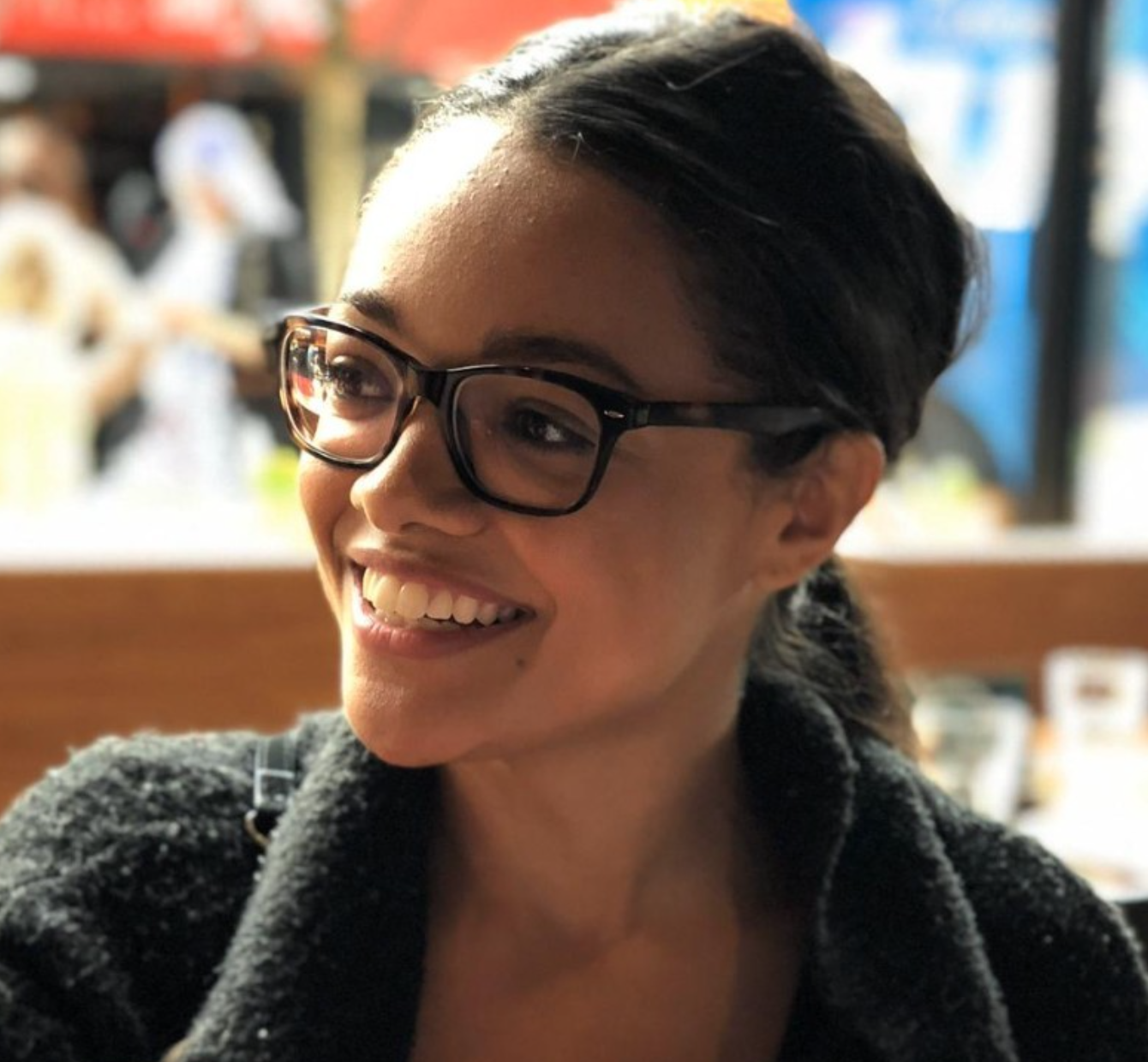 Becks is a freelance lifestyle journalist who has more than 9 years of experience in the world of digital and print journalism. She covers health, wellness and family interests for a range of titles. When she's not putting pen-to-paper (or finger-to-keyboard) she's reading, in the gym, or taking her Dog Aunt title very seriously looking after the handful of four-legged creatures in her life.