10 cute cat beds your feline will love
Make a statement in your home with these adorably cute cat beds for bold felines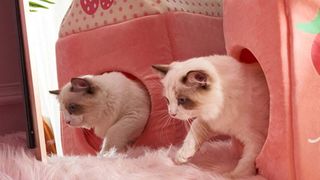 (Image credit: La La Pet)
If you're looking for a stylish pad for your kitty to rest their paws, these cute cat beds will make a fun statement in any home.
Choosing the best cat bed for your feline often means considering a mixture of comfort, size, and durability, but, as pet owners, we also want something that looks amazing and showcases our own personality. After all, our homes are an extension of ourselves.
If you've been considering picking up a new pad for your kitty, these cute cat beds typically feature bold design or adorable characteristics that are sure to make you smile.
Of course, nothing is cuter than pretty in pink but there's a wide range of cute cat beds on the market that are available in multiple colors and designs if you're looking for something a bit different. Want your cat to sleep in a banana bed? No problem! Fancy providing your kitty with a fun indoor patterned tepee? Of course!
If you prefer sophisticated design, however, be sure to nip over to our top picks for best luxury cat bed, ideal for felines that have fussier tastes.
PetsRadar's pick of the best cute cat beds
Why you can trust PetsRadar Our expert reviewers spend hours testing and comparing products and services so you can choose the best for you. Find out more about how we test.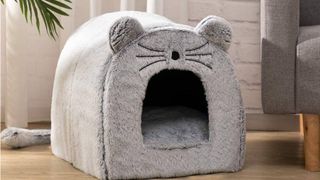 1. Hollypet Self-Warming Mouse Pet Bed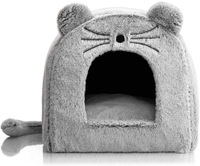 Hollypet Self-Warming Mouse Pet Bed
If your household frequently feels like a game of Cat and Mouse, then this mouse-themed pad is perfect for cats who've been on the prowl in the night.
This adorably cute cat bed features a cave-like design that'll make felines feel safe and secure and it's super soft to boot too.
It's available in multiple shades of gray to ensure you get the best color match for your miniature hunter - and your home.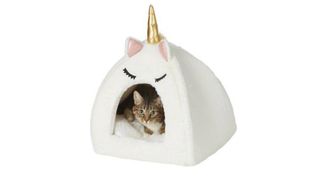 2. Frisco Novelty Unicorn Covered Cat & Dog Bed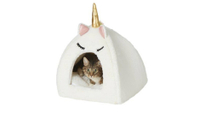 Frisco Novelty Unicorn Covered Cat & Dog Bed
Add a magical touch to any room with the Frisco Novelty Unicorn Covered Cat & Dog Bed. Made from soft polyester and polyfill, your feline will feel like they're sleeping in a cosy cloud.
It comes padded on all sides, with a removable cushion that provides comfortable support for all those cat naps.
Fortunately, it's pretty magical for pet owners too. Simply remove the cushion and flatten down for easy transportation.
3. AmazinglyCat Marshmallow Cat Bed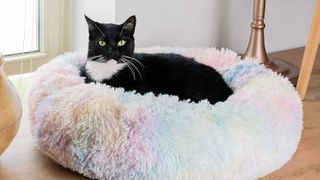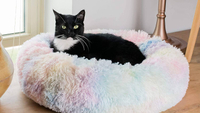 AmazinglyCat Marshmallow Cat Bed
With its fun and funky design, you can be sure the AmazinglyCat Marshmallow Cat Bed will look just as amazing on your pet's social media feed as it does in your living space. It's a fun twist on the typical gray donut bed you often see in many feline owner's homes.
Nip over to our in-depth AmazinglyCat Marshmallow Cat Bed review if you'd like to know more about how this rainbow-colored bed stacks up.
4. Kitty City Large Stackable Cat Cube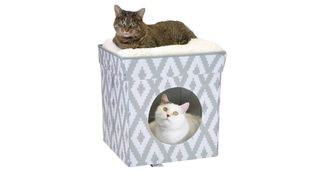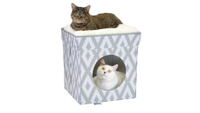 Kitty City Large Stackable Cat Cube
If you have multiple cats, then this chic cat cube could be a winner in your household. Its simple gray patterned design will fit with most interiors and you can even stack a few together to create a tall cat condo.
Nothing is cuter than the sight of your furbabies popping in and out of the entrance way or lounging on the cozy nap pads. You can even buy a two story hide and seek climber featuring the same pattern if you'd prefer an all-in-one solution.
5. La La Pet Warm Cats Bed Foldable Cat Cave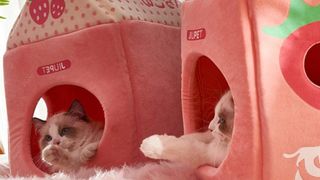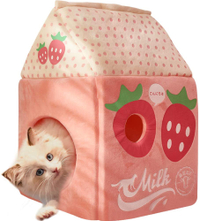 La La Pet Warm Cats Bed Foldable Cat Cave
Available in strawberry or banana milk designs, this foldable cute cat bed is particularly picture perfect for any new kittens.
Made of high-quality short plush fabric, it'll keep them warm and cozy, plus there's free a mat and blanket to tease out a spot of kneading in your cat.
There's no need to assemble here, just give it a squash down and fold away or pop up the cat bed when not in use.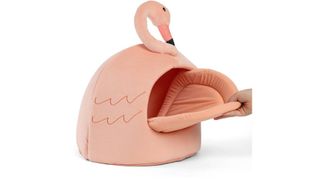 6. Best Friends by Sheri Novelty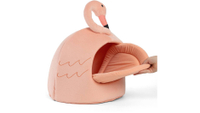 Best Friends by Sheri Novelty Meow Hut Flamingo Cat Bed
From Disney to flamingos, the Best Friends by Sheri range is packed full of cute and cuddly pads for your cat to enjoy some well earned shut-eye.
This paw-sitively adorable peach colored bed is designed to look like a flamingo. It makes a great spot for cats and even small dogs up to 15 pounds to hide out, relax and take an afternoon snooze.
7. SAVFOX Luxury Soft Comfy Plush Indoor Elevated Cat Bed & Hammock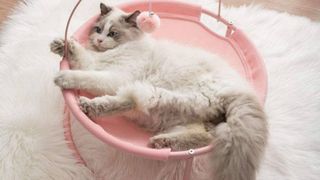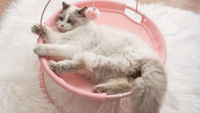 SAVFOX Luxury Soft Comfy Plush Indoor Elevated Cat Bed
With its stylish off-the-ground design, the SAVFOX Luxury Soft Comfy Plush Indoor Elevated Cat Bed looks to cradle your feline friend in comfort. It includes a dangling ball too that'll keep them entertained between snoozes.
If you're not sold on the pink, the product is available in multiple colors including a chic blue or beige.
8. EMUST Dog & Cat Teepee Bed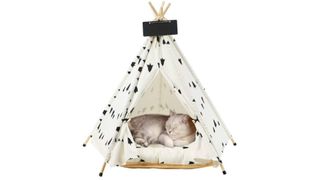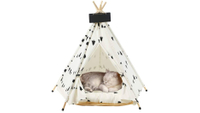 Give your kitty the full glamping experience with a teepee bed. This stylish cat bed is made of high quality cotton canvas and pine poles that's easy to assemble in the home.
Once set up, your feline friend can easily enter and leave whenever they please thanks to the open, easy access design.
9. Petgrow Cute Banana Cat Bed House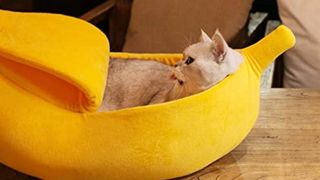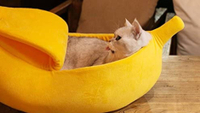 Petgrow Cute Banana Cat Bed House
There's nothing quite like the sight of a cat in a banana bed. This fun and funky bed comes in a variety of sizes- from medium to extra large - that'll ensure the perfect fit for your kitty.
It's particularly ideal for smaller cats or kittens; if you have an adult feline in the household you'll want to consider the extra large size.
10. NIBESSER Covered Cat Bed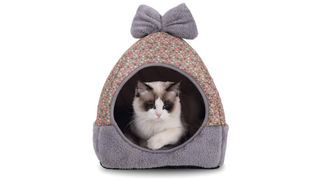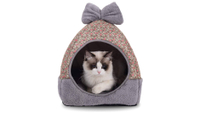 Looking for a handy hideout hut for your kitty? The NIBESSER Covered Cat Bed pairs subtle colors and a floral patterned design that's simply stylish. This cute cat bed is created using polyester and pp cotton to keep cats cozy, but it's the multiple layers of design that'll really turn heads.
One minute, it's a cute hut complete with pretty bow; the next it's a traditional cat bed. Simply take out the pillow and push down on the top of cat bed to let your feline enjoy a different twist on their bed.
Get the best advice, tips and top tech for your beloved Pets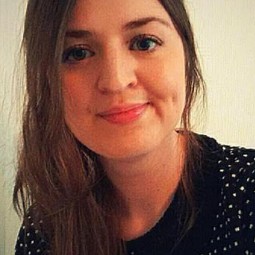 Ashleigh is Digital Editor on PetsRadar. With over 8 years of experience in print and digital media, she has acted as an editorial lead on a variety of projects, with animal themes a keen interest. As an avid animal lover, you can often find Ashleigh checking out the newest trends in animal care or looking at cute cat videos on TikTok.