Best bedding for guinea pigs 2023: Provide a clean and comfortable environment
The best bedding for guinea pigs will ensure your pet remains healthy and happy in their hutch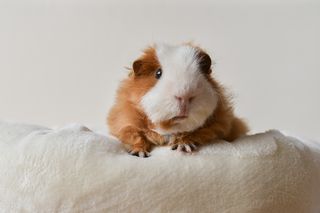 (Image credit: Getty)
It's important to choose the best bedding for guinea pigs since they are delicate pets which need to be treated well. By providing somewhere comfortable, safe and clean for your furry friend to sleep and relax, you will help to keep your pet happy and healthy. After all, guinea pigs need a hygienic environment in order to prevent them from becoming stressed and ill.
Without good bedding, there is every chance your guinea pig's coat can become dirty and damp from any pee and poo that will naturally accumulate in their cage each day. The trick is to use bedding that will absorb such waste so that the animals don't become exposed to nasty toxins or end up with sores on their skin.
At the same time, you'll need bedding which will be as free from dust as possible to ensure your pet can avoid developing upper respiratory infections – a common illness that's caused by several bacteria. It's also important that the bedding offers warmth, particularly with the cold months ahead in the northern hemisphere! Extra bedding can work wonders, with cardboard proving to be very insulating.
With all of that in mind, we take a look at the best bedding available, taking into account the materials and practicalities as well as how easy it's going to be to change (you need to change a guinea pigs' bedding regularly or whenever it needs it to avoid the potential for trouble).
It's also crucial that you invest in the best hutch and maybe even consider one of the best rabbit runs. In the meantime, here is the best bedding for guinea pigs in 2023...
PetsRadar's pick of the best bedding for guinea pigs
Why you can trust PetsRadar Our expert reviewers spend hours testing and comparing products and services so you can choose the best for you. Find out more about how we test.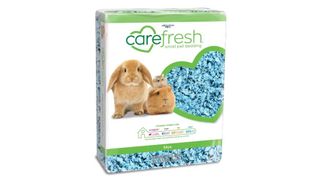 carefresh 99% Dust-Free Natural Paper Small Pet Bedding
Best overall bedding for guinea pigs
Specifications
Size:
10l, 23l, 30l, 50l, 60l
Color:
White, Blue, Confetti, Purple, Natural
Reasons to buy
+
Choice of five sizes and colors
+
Two times absorbency
+
Super soft
+
Biodegradable and compostable
Reasons to avoid
-
Not the highest dust-free raring
Undecided on what bedding to buy for your guinea pig? Not sure what you need? Then you need to stick this great all-round small pet bedding on your shopping list. It does a really good job across the board and offers plenty of choice when it comes to size and color and is competitively priced.
Specifically designed for small pets it will give your little fur friend a pillowy soft, dry and comfortable home. What more could your guinea pig and you as a pet parent want?
Carefresh - the people behind the bedding - make its own paper from raw natural fiber, which is obtained directly from source to create their super soft, ultra absorbent - 2 times better than shavings - dust-free and pet safe bedding.
It's soft - comfyfluff is their trademark - making it gentle on your fur friends' feet, and warm and comfortable to snuggle up in. Plus, it is free from harmful chemicals and synthetic dyes, is biodegradable and compostable and has a 99% dust-free rating. This makes it planet-friendly, easy to dispose of and good for the health of your gorgeous guinea pig. It's dust-free rating isn't as high as some bedding but is still very acceptable.
You can choose from a small 10 litre bag which should last for one or two cleans, Ideal if trying the bedding for the first time, right up to a 60 litre bag which should last for a couple of months. There is a choice of five colors - and yes guinea pigs can see in color - from natural to the multi-colored confetti to add a little pizazz to your fur friends' surroundings.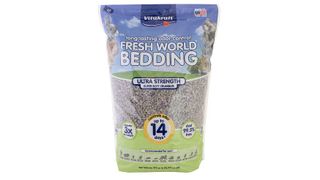 Vitakraft Fresh World Strength Crumble Bedding for Small Animals
Best budget bedding for guinea pigs
Reasons to buy
+
100% recycled paper
+
Eco-friendly
+
Absorbs three times its weight
+
Made in the USA
Reasons to avoid
-
Small bag size which only lasts for one or two cleans
If you are on the lookout for bedding that won't burn a big hole in your pocket and offers outstanding odor control then this crumble bedding is a great choice. The small-sized paper pellets are perfect for guinea pigs, they are soft making them ideal for walking on and super absorbent so ideal for a toilet area. Made from 100% recycled paper collected via a program that supports schools and community organisations they are people-friendly as well as eco-friendly. But they aren't the most attractive in color being a natural pulp gray, which makes it hard to spot where your little fur friend has done their business. But on the plus side this does mean that no additional dying or bleaching has been involved in the manufacturing process.
Sticking with the eco-friendly vibe the crumbles are baking soda free - making them safer for pets - and biodegradable and compostable. They are also dust-free - another plus point for pet safety - but they are not as highly rated as some brands, but at 99.5% they are still very good. And the bedding has impressive odor control offering up to 14 days worth of fresh, pee and poo free smelling air. But you will need to do regular, if not daily spot checks to get the best odor-free results.
While its super absorbent nature is a real plus when in the cage, it does mean that the pellets can get really heavy making cleaning heavy work, so be prepared when it's time to clear out the cage.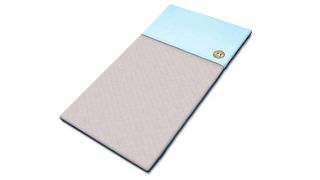 GuineaDad Guinea Pig Fleece Cage Liner
Best premium bedding for guinea pig
Specifications
Color:
Blue Orange, Pink, Plaid Red, Purple, Sea Green, Yellow
Reasons to buy
+
Super absorbent bamboo fiber filling
+
Washable
+
Includes hidey hole
+
Soft and comfortable
+
Built-in pocket for burrowing and sleeping
Reasons to avoid
-
Small range of sizes
-
Precise washing instructions
Are you fed up of clearing out the stinky, messy and dirty bedding that sits on the bottom of the cage when it comes to your guinea pigs' cleaning time? It's rarely the favorite part of owning a pet, but as a responsible pet parent it's a job that has to be done. So why not try something different and give yourself and your little fur friend a treat with the GuineaDad Guinea Pig Fleece Liner? You won't find any paper pellets or wood shavings here, this is a soft blanket-like dust-free liner that fits neatly in the bottom of your guinea pigs' cage and brings with it comfort and cleanliness.
The Mid West model measures in at 24 x 27 inches, but there are other sizes available, but the choice isn't huge. But as an alternative you can fold up the edges to help it fit a smaller cage and give soft comfortable edges that your fur friend can bounce off. Made from fleece with a bamboo fiber filling and a waterproof backing it offers three layers of protection.
The bamboo layer absorbs any liquids and odors while the top fleece layer keeps your guinea pigs' feet soft and dry. But you will need to make sure that you spot clean it regularly and wash it at least once a week, to keep odors and smells away. And make sure that you follow the washing instructions to keep it in good condition. A built-in pocket - in a choice of cool colors - helps satisfy your fur friends' burrowing instincts and doubles up as a cozy sleep area. As an added bonus the packaging transforms into an edible hidey hole your fur friend can hang out in when they want to get away from it all.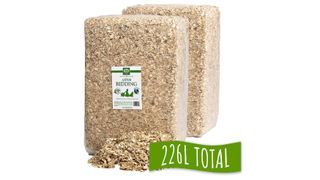 Small Pet Select Aspen Bedding
Best Aspen bedding for guinea pig
Reasons to buy
+
Natural and odor-free
+
No added dyes, scents or chemicals
+
Economical
+
Recyclable and compostable
Reasons to avoid
-
Not as dust-free as other bedding
If you want a natural bedding that is eco-friendly and economical then wood shavings are a great choice for guinea pigs. Aspen is the preferred choice as they don't contain any aromatic oils that are often found in the alternative: pine shavings. This helps lessen the health risk to your little fur friend and doesn't give off any odor.
Kiln drying is the only process that the shavings go through, and these shavings from Small Pet Select are taken from logs. Not the leftover fibers that you get from reclaimed paper production, which can contain unwanted dioxins which are not good for a guinea pig's delicate health. This also means there are no added dyes, scents or chemicals that can cause concern for a pet parent.
But it is worth noting that while the shavings are all-natural this does mean that the bedding is not dust-free like some alternatives. But once again, like the paper and liner options in this buying guide the dust-free rating is still high and safe for your pet. But if your pet is really sensitive to dust you may want to try something different.

Aspen bedding is soft and natural but not quite as soft as most paper bedding, but guinea pigs are commonly fans of the more natural feel of wood shavings. They are naturally absorbent - but not as absorbent as most paper bedding and control odors well, especially if you do daily spot cleans.

And as you might expect the shavings are fully recyclable and compostable. Mixed with your fur friends poo they can be turned in a great compost that you can use to help plants and vegetables to grow.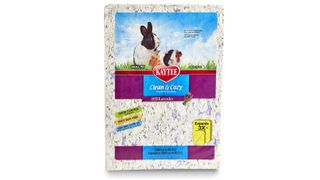 Kaytee Clean & Cozy Lavender Bedding
Best scented bedding for guinea pig
Reasons to buy
+
Super absorbent
+
Naturally scented for great odor control
+
No chemicals or by-products
+
99.9% dust-free
Reasons to avoid
-
Not recyclable or compostable
Fed up of getting a whiff of your little fur friend's toilet habits every so often and prefer to mask the smell with a more pleasant scent? Then you should try this lavender scented bedding. It is often recommended that you shouldn't bother with scented bedding. But lavender is a scent that guinea pigs like and the bedding doesn't contain harmful chemicals or by-products making it pet-friendly.
Lavender is not for everyone and if it is a scent that you'd rather not have in your home, then you could try the Apple Spice or Summer Storm to help disguise the smell of guinea pig.
Made from the remnants and trimmings of other hygienic products, this paper bedding gives your fur friend a super-soft and absorbent bedding that has an impressively high dust-free rating of 99.9%. The soft and fluffy feel of the bedding encourages your guinea pigs natural burrowing and nesting instincts and is great for keeping their paws in tip-top condition. And keeping them dry and clean as it absorbs up to six times it own weight in liquid. This means that you get great odor control to go with your chosen scent. But as always you will need to clean out regularly and the small size packaging is a one or two time covering, so you'll need to get a few packets in for every month.
While long-lasting and pet-friendly the bedding is not so environmentally friendly and makes no mention of being recyclable or compositable, so you simply need to dispose of it like you would any non-recyclable household trash.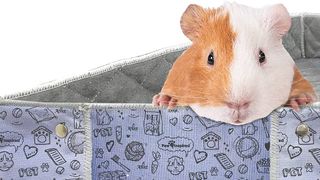 Best raised liner bedding for guinea pig
Reasons to buy
+
Easy to clean
+
Machine washable
+
Super absorbent and quick drying
Do you want a bedding solution that gets rid of almost any cage cleaning? It almost sounds too good to be true! If the thought of manually removing bedding and scrubbing a dirty cage horrifies you then you need to seriously consider this raised sides fleece liner that eliminates almost any cleaning. Be warned, it doesn't get rid of all cleaning duties, but it's about as close as you are going to get, the washing machine does most of the work.
Most fleece liners lie flat in the bottom of the cage and do a great job, but with flaws. Rarely do they go right up to the cage's edges and are prone to moving. This means that pee and poo can get under the liner. But the Critter Box fits neatly into the cage and its raised sides mean that your little fur friends' business is contained in the box. So all you need to do is take it out, empty and give it a wash.
The raised sides not only keep in your guinea pigs' mess but they also offer protection from any sharp objects lurking in the cage or the cage itself. But, you will need to have a certain size cage to use the Critter Box. Currently there are three different sizes specially made for the common cage type - C&C Coroplast cages and Midwest cages, so ideal if you own one of the cage types. Not so good if you don't.
Completely dust-free, the soft velvet fleece liner is soft and comfortable, something your little fur friend will love and its super absorbency means it's quick drying and keeps the liner moisture-free and clean.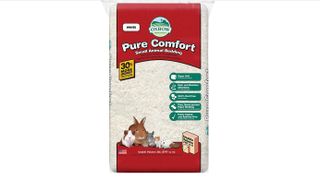 Oxbow Pure Comfort Small Animal Bedding
Best absorbent bedding for guinea pigs
Reasons to buy
+
30% more absorbent than many rivals
+
99.9% dust free
+
Very soft paper bedding
Reasons to avoid
-
May move too easily around a hutch
It's important that a guinea pig's bedding is not only comfortable but as dry and odor-free as possible. With this bedding from Oxbow, you can be sure that moisture will be soaked up, leaving a fresh habitat that won't prove smelly and off-putting to both you and your pet.
It's made from soft paper that has never been used for printing and it's capable of absorbing up to 800% of its weight in moisture. All you need to do is spread up to three inches on the bottom of the hutch and you get enough in a 36-liter bag to last you a good while, changing it once-a-week. You could, however, go for up to 178 liters worth if you wish.
We like that the bedding is 99.9% dust free which will do wonders for the health of your guinea pig's lungs. There are no additives either, making for an overall healthy choice. Some users suggest it's lighter than some other brands, though, so can end up being spread into the corners when a guinea pig moves around.
How to choose the best bedding for guinea pigs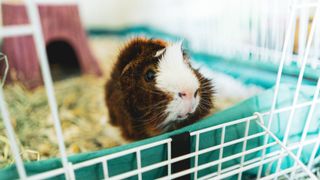 Clean and comfortable
A good bedding needs to be soft and comfortable on your guinea pigs' feet as they will be walking around on them for most of the time they are active and awake. If it is too hard it can lead to inflammation of the skin - known as pododermatitis - which can lead to other health issues.
This can be caused by soiled and wet bedding, so a highly absorbent option that moves moisture into a different layer rather than keeping bedding damp is a good all-round choice for your fur friend's general health.
Safe and healthy
Dust-free bedding is essential as this will help reduce respiratory symptoms and problems. Look out for bedding that has a very high dust-free rating. Anything over 99% is a good choice. Bedding should also be non-toxic and unappetising as possible.
You don't want your little fur friend munching on its bedding as this could lead to them being sick. If you notice that your guinea pig is chewing and eating its bedding, switch to an alternative option straight away. It should also be odor-free, a benefit for both your pet and yourself. Again, if your chosen bedding is not killing your guinea pigs' pungent aroma then swap to a different bedding.
Eco-friendly
Typically bedding needs to be replaced every week or two, but whatever your cleaning routine you will be using a lot of bedding over the lifetime of your little fur friend. So make sure whatever bedding you are using comes from a sustainable source, is biodegradable and compostable. This will be good for the planet and could be good for your garden as well.
Get the best advice, tips and top tech for your beloved Pets
Steve Jenkins is a freelance content creator and long-time journalist with more than 20 years in the industry. He has written for numerous titles covering tech to pets, with his latest faithful hound always by his side. When not walking his dog, or discussing who's best - cats or dogs? Loud guitars, AFC Bournemouth, Photoshop, and trying to save the world take up the rest of this time.