Best dog puzzle toys 2023: Keep your canine companion entertained
The best dog puzzle toys will challenge your canine companion's brain and ensure they stay mentally fit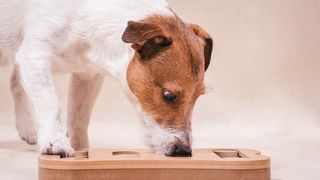 (Image credit: Getty Images)
Dog puzzle toys make for a wonderful addition to your pup's play box if you're looking for a way to give them a good mental workout. Stimulating and enriching, these fun and challenging toys are ideal for when your fur friend is home alone or for those times when you're too busy to play.
While the best dog toys can provide hours of entertaining physical activity, keeping your pup's mind sharp is equally important and that's where puzzle toys can be real lifesaver. Because they're reward-based, your dog will have no clue that their brain is getting its daily workout - they'll be too focused on trying to figure out how to release that all-important tasty treat!
Puzzle toys are suitable for all breeds and ages, but they're particularly important for highly intelligent breeds who require a lot of daily physical and mental activity to ensure they don't get into mischief.
If you have a dog that won't stop barking, chewing the furniture, scratching the skirting boards or just generally wreaking havoc, you may find that giving them a puzzle toy to play with will work wonders when it comes to channelling all that energy into something more productive.
There are a lot of different puzzle toys on the market these days, so the first thing you want to be on the lookout for when selecting one is lots of compartments that you can hide the best dog treats in.
You'll also want to pay attention to the difficult level as puzzle toys are available in a range of different levels from beginner to advanced. We find entry level puzzle toys ideal for puppies, while the more advanced models are brilliant for dog's who have had a lot of practice with puzzle toys or who are particularly bright.
To help you find the perfect dog puzzle toy for your forever friend, we've rounded up our top picks that are proving popular in 2022...
PetsRadar's pick of the best dog puzzle toys
Why you can trust PetsRadar Our expert reviewers spend hours testing and comparing products and services so you can choose the best for you. Find out more about how we test.
Outward Hound Puppy Hide n' Slide
Best overall dog puzzle toy
Specifications
Size:
2-inch x 11.6-inch x 11.6-inch
Material:
Wood Plastic Composite
Puzzle level:
Intermediate
Reasons to buy
+
14 snack compartments
+
Made from food-safe materials
+
Easy to clean
+
Intermediate puzzle level
To give your dog a happy life balance, it needs mental stimulation just as much as it needs physical exercise, and this Puppy Hide' n' Slide dog puzzle toy is designed to give all dogs a fun intermediate challenge. As your pet pooch interacts with the toy, it will stimulate its senses, energize and enhance its natural behaviors, and relieve everyday boredom.
To do this, there are two types of hiding spots for your dog's favorite snack, with a total of 14 different compartments to make the challenge more engrossing and exciting. You can hide kibble- or if you're feeling generous, a piece of freshly cooked chicken – under the swiveling flippers or inside the hollow sliding blocks.
If your fur friend is new to the idea of a dog puzzle toy then you can use just one or two of the compartments to get them started. Slowly build up the difficulty level by introducing more compartments to make sure that getting their paws on the food is still giving your dog plenty of stimulation. Keep an eye on them when using the puzzle to make sure they understand what's happening. Give them plenty of encouragement to help teach them how the game works. Once they get it, simply add more snacks the next time out.
For your pet pooch's safety – and your peace of mind – the toy is made from food-safe materials that are BPA, PVC, and phthalate-free. Keep it clean with a simple combination of warm water and soap, and you will get hours and hours of fun for you and your dog.
HIPPIH Interactive Dog Toys Ball for IQ Training
Best budget dog puzzle toy
Specifications
Size:
5.83 x 3.07 x 2.91 inches
Reasons to buy
+
Two-piece set
+
Extra-tough rubber
+
Cleans teeth
+
Fresh mint fragrance
If you want to combine exercise and mental stimulation with the added bonus of keeping your pet pooch's teeth clean then this two-piece dog puzzle toy set is just the ticket. Made of extra-tough rubber these balls are bite-resistant, non-toxic, non-abrasive, and great for giving simple stimulation to all dog sizes and breeds.
The blue ball is aimed at smaller dogs with its 2.75" size, uses a saw-tooth surface design, and comes with a light mint scent. This is great for helping your dog clean their teeth without damaging their gums, giving them a hint of minty fresh breath. But the design also allows you to give your dog a challenge. Simply slip small dog treats between the teeth and see how quickly your fur friend can figure out how to get them out and enjoy them. Try throwing or rolling the ball to give them more of a challenge and a little exercise at the same time. When it comes to dog puzzle toys, we definitely like this one.
If you want to up the mental stimulation stakes then the 3.14-inch green ball will provide more of a challenge. Made from the same non-toxic, extra-tough rubber, the ball can be opened to reveal an inner compartment to add small dog treats. To stop the treats from simply falling out the hole in the ball, multiple rubber layers are used to keep them in place. Your dog will be able to hear and smell the treats as they play with the ball, but they will need to be a bit smarter to get the treat.
Outward Hound Hide-A-Squirrel Squeaky Puzzle Plush Dog Toy
Best plush dog puzzle toy
Reasons to buy
+
Engaging and entertaining
+
Toy replacements available
+
Sizes for all breeds
Keep boredom at bay and save your shoes, furniture, and clothing from getting the chew treatment with the help of this furry plush toy. The more you can engage your pet pooch in non-destructive activities, the better it is for your home and your dog's mental well-being, making it particularly impressive in the field of dog puzzle toys.
This Hide A Squirrel dog puzzle toy is great for getting your curious canine stimulated, engaged, and entertained. Six squeaky squirrels sit in the 13-inch tall XL soft toy tree trunk waiting to be called into action. Toss the squirrel-filled trunk into the air, and watch as your pet pooch takes up the challenge of getting all the squirrels out of the tree.
Leave it standing in the middle of the room, give a squirrel a squeeze, and wait for your dog's curiosity to get the better of them. Double up the fun – and give your dog some exercise – by grabbing a squirrel and launching it across the room for a game of fetch. Don't worry if one of the squirrels gets a little too much chewing action, as packs of three replacements are available to buy.

Smaller three-squirrel versions of the toy are available in small, medium, and large. Choose from a 6-inch, 7-inch, or 7.75-inch tall trunk to best suit your dog's breed and jaw size.
Be warned that this is a soft plush toy, and it isn't as hard-wearing and long-lasting as many of the dog puzzle toys on offer in this guide. But it is a great option to help stop your dog from chewing your favorite things.
Best strategy dog puzzle toy
Specifications
Size:
9.8 x 9.05 x 2.75 inches
Puzzle level:
Intermediate
Reasons to buy
+
Adjustable difficulty level
+
9 large hidden compartments
+
Non-slip pads
Fun and challenging, this intermediate dog puzzle toy will give your pup's brain a great mental workout with nine hidden compartments your canine companion will have to figure out how to open in order to get their treats.
Suitable for all breeds, sizes and ages, it's difficult enough to really slow down your dog's eating speed, so it's a brilliant choice if you have a fur friend who tends to inhale their food. You can also adjust the puzzle to make it easier if your pup finds the advanced level a bit too tricky.
Made from heavy duty plastic and embedded with non-slip pads, it's incredibly sturdy, durable and stable, and while it's not dishwasher safe, it's easy to clean with soap and warm water.
Best multi-option dog puzzle toy
Specifications
Size:
12.75 x 9.25 x 2 inch
Puzzle level:
Intermediate
Reasons to buy
+
20 treat compartments
+
Many puzzle combinations
+
Non-slip base
Reasons to avoid
-
Only accommodates small treats
-
Easy to lose brick bones
With 20 hidden treat compartments, the search for those tasty treats isn't going to be easy for your pet pooch. A premium boredom buster the Dog Brick is no one-trick pony. A level 2-rated dog puzzle toy, there are a whole host of game combinations that you can try to stimulate your dog, encourage positive play habits and help get rid of less acceptable destructive behavior, making it one of the more educational dog puzzle toys here.
There are eight sliding treat covers, with two each set in four rows. This allows you to move each cover to create a whole set of different combinations to keep your pet pooch entertained and amused. You can try two covers together in one row while having them separated in the next row, and try something different in the next row. Then the next time, move them around again for more fun and stimulation for your dog.
To avoid any canine frustration and stimulate the senses, each sliding cover comes with its own scent hole. To add to the puzzle feast, and to keep your dog thinking, there are removable brick bones that can conceal a third hidden compartment in this puzzle dog toy. You can keep these for later challenges. Once your dog has mastered the many slider combinations on offer introduce brick bones.
Don't forget, this game is meant to be fun and interactive, so sit with your dog and gently encourage them to play. If they find a puzzle too difficult and don't get any help they will simply give up and walk away. This is one of the dog puzzle toys you may have to persevere with, but it's worth it.
Treat Dispenser for Dogs Training Funny Feeding
Best starter dog puzzle toy
Specifications
Size:
9 x 9 x 1.15 inches
Puzzle level:
Intermediate
Reasons to buy
+
Non-detachable and adjustable sliders
+
Large treat compartments
+
Non-slip base
Reasons to avoid
-
Adjustable screws can break sliders
Of all the dog puzzle toys here, this one is all about exercising your dog's brain rather than its body. Made from safe and durable ABS material, this colorful toy features 14 food compartments, which are accompanied by eight non-detachable plastic sliders that allow you to fill and cover with tasty treats. It also means that your pet pooch will avoid swallowing the sliders.
If your dog is new to dog puzzle toys then this is a great starting point for them to learn. Start on the outer ring, and you can fill two compartments with tasty treats and cover one. This will entice your dog to take the easy treats, but at the same time encourage them to move the slider to get their paws on the hidden snacks. To keep up the challenge for your pet pooch and keep the game interesting, you can choose to leave some compartments completely empty.
An inner ring boasts four large compartments that can accommodate more than just kibble or small treats. These are accompanied by three sliders that give you the option to choose what to cover. The sliders can move through 360 degrees, meaning you can place where you want in the inner ring. Myriad combinations will keep your dog stimulated and entertained for hours, but it won't be long before they work out how the slider work. To up the difficulty – and the challenge – the sliders have hidden screws that can be used to tighten the free-flowing nature of the slider. But be careful not to tighten too much, as you will break the slider.
OurPets Waffle & Sushi Interactive Puzzle Game
Best for multi fur baby households
Specifications
Size:
10.83 x 9.25 x 1.81 inches
Reasons to buy
+
Great for dogs and cats
+
Suitable for all life stages
+
Easy to clean
If you have both canine and feline furkids in your family (or even if you don't!) this cute interactive sushi puzzle game is a real winner that's suitable for both big and small furry paws.
Made up of nine compartments, place your dog's treats in each one and then move the flippers to cover them over. This is a great way of strengthening your pup's cognitive abilities and it makes a good alternative to a snuffle mat.
Made of durable plastic, the toy is strong and sturdy and it's easy to keep clean too - simply hand wash with mild soap and water and then leave to dry. The only downside is that the sushi covers are quite loose, so we recommend this as a superb entry level puzzle for dogs who haven't been exposed to these kinds of toys before.
How to choose the best dog puzzle toy
Dogs need mental stimulation as much as they need physical exercise. Keeping your pet pooch from getting bored will stop them destroying property, improve their mental health, and keep them entertained.
When on the lookout for a dog puzzle toy, you need to think about what level your dog is at. If you have never tried your dog with a puzzle toy before it's best to start off with a level 1 game, such as the HIPPIH Interactive Dog Toys Ball for IQ Training. These are tough durable rubber balls that make it relatively easy to get a tasty treat. The Hide-A-Squirrel Squeaky Puzzle Plush Dog Toy keeps the challenge low, but is high on entertainment value, and is a definite boredom-buster for a dog who loves a game of fetch.
For dogs who have already dabbled with puzzle toys, level 2 toys are a better choice. The Outward Hound Puppy Hide n' Slide comes with 14 compartments to help stimulate your dog, and is the ideal option for your first foray into intermediate games. For a different challenge, the Outward Hound Dog Brick, Treat Dispenser for Dogs Training Funny Feeding, and TRIXIE Dog Activity Flip Board will give your fur friend plenty of stimulation and a reason to use both their nose, paws, and jaw to get their favorite tasty treat.
Get the best advice, tips and top tech for your beloved Pets
Steve Jenkins is a freelance content creator and long-time journalist with more than 20 years in the industry. He has written for numerous titles covering tech to pets, with his latest faithful hound always by his side. When not walking his dog, or discussing who's best - cats or dogs? Loud guitars, AFC Bournemouth, Photoshop, and trying to save the world take up the rest of this time.