Best gifts for cat lovers 2021: Pick the purrfect present
Looking for gifts for cat lovers? You need these in your life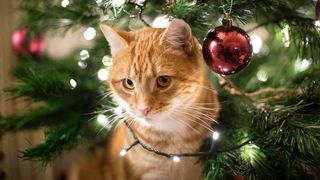 (Image credit: Getty Images)
What gifts for cat lovers should you go for when looking for that special present for friends or family? You know they love their sweet adorable, cuddly feline friend and you know that they love everything to do with cats. So that should make it easy, right?
However, there are thousands of gifts for cat lovers that you can choose from, so picking the right one isn't always easy. You don't want to waste your hard-earned dollars on a gift that will be tossed aside after a few weeks, you want to get something that will last and be wanted.
We are here to help and in this guide we have put together a selection of gifts that covers all bases. We're pretty sure you'll find something suitable for your cat loving friend.
How about a cat-themed message that tells everyone how much you love your cat? One of our favorites are the cool vintage box signs from Primitives by Kathy. 'Cats Welcome - People Tolerated' is a sentiment that will make cat lovers smile. Does your friend like a glass of wine? A collection of special glasses will make a great gift. Why not throw in a bottle of wine to complete the gift?
If you're looking for something more practical, an automated cat feeder is a great option for those who aren't at home all day, every day. They get peace of mind, while their fur baby gets plenty to chow down on.
Whatever you pick, make sure you choose wisely, and your feline-loving friend will thank you forever.
PetsRadar's pick of the best gifts for cat lovers
Best overall gift for cat lovers: Primitives by Kathy Classic Box Signs
Best budget gift for cat lovers: Frisco Colored Dots Personalized Coffee Mug
Best storage gift for cat lovers: HiChen Large Woven Cotton Rope Storage Basket
Best wine glass gift for cat lovers: Funny Cat Stemless Wine Glasses
Best tech gift for cat lovers: DOGNESS Mini Programmable Automatic Dog & Cat Feeder
Best kitchen gift for cat lovers: Design Imports Meowy Catmas Embellished Dish Towel
Primitives by Kathy Classic Box Signs
Best overall gift for cat lovers
Size: Various | Color: Black, white | Weight: 0.29 pounds | Material: Wood, paper
Vintage design
Fits in any home
Sassy message
Standalone or hang
Lots of options
Not as big as you might think
Do cats rule in your home? Do you want to shout out to the world that your feline friend is your best friend, and that you'll love them forever? Then this cute wooden box sign featuring the 'Cats Welcome – People Tolerated' message deserves a place in your home. Bearing a sentiment that every devoted feline fanatic can agree with, it measures 10 x 3 inches, and is designed to stand alone or hang on the wall.
Finished in black with cream lettering and boasting a contemporary vintage distressed style, it will fit in anywhere. Make sure you give it a prominent position in the home so it can be missed – ideally near the front door, so any visitors will quickly understand where they stand in the pecking order.
If you're loving the classic look and message of this sign then it's definitely worth checking out the rest of the Primitives by Kathy range. All dedicated to cat lovers, why not choose a more subtle message that doesn't ramp up the human element? Boasting a similar design, size, and style there's ' You got me at Meow', 'My Children Meow', 'Legalize Catnip' or 'All you need is love… and a cat' to choose from.
Elsewhere, there's a host of portrait and landscape-shaped boxes that keep the distressed look that up the word count and humor. A favorite of ours is the nine-point 'The Cat's Rules' list, it's smart, funny, and will raise a smile even from those non-cat lovers that are allowed in the home. There's something for everyone – you just need to choose the one you love.
Frisco Colored Dots Personalized Coffee Mug
Best budget gift for cat lovers
Size: 4.75 x 4.75 x 3.75 inches | Color: White, custom | Weight: 14.4 ounces | Material: Ceramic
Add your own photos
Bespoke message
Customize text
Dishwasher and microwave safe
Only one design
Never sure what gift to get the cat lover in your life? You can't go wrong with a personalized present. It says you care, and want to give something that you think they will love and cherish. On the flipside, if it's a gift for yourself you know it is something that will make you smile every time you head to the kitchen for a hot mug of coffee. If you're not a coffee lover, it still makes a memorable decoration that will look great on a shelf. Why not get yourself a whole box full of cat-tastic personalized mugs to send out to friends, colleagues, or clients?
Dishwasher and microwave safe, you get a quality ceramic mug that you can customize until your heart's content. You can add up to three photos of your pet puss along with two lines of custom text – a maximum of 20 characters for each line – more than enough to get two decent sized caring, funny, or simple messages. Better still, you can fully customize the text.
Choose from 14 different fonts, adjust the size, choose from 36 different colors, and align the text left, right, or center. But be warned: stick within the boundaries of common decency, as Chewy has the final say on whether or not the mug will get printed.
The snowdrop pattern on each of the three sections stays, but you can choose a color for each separate pattern to match up with the photo, and text to create a complementary design that everyone who gets one will treasure.
HiChen Large Woven Cotton Rope Storage Basket
Best storage gift for cat lovers
Four colors
Large capacity
Integrated cats ears handles
Sturdy construction
Soft fabric finish
Can only hand wash
Has your feline friend got more toys, cushions, and blankets than you can cope with? Are they spread all across the home, causing a real trip hazard? Cats might not be tidy pets, but owners are and this cute, cat-themed storage basket makes for a smart, functional, and fun addition to the home.
Made from a soft but durable cotton material that never scratches the skin, it is still sturdy enough to stand as if made from plastic. A cute cat face with whiskers is painted onto the baskets, and the built-in handles are shaped to look just like cat ears to complete the feline fun.
But don't let its adorable design get you thinking that it's all style and no substance; this is definitely not the case with the multi-use storage solution. Measuring 15.7 × 11.8 x 13 inches, it has a large enough capacity to store toys, blankets, pillows, and even the laundry if you don't want to make a gift exclusively for your fur friend. The integrated handles make it easy to carry whatever you decide to store in the basket.
But it's not just about storage – why not make it your feline friend's new sleeping quarters? Put a blanket in the bottom, chuck in a few cushions, and they will be snug, warm, and happy. And, on the plus side you can move it without disturbing them while they are asleep.
If the color beige doesn't fit in with your home decor – or you want something a little more exciting – you are not restricted to a single color. Available in three alternative colors, you can choose from majestic black and gold, a contemporary gray with black face, or try the more neutral finish of jute again with a black face.
Funny Cat Stemless Wine Glasses
Best wine glass gift for cat lovers
Size: 15oz capacity | Color: Clear | Weight: 2.09 pounds | Material: Glass
Dishwasher safe
Large capacity
Amusing messages
Set of 4
Not proper wine glasses
Had a hard day, and just want to sit back, relax, and chill out with your best fur buddy? Then a glass of wine and a cuddle with your favorite feline friend is a great way to help make this happen.
Made from food-grade and dishwasher-safe Borosilicate glass, this set of four stemless wine glasses make a great gift for any cat owner/wine lover that you have in your life. You don't even have to worry about packaging them up; each glass is rolled in bubble wrap and packed in a durable box, ready to be wrapped in your choice of paper. If you love the look of them, why not get them on your own holiday or birthday gift list?
Each glass in the set comes with a large 15oz capacity, is ergonomically designed – so fits neatly in the hand – and has its own Individual and amusing cat-friendly message printed on the side. You can get just over half a bottle of wine in each glass, making it great for parties and visitors to share a glass with you.
But be careful that you don't want to get too relaxed and miss the message that will undoubtedly bring a smile to a cat lover's face. The more you drink, the funnier and amusing each one becomes. Choose from 'I Work Hard So My Cat Can Have A Better Life', 'I'm Not Lazy I'm Cat-Like', 'Sorry I Can't I Have Plans With My Cat', and our favorite, 'If It's A Choice Between You and My Cat I Choose My Cat'. All a little tongue in cheek, so select one as your go to choice, or mix it up to suit your mood.
DOGNESS Mini Programmable Automatic Dog & Cat Feeder
Best tech gift for cat lovers
Size: 13.6 x 7.4 x 10.2 inches | Color: White, pink, green | Weight: 2.6 pounds | Material: Plastic
Programmable meal times
Holds over a weeks worth of food
Automatic food dispenser
Controls portion sizes
Dry food only
Got to leave your cat by itself for a day or longer? Can't take the little guy with you and don't have any family or friends who can help out and feed your fur baby while you are not at home? You can't leave bowls of wet food lying around, as it won't last long. What you need is the DOGNESS Mini Programmable Automatic Dog & Cat Feeder to help solve your problem. All you need to do is set up a daily dinner routine, and let the feeder do the rest.
Powered by USB, the feeder consists of the feeder unit and a stainless steel easy-to-remove bowl – ideal for when you need to clean. As you might expect, the feeder only deals with dry food, so if your pet puss isn't a fan of dry food, it might be worth avoiding. But if dry food is a plus, the unit has a food storage reservoir that can hold up to 2 liters of food. That's enough food for most cats for at least a week.
To make sure that you are not over-feeding your fur baby, the food is fed into compartments via the top of the feeder unit. These control the portion sizes to 5-7 grams.
How does it dispense the food? An internal turntable rotates, and the chosen amount of food falls into the accompanying five inch wide bowl.
The real fun starts via the programmable easy-to-use LCD screen – there's no internet connection or app to take control of feeds here. It looks intimidating at first glance, but it's all self-explanatory. You control the meal size, how many meals per day – up to a maximum of four, at what time each meal will dispense, and that's pretty much it. Simple.
Design Imports Meowy Catmas Embellished Dish Towel
Best kitchen gift for cat lovers
Size: 28 x 18 x 0.1 inches | Color: White, red, black, gray | Weight: n/a | Material: Cotton
100% cotton
Cute and practical
Machine washable
Inexpensive
Delicate, so wash, dry, and iron as instructed
On the lookout for a cute gift for the holidays that will look great in any cat lover's kitchen? This cat-themed dish towel from Design Imports could just be what you are looking for. It's simple, straightforward, adorable, and won't break the bank.
This crisp clean white 100% cotton towel boasts a charming holiday design with candy canes, snowflakes, holly, paw prints, a couple of feline favorites in the guise of fish bones, and a playful clockwork mouse. But taking center stage is a lovable embroidered cat design with a delightful play on words 'Meowy Catmas' message. Definitely something that cat lovers will appreciate.
Measuring 18 inches by 28 inches, it's big enough to handle all of your drying needs, and when it needs to get back its pristine best, you can throw it in the washing machine. But be careful with it, as it needs to be on a cold wash on a gentle cycle and tumble dried on a low heat, and needs a low heat iron to get rid of the wrinkles. But surely something this adorable should spend less time being used and more time being seen, something to show off to visitors. By itself it makes a great decoration in any kitchen, whether that's on your oven door, by the sink, or on a hook.
Why not keep it company, and invest in the rest of the range? You can choose from three more adorable designs, colors, and messages. An all-gray towel is adorned with snowflakes and a cheeky 'Naughty is the new Nice' message, while black and red plaid designs keep the cat-themed messages coming.
How to choose a gift for a cat lover
Do some research
It's a given that cat lovers love cats, but that doesn't mean that they will love any gift with a cute picture of cat or a smart cat-related message. Before you get a gift, do a little research. If you know them well, ask subtle questions.
You could say, "I like this. What do you think?" Ask their family or friends, and see what they think. If you are not so close, maybe you're getting a gift for a work colleague, you could try some social stalking to see if that gives you any hints to the type of gift that they might like.
Practical or fun?
Fun gifts are often throwaway items. They'll get used a couple of times and put in the cupboard waiting to be discovered months or years later. If you know your cat lover really well, then fun might be the way forward, but a practical present is always a good choice. You know it has a purpose, and it will get used.
Personalize it
A personalized gift shows that you have made more effort than just going online – or to the store – and picking the first thing you have seen with a cat on it. It may take a little more time and effort, but shows that you care. You will be giving them something that stands out from the crowd, and will leave a lasting memory. Just don't get them the same personalized gift every time.
Get the best advice, tips and top tech for your beloved Pets
Thank you for signing up to Petsradar. You will receive a verification email shortly.
There was a problem. Please refresh the page and try again.