10 fantastic Easter eggs for dogs
From treat boxes to carob drops and more, these Easter eggs for dogs will let your canine companion join in the family fun.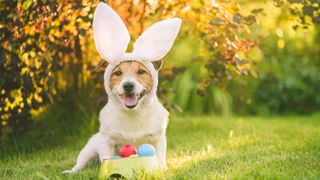 (Image credit: Getty Images)
With more Easter eggs for dogs hitting the shelves this year, it has never been easier to include your canine companion in all the fun. While chocolate is toxic for dogs, carob is a paw-licking substitute that comes from a tree native to the Mediterranean. It's naturally sweet, packed full of nutrients, and is 100% safe for your pooch.
When it comes to the best dog treats for Easter, you'll find everything you need in this guide to get your doggy licking their lips. From standard eggs and peanut butter cups to cake mixes and luxury hampers, our favorite Easter eggs for dogs are taking things to a whole new level in 2021.
So, let's take a walk down the aisle, peruse the shelves, and find the perfect mouth-watering, tail-wagging, paws-up treat for your dog this Easter.
Best Easter eggs for dogs in the US
Best Easter eggs for dogs in the UK
The do's and don'ts of Easter eggs for dogs
Easter is almost here, which means that everywhere you turn the shelves are lined with chocolate eggs just begging to be eaten. Easter is the second biggest candy-eating holiday for us humans and while our canine companions can definitely join in on the fun, keeping these simple do's and don'ts in mind will ensure it's a happy and safe experience for them.
DON'T feed your dog Easter eggs that have been made for human consumption. Remember, chocolate of all kinds is toxic for dogs so stick to canine-friendly carob. You should also avoid hot cross buns containing raisins, currants or sultanas, all of which are toxic for dogs.
DO keep an eye on your dog when they're eating their carob egg to ensure they don't ingest any of the foil. You'll also want to watch them if they're joining you on an Easter egg hunt to ensure they don't partake in anything made from real chocolate.
DON'T overfeed your dog this Easter. A few treats over the weekend is fine, but stick to small portions and keep leftovers tightly sealed and out of reach. You'll want to keep the chocolate and hot cross buns well hidden too.
DO call your vet immediately if you think your dog has ingested chocolate and is displaying signs of toxicity, including vomiting, diarrhea, rapid breathing, and/or seizures.
Get the best advice, tips and top tech for your beloved Pets
Thank you for signing up to Petsradar. You will receive a verification email shortly.
There was a problem. Please refresh the page and try again.