10 fantastic Easter eggs for dogs
From treat boxes to carob drops and more, these Easter eggs for dogs will let your canine companion join in the family fun.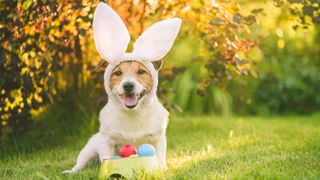 (Image credit: Getty Images)
With more Easter eggs for dogs hitting the shelves this year, it has never been easier to include your canine companion in all the fun. While chocolate is toxic for dogs, carob is a paw-licking substitute that comes from a tree native to the Mediterranean. It's naturally sweet, packed full of nutrients, and is 100% safe for your pooch.
When it comes to the best dog treats for Easter, you'll find everything you need in this guide to get your doggy licking their lips. From standard eggs and peanut butter cups to cake mixes and luxury hampers, our favorite Easter eggs for dogs are taking things to a whole new level in 2021.
So, let's take a walk down the aisle, peruse the shelves, and find the perfect mouth-watering, tail-wagging, paws-up treat for your dog this Easter.
Best Easter eggs for dogs in the US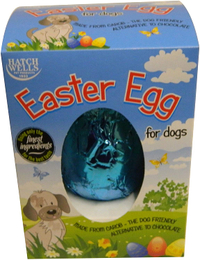 Hatchwells Dog Easter Egg
Get your dog's tail wagging with this delicious egg from Hatchwells. Made from high-quality carob, a canine-friendly alternative to chocolate, and free from cocoa, wheat and gluten, this egg is delicious on the lips and gentle on the digestive system.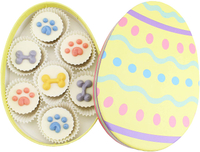 Bosco and Roxy Easter Egg Boxed Dog Treats
Spoil your beloved canine companion with these delectable dog treats that come in a beautiful Easter box. Featuring seven peanut butter cup treats with sweet paw and bone decorations, these yummy taste sensations are sure to be a huge hit on Easter morning.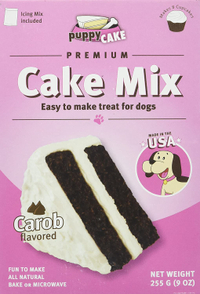 Puppy Cake Carob Cake Mix
Fancy whipping up a cake for your furkid this Easter? Then you'll love this all-natural carob cake mix that will make baking that cake a breeze. Just add eggs, oil, and water and you're good to go, and the mix also includes frosting so you can decorate your creation once it's cooled. Makes one large cake or eight cupcakes.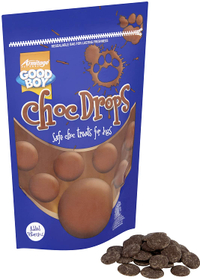 Good Boy Choc Drops
These vitamin-enriched carob treats are a nutritious and delicious way to spoil your pooch this Easter. With Vitamin A for eye health and Vitamin D for strong bones, these are ideal as a treat or a training reward. The bag contains over 100 drops and is resealable for longer-lasting freshness.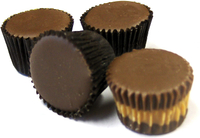 Claudia's Peanut Butter Cup Dog Treats
Looking very much like their human-equivalent, these peanut butter cups come in a 24-piece pack and measure an inch in diameter. Made from 100% human-grade ingredients, these mouth-watering morsels have a firm carob exterior and a soft and crumbly peanut butter center.
Best Easter eggs for dogs in the UK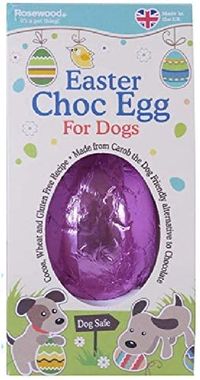 Rosewood Easter Chocolate Egg for Dogs
This wheat and gluten-free egg is ideal for dogs with allergies or delicate digestive systems. Made from carob, it can be broken down into bite-sized pieces to be fed as part of a balanced diet or enjoyed as a treat. Not suitable for puppies under the age of 3 months.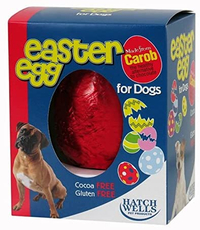 Hatchwells Easter Egg for Dogs
Low in fat and high in protein, vitamins, and minerals, this carob Easter egg is naturally sweet and packed with nutrients. Rich in fiber, it's great for improving digestion and lowering cholesterol, and there's plenty of vitamin E for healthy skin and a shiny coat.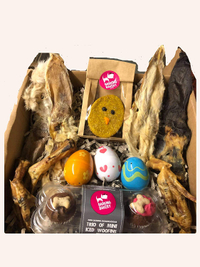 Rydale Natural Easer Treat Box
This incredible Easter treat box is full of sweet and savory snacks for your furry friend. Containing 3 dog biscuits, a trio of mini iced dog cakes, 3 mini eggs filled with treats, 4 furry rabbit ears, and 4 chicken feet, this bumper box is sure to put a smile on your doggy's dial this Easter.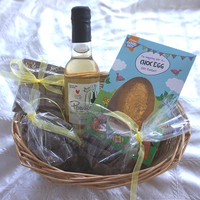 Paradise Pets Dog Easter Hamper
Treat your dog to this luxury Easter hamper that comes presented in a beautiful wicker basket with gift wrapping. Featuring a bottle of non-alcoholic Pawsecco wine, a carob egg, carob-covered dog bones, carob treats, and a carob bar of chocolate. Dog safe and proven to get your furkids tail wagging, this hamper of goodies is the ultimate way to spoil your pooch.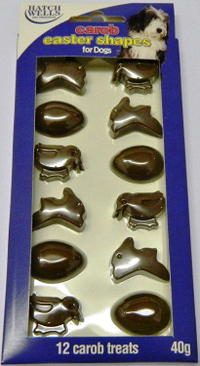 Hatchwells Carob Easter Shapes
Featuring cute rabbits and eggs, these carob Easter shapes are the perfect treat-sized snack for your canine companion. Free from wheat and gluten, they're a lovely way to include your furkid in all the Easter fun.
The do's and don'ts of Easter eggs for dogs
Easter is almost here, which means that everywhere you turn the shelves are lined with chocolate eggs just begging to be eaten. Easter is the second biggest candy-eating holiday for us humans and while our canine companions can definitely join in on the fun, keeping these simple do's and don'ts in mind will ensure it's a happy and safe experience for them.
DON'T feed your dog Easter eggs that have been made for human consumption. Remember, chocolate of all kinds is toxic for dogs so stick to canine-friendly carob. You should also avoid hot cross buns containing raisins, currants or sultanas, all of which are toxic for dogs.
DO keep an eye on your dog when they're eating their carob egg to ensure they don't ingest any of the foil. You'll also want to watch them if they're joining you on an Easter egg hunt to ensure they don't partake in anything made from real chocolate.
DON'T overfeed your dog this Easter. A few treats over the weekend is fine, but stick to small portions and keep leftovers tightly sealed and out of reach. You'll want to keep the chocolate and hot cross buns well hidden too.
DO call your vet immediately if you think your dog has ingested chocolate and is displaying signs of toxicity, including vomiting, diarrhea, rapid breathing, and/or seizures.
Get the best advice, tips and top tech for your beloved Pets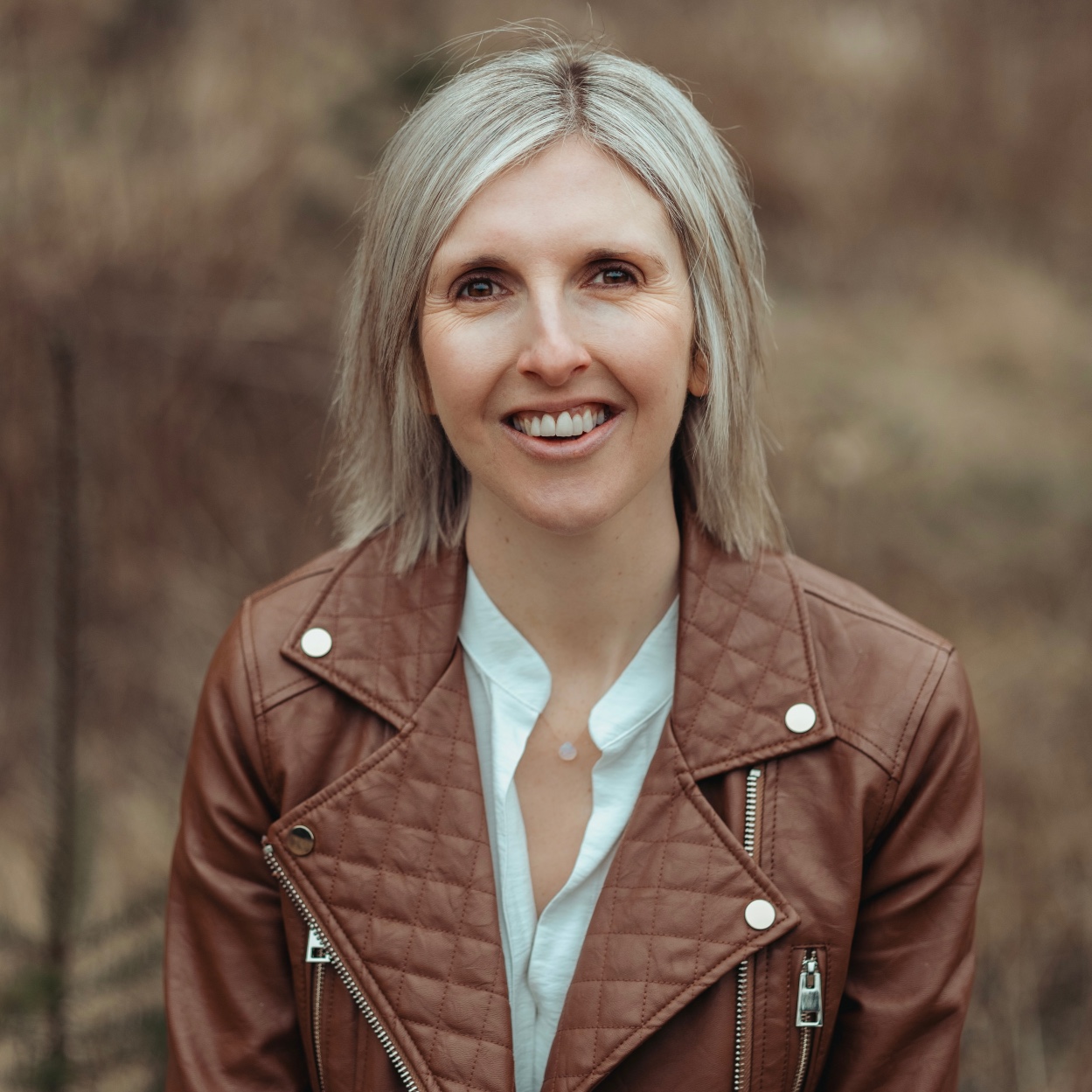 Kathryn is a freelance writer who has been a member of the PetsRadar family since it launched in 2020. Highly experienced in her field, she's driven by a desire to provide pet parents with accurate, timely, and informative content that enables them to provide their fur friends with everything they need to thrive. Kathryn works closely with vets and trainers to ensure all articles offer the most up-to-date information across a range of pet-related fields, from insights into health and behavior issues to tips on products and training. When she's not busy crafting the perfect sentence for her features, buying guides and news pieces, she can be found hanging out with her family (which includes one super sassy cat), drinking copious amounts of Jasmine tea and reading all the books.