Watch: Pit bull loses bed to tiny kitten
Standing up for what's theirs doesn't come easy to this gentle pit bull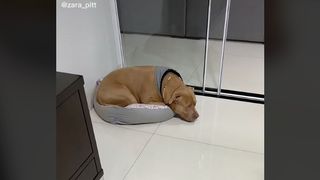 (Image credit: Zara_pitt)
A pit bull has become social media famous after a TikTok clip reveals what happens when a cat gets in his king size bed… he takes the cat's bed of course!
Every feline owner knows what happens when they've got a cat fast asleep on their lap but they desperately want to get up.
That's right - they stay put!
This phenomenon is commonly known as kitten paralyzation and there's nothing anyone can do about it.
The other side of this is when you want to rest somewhere - be it your favorite chair or even your own bed - and your kitty is curled up, sleeping peacefully. And this is exactly what happened to Zara the pit bull!
The clip, which has had over three million views and almost 500k likes, was posted to a TikTok account that is dedicated to the pooch, called Zara_pitt.
It's been a long day and all Zara wants to do is relax in her bed.
Sadly, that didn't quite happen.
Instead, Zara discovered that her fellow four-legged friend (or foe!), Amora the calico, had already made herself feel very at home… right in the middle of six-year-old Zara's giant dog bed.
Although it's not quite how she'd planned for her evening to pan out, she decided to look on the bright side - there was still another bed available after all.
So, she figured she'd give Amora's small cat bed a go.
But, as the clip's caption reads, "when you want to sleep but your KING bed is occupied", which is just one indication that Zara really isn't happy about the situation.
That's when the camera turns and captures the look on the pooch's face - you'll never see an expression as sad as this one!
A second clip of Zara shows her really trying to get comfortable in the cat's bed but the caption reads "of course it fits me", which unfortunately isn't quite the case!
Get the best advice, tips and top tech for your beloved Pets
Chloe is a freelance writer, editor, and proofreader, who has more than ten years' experience in creating animal-focussed content. From National Geographic to Animal Planet, Chloe's passion for creating fact-filled features all about wildlife and the environment is evident. But it's not just wild animals that Chloe's fascinated by. Having written more than 75 articles for PetsRadar - and having her very own four-legged friend by her side - it's no wonder that her love of dogs (and, of course, cats) has grown exponentially.
Her website, www.chloemaywrites.com, and social media pages - @ChloeMayWrites on Instagram, Facebook, and Twitter - showcase her knowledge through daily facts and trivia tidbits. For example, did you know that snails have teeth?!