Best Betta Food
By Nikki Johnston published
The best flake, pellets, and supplements for a healthy balanced diet for your betta fish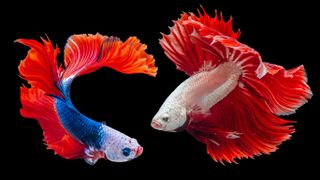 (Image credit: Worachat Sodsri on Upsplash)
The right betta food is the key to keeping them healthy and flourishing. Look for betta food that contains at least 30% of the foods they eat in the wild including shrimp, worms, and mosquito larvae. Other helpful ingredients are salmon and herring fish because they have flavonoids that boost a betta's natural color. Here's our list of the best betta fish foods including flakes and pellets.
Best overall
Contains shrimp
Tetra is made exclusively for betta fish rather than a variety of fish. This means the food is well liked by bettas, plus it contains some of the favorite foods found in their natural diets such as shrimp and krill. Protiens are added to help enhance the look of the betta fins and help them grow to a healthy size.
Pros:
Includes shrimp and krill
Natural enhancers and proteins
Easy for fish to eat
Cons:
Flakes can cloud tank water
Tetra betta fish food uses natural ingredients to help enhance the color of you betta fish. This fish food is in flake form, so while it won't float for long and can add to the messiness of the fish tank, overall it is easier for bettas to eat and digest.
Best suppliment
Nothing but worms
The FreshDelica Bloodworms is a fun treat for betta fish because it contains one of its favorite food. The bloodworms are freeze-dried to preserve natural nutrients and taste then set inside a gel that draws the fish to it. The gel contains additional nutrients and proteins to help in the overall health of your betta.
Pros:
Freeze-dried natural food
Enjoyed by bettas
Added natural nutrients and proteins
This feed is packaged in a way that you don't have to touch it while dropping it into the tank. While the Tetra bloodworms are enjoyed by bettas, it isn't a good food staple. Instead it should be used as a snack in between meals or periodically throughout the week. It helps bettas use their natural hunting abilites and won't cloud tank water like flake foods do.
Best granulat
A cleaner option
This betta fish food floats on top of the water and doesn't sink, so you don't have to worry about the fishbowl getting dirty with uneaten food. It is high in natural proteins and amino acids, so it's good for both young and older fish.
Pros:
High in protein
Good for all stages
Cons:
Not all fish like them
Bag doesn't reseal well
The Tropical betta fish food is made for a variety of fish, so it is possible your beta may not enjoy them. Also, while the bag is resealable it isn't made well. It's common for the zipper seal part to become detached from the bag. If a bag isn't sealed properly the food can become stale and unpleasant for fish to eat, which is wasteful.
Best value
Enhance coloring
Herons fish food flakes is high in protein and vitamins. Each color of the flakes represent a different food found in the betta's natural environment including plankton and algae.Herons added vitamin C and E to boost the fish immune system and help promote beautiful coloration of the scales.
Pros:
Natural food flakes
Added vitamins for immune health
This fish food can be used as a daily source of food and nutrition. However, it is designed to appeal to multiple fish, so there are parts that bettas won't touch. As a result, unless your betta shares a tank with other species of fish, this food will dirty the water quickly.
How to choose the right betta food
Betta needs a variety of foods to stay stimulated, fit, and healthy, and so needs a combination of daily feeds and nutritional snacks. Out top pick - Tetra Betta Fish Food is specifically made for bettas and includes foods, like shrimp and krill, that they would eat in the wild. These food flakes are easy for fish to eat and digest and include the daily amounts of nutrients and vitamins your betta needs. But to give them a little extra treat, you can toss in some freeze-dried FreshDelica Bloodworms. This supplement is sought after by bettas and can trigger natural hunting instincts, plus they benefit from the protein boost.
If your betta shares a tank with other fish, you can save by using Herons Tropical Flakes. This contains seven different foods that a variety of fish enjoy. But we don't recommend using this fish food for only bettas. There are foods flakes that they won't touch, so your tank water will become cloudy and dirty more quickly from uneaten food.
Why trust us
At PetsRadar, we recommend the best products to enhance your life. As experts, we handpick products based on quality and usefulness to positively impact your life. We take our responsibility seriously — testing products, reading reviews, and sourcing knowledgeable outlets to ensure our selections are worthy of your time and money. Our detailed product overviews balance objective information with subjective opinions, so making the best choice for your home and lifestyle is easy.
Nikki writes for multiple Future Publishing brands covering topics from antivirus to kitchen appliances to SAS. She has over 15 years of research and writing experience, including eight years of testing and reviewing consumer products. Nikki earned bachelor's degrees in both English and Political Science with a focus on empirical research. In her spare time, Nikki serves as a member of several school councils and volunteers for a local arts board.
Get the best advice, tips and top tech for your beloved Pets
Thank you for signing up to Petsradar. You will receive a verification email shortly.
There was a problem. Please refresh the page and try again.