Covid triggers surge in demand for pet pantries
Pet pantries are soaring in popularity across the US as the pandemic continues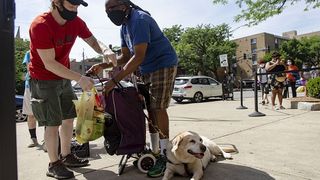 (Image credit: Getty)
Pet owners across America have been turning to pet pantries in order to put food in their four-legged friend's bowl during these uncertain times. For many it's meant they no longer have to make the choice between feeding themselves or their beloved pets, providing a vital service throughout this global emergency.
When the pandemic first began, people were emptying the shelves and stocking up on anything and everything they could get their hands on in preparation for the worst. From medicines and toilet roll, to dried pasta and long-life tinned food, everything seemed to be running out – and fast!
However, not everyone had the luxury of buying extra supplies. As businesses closed and jobs were lost, the US experienced a surge in demand for food pantries – especially those that also supplied pet food.
One pet food pantry in Edgewater, Chicago, had 600 new households register with them from the 15th of March to the end of May. To put that into context, board chair of Care for Real pet food pantry Nancy Meyerson, said "that's almost as many clients as we registered for all of 2019."
Another nonprofit pet food pantry in Richmond Heights, Ohio, has continued to offer local pet owners huge lifelines by giving out week's worth of food every month to those most in need such as the elderly, those who have lost their job, or are on low incomes.
"It helps out all the animals. It helps out the parents. They don't have to give their dogs away… (or) put them to sleep", explained owner Sherie Coffey.
And that's the most important thing to remember. If you need help feeding your pet, you shouldn't feel like your only option is to give them up or put them to sleep. Speak out as there is help out there.
Chloe is a freelance writer, editor, and proofreader, who has more than eight years experience in media. With a passion for creating content all about wildlife and the environment, she can be found at www.chloemaywrites.com or @ChloeMayWrites on social media.
Get the best advice, tips and top tech for your beloved Pets
Thank you for signing up to Petsradar. You will receive a verification email shortly.
There was a problem. Please refresh the page and try again.