Dogs in ghost costumes is the only pet trend you need to know about this Halloween
Pet parents have been creating the spookiest ghost photoshoots with their dog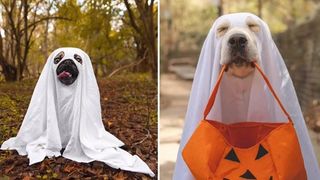 (Image credit: Instagram Lady the Golden Retriever / Doug the Pug)
Remember Caspar the friendly ghost? Well, we reckon the latest social media trend could give him a run for his money. Dogs dressed up in ghost costumes is officially the easiest way to create simple, spooky attire for your furry friend.
The Ghost Photoshoot trend, as it's known over on TikTok, started back in 2020 with social media users dressing up as ghosts. When we say 'ghosts', we don't mean make-up, professional costumes and wigs – we're talking about Scooby-Doo-style bedsheets over the head.
Users either cut out eyeholes or stuck sunglasses on top of the sheet for maximum comedy effect. The trend didn't last long – but now social-media-savvy pooches have claimed it for their own.
The new #ghostphotoshoot trend involves doggos dressing up in sheets, with the obligatory soundtrack Oh Klahoma by Jack Stauber.
First up is Doug the Pug, one of TikTok's most recognizable canine faces with over six million followers. His #ghostphotoshoot video has been watched 2.2 million times and attracted hundreds of thousands of likes.
The 15-second clip shows Doug in his bed sheet posing in a graveyard and with a Jack O-Lantern – and you won't see a cuter ghost anywhere. Hundreds of fans commented to say they were keen to try the trend with their own dogs.
One fan said, "This made me instantly smile, hope it does the same for you," while others commented, "Doug slays!" and "He's so adorable".
Lady the Golden Retriever was also keen to show her scary side with an adorable compilation video that showed her wearing her sheet and holding a Halloween candy bucket hopefully. We hope she collected lots of treats.
Once he realized food was involved, Labrador Dexter couldn't sheet up fast enough – fans loved his video of him trick or treating and confirmed they'd rush to give him 'all the treats in the world'!
If you'd like to sign your doggo up to the trend, all you need is a bedsheet, camera, social media account and a copy of that song.
Think about your pet first, though - if your pooch is a calm, confident type he'll probably love the attention, but timid or nervous dogs won't relish being sheeted up and might get stressed.
Cutting holes of eyes and muzzles will help stop them feeling claustrophobic, but diffident doggos are probably best off giving this one a miss.
Use the #ghostphotoshoot and #dogsoftiktok tags to find more adorable puppers doing their thing – Halloween just got a whole lot cuter.
Get the best advice, tips and top tech for your beloved Pets
Sara is a freelance journalist and copywriter of many years' experience with a lifelong love of animals. She's written for a range of magazines and websites on subjects varying from pet care to travel. A horse rider since the age of five, she's currently a full time pet slave to horse Blue and gorgeous, goofy English Springer Spaniel Olly. Adorable Olly has a huge sense of adventure and no sense of direction, keeping Sara on her toes.