Meet the Internet's "homophobic dog" meme star who isn't who she seems
Whitney Chewston - the "homophobic dog" - is turning the tables on homophobia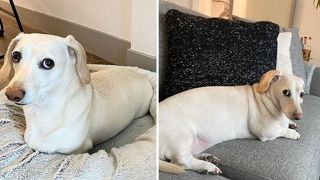 (Image credit: Instagram / @whitney_chewston)
If you've been scrolling through Twitter recently you may have come across the "homophobic dog," a white Dachshund featuring a series of eyebrow-raising quotes, that most of time would be enough to send the Internet into a flurry of angry comments.
Most people, however, don't recoil in horror at the sight of a dog judging a gay person with an expression of overt disapproval, neither do they flinch at the captions including "Not too fond of gay people" and "I don't think that's normal." In fact, it's more likely they laugh.
That's the power of the Internet's latest breakout meme star Whitney Chewston, who actually prefers to lounge around napping in her favorite bed and occasionally sport a fetching accessory or two, to judging any human at all.
Thread of homophobic dog images, will add more as I find them pic.twitter.com/nWlGbzK8NXMarch 15, 2022
In reality, Whitney could not be more lovable to her two owners Ben Campbell and Logan Hickman, who happen to be a gay couple.
While her Instagram is chocked full of adorable pictures showing the pooch enjoying her lazy lifestyle to the max, it was one image in particular that kickstarted it all and gave the dog the global fanbase she has today.
In 2019, Whitney Chewston's Instagram account posted a picture of the pup perched upon a white fleecy blanket with a glass of wine in front of her and the rest, as they say, was history.
Within months the image - originally captioned "Wednesdays are for a little wine. Like if you agree!" had gone viral across multiple social media platforms thanks to a little rejigging in the words department.
The phrase "not too fond of gay people" was posted on top of it and a strange new meme was born, one with a bold self-awareness that even Whitney's gay owners took in their stride and found the funny side of.
"Ben [Campbell] and I were actually talking about it, it's more satire than it is anything," Logan Hickman said in a 2019 interview in March 2022 with KnowYourMeme. "Through satire and this meme, we're kind of exposing when people who just aren't up with the times and people who aren't very forward toward gay people."

While the meme is typically referred to as "Homophobic Dog" or "Not Too Fond Of Gay People" you might find it also acknowledged under the name "Is this dog homophobic?", all of which Hickman and Campbell find particularly amusing.
"She's not homophobic in real life!" Logan Hickman said in the March 2022 video. "Her dads are gay. It's interesting, almost ironic, her voice on Instagram has always been kind of sassy and a little gay, so it's very ironic that she's branded as homophobic."
Rather, this little pooch has been used to cast judgement, not on gay people, but as a way to light-heartedly poke fun on the very idea of homophobia itself.
In a matter of seconds, one glance at the pooch's critical expression evokes the typical idea baked somewhere into our consciousness of a young person who has hidden their true self for so long finally telling the middle-class parents and being cast out of the family. Only now, it's being owned and used by those who previously were subject to being judged, turning the tables with wicked humor.
"We are here for it," Hickman continued, stating that because it was mostly LGBTQ people were creating the memes, he "knew that it was satire." It "makes fun of people who are actually homophobic."
Get the best advice, tips and top tech for your beloved Pets
Ashleigh is Digital Editor on PetsRadar. With over 8 years of experience in print and digital media, she has acted as an editorial lead on a variety of projects, with animal themes a keen interest. As an avid animal lover, you can often find Ashleigh checking out the newest trends in animal care or looking at cute cat videos on TikTok.