How pet food subscriptions save you time and money
Pet food subscriptions are growing in popularity, especially with shops being less accessible. Here are the pros and cons, and some popular choices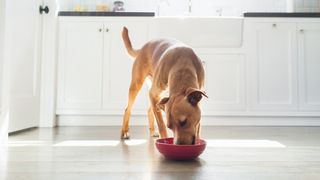 (Image credit: Getty)
Here's a case in favor of pet food subscriptions. Many owners know the frustration of opening the cupboard, only to find no wet food pouches left in the box, or pouring out biscuits and discovering only crumbs. An emergency dash to the shops is never convenient, so why not consider a pet food subscription to take the hassle out of the equation?
What are the benefits?
There are plenty of ticks in the 'pro' column of pet subscriptions. With food being delivered at regular intervals, you'll never be left short again. Plus, no more worrying about going shop to shop to find your furry friend's favorite brand or flavor.
Direct-to-door delivery is a great time saver, meaning you're spending less time shopping and more time walking, playing, and cuddling, and specialized options take the guesswork out of nutrition too. Many subscription services offer the option of plans tailored to your pet's needs, whether they need to lose weight, need plenty of calories for an energetic lifestyle, need some extra nourishment after an illness, or have any allergies that need to be considered.
Last but certainly not least, subscriptions can be a real money saver. Introductory deals are always welcome, but even in the long run costs tend to be lower, with the price per packet or box lower via subscription than when buying as a single order online or from the shop.
Are there any negatives?
As with most services, there are some factors to weigh up when deciding whether or not to go down the subscription route. Postage often means extra packaging, which can be frustrating if you're trying to reduce your waste. Although many brands do make efforts to use as much recycled and recyclable material as possible, so do check the FAQs. If you're upgrading from a generic brand to a specialized diet plan, you may notice a rise in costs. If, however, you're simply switching from buying as and when to a subscription with the same brand, it's likely you'll make great monthly savings.
What options are out there?
There are an increasing number of subscription services out there, making choosing the right one for your pet easier than ever. Lily's Kitchen allows you to order cat or dog food at intervals of 2, 4, 6, 8 and 9 weeks to suit your schedule. Known for their quality and grain-free recipes, you'll save 5% of the standard product price. And you can update, cancel, or pause your order at any time – ideal if you're heading on holiday.
Amazon offer pet food subscriptions of everything from fish food to dog food, from a huge variety of well-known brands. You can choose from delivery frequencies of one to six months, you'll receive 20% off your first order, and will save between 5 and 15% on subsequent orders, depending on how many repeat deliveries you request.
Looking for something a little more boutique? Poppy's Picnic specifically tailors your subscription to details like your pet's weight, activity levels, body shape, and allergies. They even take the amount of space in your freezer into account. Snack at Franks, meanwhile, send you a surprise gift and collector cards each month – a great choice for families.
Finally, if you're short on space, Pure Pet Food offer an interesting solution with their air-dried food. Recommended by vets and formulated by nutritionists, all you need to do is add water, saving you cupboard space and money.
From dietary requirements to allergies, pet subscriptions cover a range of needs, so you can save time and money, knowing that your pet is getting exactly the nutrients they need and the flavor they love.
Get the best advice, tips and top tech for your beloved Pets