Influencer Jesse Kozechen and pet dog die in tragic accident days before completing road trip together
Brazilian influencer, Jesse Kozechen, and his Golden Retriever pass away just days before completing their epic road trip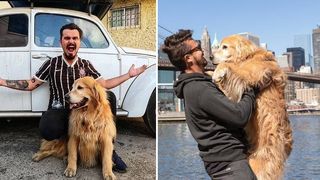 (Image credit: Instagram / @jessekoz)
29-year-old Brazilian influencer Jesse Kozechen and his pet dog are reported to have died in a tragic car accident.
Travelling in a Volkswagen Beetle on Highway 199 outside Salem, in the US state of Oregon, Jesse is said to have attempted to pass a line of cars not realising that they had slowed down for a turning car.
As a result, Jesse accidentally swerved into oncoming traffic and collided with another vehicle. The event happened on Monday 23 May at around 10:30am local time. Both him and his pooch, named Shurastey, were sadly pronounced dead at the scene.
The driver of the other vehicle was taken to hospital to have their injuries treated. A 2-year-old that was travelling in the car at the time, was said to be unharmed in the accident.
Jesse's family took to Instagram to make a series of Stories following the pair's deaths. One of them stated that information on the transportation of their bodies back to Brazil and their funerals would be published on Shurastey's Instagram page in due course.
The inseparable pair were travelling from Brazil to Alaska and has been documenting their entire journey along the way.
In Jesse's last Instagram post, published less than a week ago, he shared a picture of the two of them visiting San Francisco's Golden Gate Bridge.
More recently, Jesse shared a picture to Shurastey's page of their Beetle as a tent explaining how they were at one of their final camp sites before they were due to make their way to Canada and then their final destination - Alaska.
He wrote: "We are camping in the state of Oregon in the middle of nowhere and from here we continue our journey towards the border with Canada but first let's visit some guys that I'm a fan!!! Now let me prepare my breakfast, dismantle the tent so we can continue our journey!!!"
Scores of fans and followers have taken to social media to pay their respects.
One wrote "Rest in peace! You lived your dream! We gonna miss both of you for eternity!"
"End of the trail, God bless you!" added another. "May God and the angels are there waiting for both of you."
Get the best advice, tips and top tech for your beloved Pets
Chloe is a freelance writer, editor, and proofreader, who has more than ten years' experience in creating animal-focussed content. From National Geographic to Animal Planet, Chloe's passion for creating fact-filled features all about wildlife and the environment is evident. But it's not just wild animals that Chloe's fascinated by. Having written more than 75 articles for PetsRadar - and having her very own four-legged friend by her side - it's no wonder that her love of dogs (and, of course, cats) has grown exponentially.
Her website, www.chloemaywrites.com, and social media pages - @ChloeMayWrites on Instagram, Facebook, and Twitter - showcase her knowledge through daily facts and trivia tidbits. For example, did you know that snails have teeth?!