Latest TikTok craze involves waking dogs up with food – and their expressions are fantastic
Is a treat enticing enough to pull a dog out of their nap? Prepare for some adorable reactions in the #SleepingDogChallenge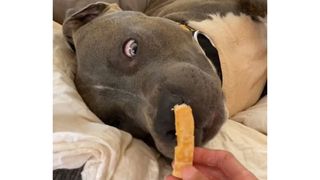 (Image credit: TikTok: @the_amstaffpack)
Is there any better way to wake up? There you are, dreaming about happily chasing that cat from next door in the best dog bed you can imagine, when a loved one comes along and places a tasty doggy snack right under your nose. Then the smell gently rouses you into consciousness and… Yes! There it is! It's really there! – the best dog treat, just for you!
At least that's what's meant to happen, but as the new craze sweeping TikTok demonstrates, things don't always work out to plan. This is the #SleepingDogChallenge, where owners are waiting for their four-legged friends to nod off to dreamland then taking one of their favorite bits of food and putting it within smelling distance to gauge their reactions – and it's simply adorable.
The responses are as priceless as they are varied – from no reaction at all, to sleepy tail wags, all the way through to dogs sleep eating or leaping to their feet at the sound of the snack jar being opened!
And TikTokkers have been testing their pooches in various places and situations too – in the car, mid sleepy hug, on the kitchen floor – the list goes on and on. What's more, the expressions captured in these videos as the realization of what is happening sleepily dawns on them are guaranteed to put a smile on your face.
Wherever they are doing it, and whatever the response, we're delighted these owners have shared their dozy dog's dreams coming true for all to admire. And we can't wait to see what our dogs do when we try it!
Get the best advice, tips and top tech for your beloved Pets
Jamie Middleton is a freelance editor and writer who has been editing and creating content for magazines and websites for over 20 years. As well as writing about the pets he loves, he has helped create websites about tech and innovation like TechRadar.com, Innovate UK and TechSPARK, written programmes for music festivals, books on inventions and architecture, TV listings magazines, and edited publications about cars such as Lexus, Toyota and Jaguar. In his spare time he writes fiction books and poetry - or at least he does when he is permitted to by his cat Pirate, who enjoys the warmth of laptops too much to allow being creative to get in the way.