Pit Bull mom uses genius peanut butter saran wrap to keep her pooch calm at bathtime
This genius peanut butter saran wrap hack can help keep your pooch relaxed at bathtime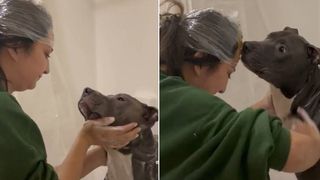 (Image credit: TikTok / @angelicaa_castillo)
If your pooch is particularly nervous at bathtime, you may have wracked your brain to come up with a solution to make it easier for you and your pooch. One dog mom, however, went the extra mile by creating her very own peanut butter saran wrap.
In a hilarious TikTok video viewed 1.2 million times, savvy pet owner @angelicaa_castillo can be seen with her Pit Bull Luna leaning across the bath while her enthusiastic pup licks her favorite treat of peanut butter from her head.
The caption reads: "Dog parents doing the most," which judging by Castillo's reaction seems particularly apt in this situation.
While Luna seems to have cast her bathtime fears away by happily lapping up the gooey goodness, Castillo is not only cleaning her dog's coat but simultaneously experiencing her dog's tongue moving across her head, which is wrapped in plastic shrink wrap. Now that's love!
While Castillo's genius solution seems a touch on the crazy side, there is method to the madness. If you find your dog hates baths, there's a number of things you can try to keep them calm including using positive reinforcement with use of treats and toys or making the experience more pleasant by gently pouring water using a bucket and use of non-slip mats to ensure your pooch is stable.
If you find your dog is particularly prone to distraction in the bathroom, however, nothing beats the use of the lick pad, a handy gadget that allows you smear your dog's favorite treat, like peanut butter or baby food, over the mat and stick it to your bathroom wall. It works by keeping your dog distracted with food while you clean them.
Don't have this? Then the peanut butter saran wrap hack is the next best thing. Best of all, it uses everyday items in your pantry. Just be sure to use dog-friendly peanut butter - also known as xylitol free - to create any DIY peanut butter treats for your dog as ordinary peanut butter is toxic to dogs. You can find out more about serving peanut butter safely to your dog in our vet's article.
@angelicaa_castillo also explains how to create the hack in her video below.
For even more Pit Bull cuteness, you can follow Luna the Pit Bull over on her very own TikTok channel: @lunagraythepit
Get the best advice, tips and top tech for your beloved Pets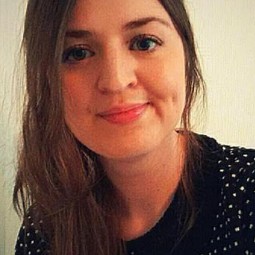 Ashleigh is Digital Editor on PetsRadar. With over 8 years of experience in print and digital media, she has acted as an editorial lead on a variety of projects, with animal themes a keen interest. As an avid animal lover, you can often find Ashleigh checking out the newest trends in animal care or looking at cute cat videos on TikTok.