Spike the Chihuahua contends for the title of world's oldest dog
Spike's owners say the Chihuahua has lived longer than the official Guinness World Recorder holder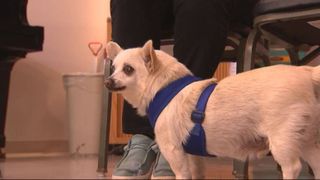 (Image credit: WHIO TV)
A 23-year-old Chihuahua could be named the oldest living dog after his owners applied to Guinness World Records for official recognition.
Spike appears to be older than the current record holder, TobyKeith, 21, from Florida, who took the accolade earlier this year.
If the record is confirmed, it will also mean he's lived longer than the previous oldest dog – a Toy Fox Terrier called Pebbles who sadly passed away just five months short of her 23rd birthday.
According to News Center 7, Spike's age was revealed by a vet in 2009. He was taken there by Rita Kimball from Preble County, Ohio, US, who met Spike during a trip to the grocery store – after voluntarily and enthusiastically leaping into her car!
The vet said he was born on November 10, 1999 and some quick maths will tell you that means he's now a smidgen more than 23-years-old. And while he has poor hearing and eyesight these days, he's still rather active.
Whether or not he'd jump for joy at being officially named the oldest dog in the world remains to be seen.
Even so, it's an impressive age and if you know how to convert dog years to human years then that makes Spike the equivalent of 129-years-old.
This is based on the first year of a dog's life being equal to 15 human years, the second year being equal to nine years and each subsequent year being equal to five.
Still, Spike has some way to go to become one of the 7 oldest dogs ever to have lived. Australian Cattle Dog Bluey is the winner after living for 29 years and five months. Number seven, Pusuke, lived for 26 years.
Get the best advice, tips and top tech for your beloved Pets
David Crookes has been a journalist for more than 20 years and he has written for a host of magazines, newspapers, websites and books including World of Animals, BBC Earth, Dogs and Canines, Gadget and The Independent. Born in England, he lives in a household with two cats but he's also keenly interested in the differences between the huge number of dog breeds — in fact, you can read many of his breed guides here on PetsRadar. With a lifelong passion for technology, too, he's always on the lookout for useful devices that will allow people to spend more time with their pets.