Early Verdict
A high-quality and durable interactive toy suited to indoor cats, and multiple cat households. A few snags prevent perfection but there's nothing like it on the market that comes close
Pros
+

Multiple ways to put together

+

Great for multiple cat households

+

Physical and mental stimulation for indoor cats
Cons
-

No Fireball 2.0 in the box
Why you can trust PetsRadar Our expert reviewers spend hours testing and comparing products and services so you can choose the best for you. Find out more about how we test.
The Catit Senses 2.0 Super Circuit is an interactive ball track for your own little fur balls to bat around and chase. Composed of a number of parts that can be shaped into over 100 different layouts, with a solid white base with translucent plastic peek-a-boo covers that act to form the track and provide visibility for kitty hunters.
This Super Circuit can be built to a large or small size depending on your floor space, and it's even made to fit around furniture. It's one of the best interactive cat toys out there, particularly useful for indoor-cat owners to make sure that their kitties are getting enough exercise while also stimulating their tiny brains (the cat's brains, not the owners – although it is fun to watch!). There's even more options for keeping you cat amused in our round up of the best cat toys we could find.
Catit Senses 2.0 Super Circuit: Features
Perhaps the most useful feature for cat owners is the Catit Senses 2.0 Super Circuit's flexibility. While it's comprised of many parts, you don't need to use them all – so the circuit itself can be made to fit around your home environment, whether that's a full length 62cm (24") circuit or a straight track in an area with a little less space, that's up to you.
Catit love to provide flexibility in their products, other Catit products like the older Senses Super Roller Circuit come with the same connectors, so you can join them up and make one larger super ball run for your extra playful kitties.
The Senses 2.0 range in general is designed to be able to fit in with each other. So the Super Circuit can weave around the Food Tree – designed to turn mealtimes into a jenga-like puzzle, the Wellness Centre – with sensory spaces, the Scratcher – for scratching, and the Grass Garden, for one simple kitty friendly space. It would take up a bit of room, but the full Circuit does that anyway, and it at least pulls together for one cohesive look, which most cat fans, with their array of mismatched kitty toys, will tell you is a plus.
The ball that comes with the Catit Senses 2.0 Super Circuit is hardy enough, and can be removed for knocking around the house.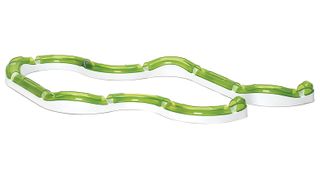 Catit Senses 2.0 Super Circuit: Performance
We'll start with the ball that was just mentioned. We found that we had to bat it around a bit in the track before the cats really understood the idea behind it, while they fitfully enjoyed the resulting play and chase. The previous model of the circuit came with a light-up ball that any slight nudge would set off making it far more likely to start some unprompted play.
You can buy a Senses 2.0 Fireball separately, but it's a little disappointing not to have it with the Super Circuit itself.
Putting it together is simple enough, though when deconstructing the Circuit to reshape, or put it away, often led to a certain amount of forceful twisting and pulling making it feel like it might break at any moment. It's important to say that it didn't break, though, and our rough findings would say that the materials are actually pretty tough.
In the model we played with there were two areas of track where the clearance between the white base and translucent top weren't quite enough for the ball to travel through comfortably. This means that the ball would stop when it met them, even with a good kitty whack. Though it wasn't so tight that a cat couldn't get the ball moving again unaided.
Our simple solution to this was to stick those bits on the end. The cats themselves seemed to have a great time knocking it about, hitting the ball to and from each other and having a good pounce when it stopped. They got a little bored after a week or so, but that tends to happen with most cat toys and every time we got it back out again after a little break it seemed to inspire the same joy as day one.
Should you buy the Catit Senses 2.0 Super Circuit?
Yes, especially if you're an indoor cat owner who is out much of the day, or simply doesn't have the time to be on-call for cat play, then the Catit Senses 2.0 Super Circuit is a great toy. It doesn't break the bank and there's tons of enjoyment to be had, especially with multiple cats all playing together.
You'll need to have it on regular rotation with your other toys for the full effectiveness and you might want to pick up a Senses 2.0 Fireball for the full effect, but the extra stimulation (and fun) it brings into your cat's life is well worth it.
Geraint is a freelance writer and editor with 10 years of experience; starting with comedy and football, these days he tends to specialise in words about business and technology. His three young cats - Tora, Uru and Dyfi - occasionally allow him to get on with some work.