The Modkat Flip Litter Box is an ideal solution for cat owners who have messy cats or those who have a tendency to spray high when they use the restroom.
Pros
+

Chic and modern style

+

Adjustable top for shy cats

+

Greatly limits mess and smell

+

Comes with a free toy
Cons
-

Scooper isn't great for some litter types
Why you can trust PetsRadar Our expert reviewers spend hours testing and comparing products and services so you can choose the best for you. Find out more about how we test.
The Modkat Flip Litter Box is a minimal but cool front-entry litter box with a versatile lid that can be adjusted for three different positions and easy cleaning access. Our guide to the best cat litter might also prove useful to those considering the purchase of a new box.
It has a seamless base that will prevent leaks and is perfect for cats who pee on the side of the box. It comes with a reusable liner that lasts up to three months, a hanging scoop, and even a box that converts into a cat toy. The Modkat Flip Litter Box comes in white and grey and is simple and low profile – the perfect addition to any modern, minimalist home.
Modcat Flip Litter Box: Features
Unlike the top-entry Modkat Litter Box, the Modkat Flip Litter Box is front-entry only, which is much less daunting for nervous cats or smaller kittens. Thanks to the adjustability of the top, you can offer your picky feline three different lid positions to satisfy their preference – the top also lets you hinge it up for easy cleaning access.
That alone makes the Modkat Flip Litter Box a better option than many other high-sided or covered boxes that require you to either take the top off completely or reach back inside it in order to clean them. The adjustable top is a great solution for cats who are a bit nervous going into fully covered litter boxes, but the high sides and seamless base mean that even cats that pee highest won't make a mess all over your walls.
The durable tarpaulin liner that comes with the Modkat Flip Litter Box is easily installed via plastic hooks at all four corners, and is just as easily removed for cleaning or replacement – you can simply soap it up and rinse out. Considering it costs only $30 for a three-pack of flip liners that last three months each, you'll have a nice smelling litter box year-round for not that much extra cost.
The scooper that comes with the Modkat Flip Litter Box is made of a simple molded plastic, and while it works well with most litter types, the holes on the scooper aren't ideal for wood-based or other larger-form litter.
The Modkat Flip Litter Box also looks incredible, with a simple, seamless base that comes in flat-white or a medium gray and a top that folds neatly onto it. It's minimalist and one of the few good-looking litter boxes out there. You'd be hard-pressed to find another litter box that looks this good and works even better.
Modkat Flip Litter Box: Performance
As the owner of a picky cat who tends to pee incredibly high, the Modkat Flip Litter Box is the best purchase possible, even at the price.
The three-position lid made it a breeze to ease my cat comfortably into using it, and now each box can have the top flipped all the way down, she uses it without hesitation. The top is also sturdy, holding the weight of a 14lb cat who climbs on everything. The liners are installed incredibly easily and allow me to rinse out the interior of the litter box, which, considering the side peeing issue, is a dream.
As a two-cat household, keeping smells to a minimum and the litter box clean is often difficult, but that's not the case with the Modkat Flip Litter Box. Not only does it trap smells pretty well, but the adjustable flip top gives you easy access to the entire litter box, making cleaning simple. The hanging scooper also mounts to the side of the box for easy accessibility.
An adorable little extra that comes with the Modkat Flip Litter Box is a cardboard cat toy complete with a ping-pong ball. The box that holds a few of the box's elements is easily converted into a fun hide-and-seek game. Just pop out the pre-cut circles all around the box, drop in the included ping-pong ball, and you have a toy that will keep your cat busy for hours.
Should you buy the Modkat Flip Litter Box?
It might be a little pricey, but the Modkat Flip Litter Box is worth every penny. This is a must-have for cat owners who want a chic litter box alternative that looks great in every room, or for owners whose pet cat is a messy bathroom user. The reusable liners aren't too expensive to replace and make it easy to keep the litter box extra clean, along with the three-position lid.
The Modkat Flip Litter Box looks great, works even better, and comes with a free toy. How could you not want to buy this for your feline friend?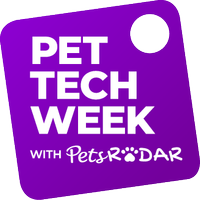 Pet Tech Week on T3
Pet Tech Week is brought to you in association with our new sister site PetsRadar.com. PetsRadar.com is a new pathway to healthy, happy pets that offers a unique combination of trusted advice and the best deals on top pet products – check it out today at www.petsradar.com.