Best cheap dog toy deals under $15: 10 ways to entertain your pup for less
We've selected some of the best cheap dog toy deals on the market to entertain your pooch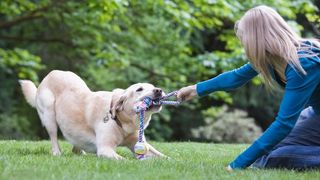 (Image credit: Getty Images)
These cheap dog toy deals represent a great way to treat your dog to something new. Keeping your dog entertained is important both for their mental and physical health, but we know that dogs love to destroy things – it's in their nature – so splashing out on expensive toys isn't always an appealing prospect.
We've got an amazing round-up of the best dog toys, but here we've found some of the best cheap dog toy deals that are under $15 dollars, allowing you to entertain your pooch without breaking the bank. Amazon has a wide variety of cheap dog toy deals to suit a range of budgets!
These cheap dog toy deals are perfect if you have multiple dogs, and if they tend to get bored after playing with a toy a few times. From chew toys to rope toys, treats, and more, there's a dog toy to suit all types of dogs.
It can be difficult to know which dog toys are the best and where to find them, but we've made it easier by finding and collating some of the best cheap dog toy deals on the market right now.
Cheap dog toy deals under $10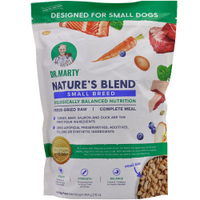 Otterly Pets Puppy Dog Pet Rope Toys
For dogs that love to pull and chew, these rope toys are ideal. They work to clean teeth and massage the gums for good dental health, and can be effective when used for training. You'll get four different rope toys in the set, made of 100% cotton fibers. They are easily washable, and come in a handy carry bag to store away when not in use.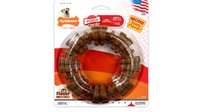 Nylabone Power Chew Textured Dog Chew Ring Toy
Made from durable nylon, this chew toy can withstand even the most aggressive chewers, giving your dog hours of chewing entertainment. Its design promotes dental health, as it stops the build-up of tartar, and it is available in a variety of flavors, including chicken and flavor medleys, so they'll never get bored of the taste. You can get this toy in small, medium, large, or extra large, depending on your breed of dog.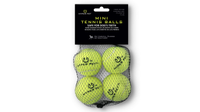 Hyper Pet mini tennis balls for dogs

For dogs who love exercise, these doggy-safe tennis balls are perfect for playing fetch in the park. They come in a variety of bright colors, making them easy to locate, and they are smaller in design, which makes them the right size for your dog to carry safely in their mouths. The materials are all non-toxic, and the coating is non-abrasive, so it won't damage your pooch's teeth. It's the perfect toy for smaller dogs.


Cheap dog toy deals under $15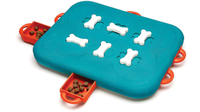 Nina Ottosson by Outward Hound – Intercative Puzzle Game

Give your pooch some mental stimulation with this interactive dog toy. The game is designed so that your dog has to use their paws to unlock the treats inside the tray. This is a great bonding activity for owners and their dogs, and will keep your dog entertained and engaged for hours. This type of game is great for training your dog or addressing behavioral problems, and can help with limiting doggy treats to a reward-only basis.
Find out eight reasons to use a dog feeding puzzle from our in-house vet.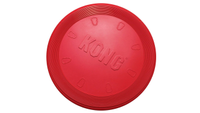 This soft-catch frisbee is great for playing with large dogs who love to run. Made of rubber, the KONG flyer is durable yet soft and flexible, which makes it easier for your dog to catch, and it's safe for their teeth and gums. The flyer is available in two sizes – small and large, which makes it a fun toy for any active dog.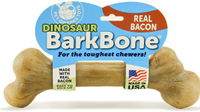 Pet Qwerks Extreme Dinosaur BarkBone

This giant doggy bone is the ultimate chew toy for dogs. If your pup loves to chew through things, then this bone will be their favorite new toy (and yours). This bone provides a healthy outlet for chewing, plus it's infused with bacon flavoring that all pooch's love. It is quite hard, and will take a lot of chewing to get through, but it will also protect your pup's teeth at the same time, so it's a win-win.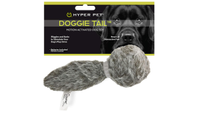 Hyper Pet Doggie Tail Interactive Plush Toy
This interactive toy is perfect for entertaining your dog for hours. It is a plush squeaky toy that vibrates, wiggles, and even barks. This can encourage your dog to run and chase the toy, giving them both mental and physical stimulation. It is battery operated – you simply shake or throw the toy, and it will begin interacting with your pup. It comes in a variety of designs, including a gray doggy tail and other colorful characters.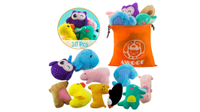 This pack of 10 plushies is the perfect set of dog toys for your puppy. These toys are soft and safe, and work as teething toys for growing pups. They have multiple squeakers with different sounds that will engage and entertain your young dog as they develop. Your puppy can chew on these toys with ease, and they are completely safe for dogs, making them the perfect comfort toy. You can find more of the best puppy toys in our recent guide.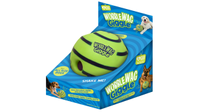 Another interactive toy for dogs that's great fun for everyone. This ball can be used both indoors and outdoors, and it "giggles", encouraging your pet to play with it. It works without batteries, and instead uses an internal noisemaker that activates when it moves, which makes it the ideal toy for endless fun (although it does mean you can't switch it off when you've had enough). The ball has six clutch pockets to make it easy for your dog to pick up and play with.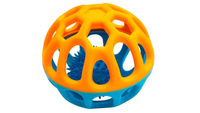 This chew toy and dog ball in one is perfect for involving treats during playtime. The ball is made from Food Grade Safe material and 100% eco-friendly rubber, which is non-toxic and BPA free. This makes it perfect for your dog to chew on safely, and provides protection for their teeth and gums. You can place treats inside the ball for them to chase and figure out how to get to them, and it'll give them plenty of exercise.
Those are just a handful of some of the best cheap dog toy deals around. Playing with your dog is an essential way to keep them happy and healthy. You can also check out our 5 tips to keep your dog healthy in 2021 for more information on mental and physical stimulation for dogs.
Get the best advice, tips and top tech for your beloved Pets
Sarah is a freelance writer and marketer, covering a variety of topics from lifestyle and fitness to sustainability and travel. When she's not writing for PetsRadar or other websites, she can be found looking after her pet chickens or relaxing with a cuppa and a cute doggo snoozing on her lap!