Five DIY cat scratching post ideas that are simply stylish
These DIY cat scratching posts will fit seamlessly into the home and save you money too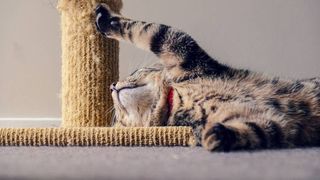 (Image credit: Getty Images)
If you're looking to satisfy your feline's scratching instincts, consider a DIY cat scratching post.
Getting crafty in your home is the perfect way to get the exact look and feel you want for your cat's post, while saving a bit of money along the way. For when the best scratching post doesn't quite cut it for your feline friend, only DIY will do.
A popular trend in the pets world involves hiding unsightly cat litter boxes, houses and cat beds and transforming them into something so beautiful that they seamlessly integrate into the home. Who wants to see an ugly box strewn with cat litter when you can try out the super stylish DIY hidden litter box trend instead?
These DIY cat scratching posts might just be easier to create than you think...
1. DIY cat scratching post vase
Do you have an old vase just lying around? Turn it into something both chic and practical with this handy tutorial by TikTok user Darla James.
To make your own DIY scratching post vase, you'll need the following items:
• An old vase
• Hot glue gun
• 200ft sisal rope
• Protective gloves
Directions
1. Dot a small amount of hot glue along the bottom of the vase.
2. Wrap sisal rope around the vase, dotting small hot glue dots as you go around and up.
3. When you reach height where you want to stop, cut the rope, tuck in the end piece and secure with a small dot of hot glue.
2. Natural DIY cat scratching post
If you don't like the look of cat scratching material at all, then why not go back to basics with this clever natural DIY cat scratching post?
Devised by CatVisors, this stunning looking post will make a real statement in any home.
To make your own natural cat scratching post, you'll need the following items:
• A board/chipboard (as the base)
• A wooden stump, with the bark intact
• A drill/screwdriver or a hammer and nails (to fasten the stump to the base)
Directions
1. Fasten the base of the future scratching post to the stump with the tools.
2. Place it wherever your cat likes to scratch or stretch out the most.

3. Baby Yoda DIY cat scratching post
What can you do with a dollar store cat scratcher? Turns out quite a bit! The extraordinary cat toy designer Cat Toy Lady shows just what you can do on a budget with this inspired Baby Yoda design, from Star Wars' series The Mandalorian.
You can follow along with the tutorial over her own YouTube channel.
To make your own Baby Yoda DIY cat scratching post, you'll need the following items:
• Dollar store cat scratchers
• Non-toxic green and black paint
• Sponge brushes
• A box cutter
• Exacto knife
• Hot glue guns
Directions
1. Make the base for your Baby Yoda by gluing six dollar store cat scratchers together to create a box shape.
2. For the top of the jacket/scarf, cut the top edges off a dollar store cat scratcher.
3. For the face, create a slightly curved shape by adding a couple of smaller pieces of dollar store cat scratcher and cutting.
4. Reinforce the back of the Baby Yoda face using another couple dollar store cat scratchers.
5. Glue the face to the top of the base using a hot glue gun.
6. Glue the top of jacket/scarf to the base using a hot glue gun.
7. Create the top of Baby Yoda's head by cutting out smaller squares of dollar store cat scratcher and gluing them together.
8. Create some Baby Yoda shaped hands and ears from the dollar store cat scratchers and glue them to each side of the body, reinforcing them with a few added similar shaped pieces glued together.
9. Paint Baby Yoda's face, ears, hands and head using the green paint and leave to dry.
10. Once dry, use a fine brush to draw and fill in his eyes and mouth. You can cut out a guide for his eyes to ensure both are equally shaped.
11. Add shading to his ears using black paint and leave to dry.
4. Cardboard box DIY cat scratching post
Does your kitty love to sit in cardboard boxes? Why not transform it into a handy cat scratcher? TikTok user @jeriann094 shared the idea on their channel.
To make your own cardboard box DIY cat scratching post, you'll need the following items:
• Cardboard boxes (3 large or 5 medium)
• Duct or masking tape
• Box cutter and straight edge
• Fabric (optional)
Directions
1. Cut cardboard boxes into 4 inch strips
2. Roll a strip of cardboard up tightl. When you get to the end of it, duct tape it to another strip of cardboard. Repeat rolling and taping until your scratching pad measures is at least 16" across.
3. You can also add fabric if you like by cutting a piece that's the same size as the scratch pad and gluing it to the cardboard.
5. Cactus DIY cat scratching post
Get on trend with this seriously stylish Cactus DIY cat scratching post created by Penelope Quinn for Create and Craft.
To make your own cactus DIY cat scratching post, you'll need the following items:
• 50cm x 50cm plywood, approx 2.5cm deep
• 50cm x 50cm fake grass
• 2 part plastic Christmas baubles
• Green spray paint
• 54 metres of natural sisal rope
• 2 packets of green dye
• Glue sticks
• Glue gun
• Hammer
• Electric drill
• Strong glue such as Gorilla Grip
• Sand or concrete
• Felt to make flowers
For the pipe
• 60cm of 80mm pipe, cut into 8cm pieces
• 6 x 80mm connectors
• Toilet flange to fit 80mm
• 80mm 43 degree bend
• 80mm 95 degree bend
• 2 x 95 degree junction
Directions
1. Begin by dying your sisal rope using the dye and soak overnight.
2. Center the flange onto your board, and mark with a pencil where the screws will go. Use your electric drill to pre-drill the holes, and then secure your flange with screws.
3. Cut a hole in your fake grass so it fits snugly over the flange. Glue it onto the board. Put your first connector onto the flange; if it doesn't fit 100% snug, apply plenty of glue.
4. Take one of your 8cm pipe bits you have cut, and hammer this gently into the connector.
5. Keep going, using a pipe in between each connector until you have 4 connectors stacked on top of each other, held together with 5 pieces of 8cm pipe.
6. Fill with sand or concrete to help keep it steady.
7. Attach a 95 degree junction, followed by an 8cm pipe, and a 45 degree bend.
8. Connect your second 95 degree junction. For the second arm of the cactus, use a connector, and the 95 degree bend.
9. Break your plastic baubles in half, and use a glue gun to secure to each of the arms, and one on top.
10. Spray paint your cactus green. It doesn't need to be a perfect finish.
11. Take your dyed sisal rope, and begin to glue gun it around the base of your cactus, continuing up.
12. When you reach a junction, criss-cross over a couple of times, then keep working your way up until you've covered the entire cactus in rope.
13. Cover the spaces by measuring up smaller pieces of rope, and gluing them in.
14. Add a couple of flowers and pom poms, and it's ready – there's nothing left to do, but leave it out for your fur baby to enjoy!
Get the best advice, tips and top tech for your beloved Pets
Thank you for signing up to Petsradar. You will receive a verification email shortly.
There was a problem. Please refresh the page and try again.