6 DIY donuts for dogs you can whip up at home
From savory rosemary to sweet strawberry, these donuts for dogs have a mouth-watering flavor combination to suit the taste buds of every canine companion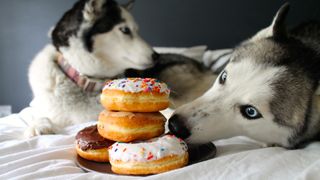 (Image credit: Getty Images)
Whipping up a batch of donuts for dogs can be a great way of spoiling your canine companion with a fun and unique treat that they wouldn't normally get to have. And while there's nothing wrong with the best dog treats lining the grocery store shelves, there's something special about a homemade tasty titbit that's been baked with love.
It's important that the majority of your pup's diet is made up of nutritious dog food with just 10% of their daily calories going towards treats. This will ensure they get all the vitamins, minerals and antioxidants they need to stay happy and healthy. But, for those times when you're wanting to reward your dog for being a good boy or girl, a delicious donut can serve as the ideal treat.
One of the advantages of making your own homemade dog treats is that you know exactly what ingredients have gone into them. This can be great for dogs with allergies or food sensitivities as you can rest assured that what you're feeding them won't cause their skin or stomach to have an adverse reaction.
All of the recipes below use limited, easy to source ingredients and are affordable to make, so you don't need to worry about blowing your budget. We've also included a couple of gluten-free options, which are ideal for canine companions who can't tolerate this protein.
Ready to get baking? From carrot and apple to peanut butter and banana, here are our favorite mouth-watering doggie donut recipes that are sure to get two enthusiastic paws up from your beloved canine companion.
6 DIY donuts for dogs to make at home
1. Easy dog donut recipe
Ingredients for donuts:
1 cup mashed bananas, (about 2 ripe large bananas)
¼ cup (65 g) natural creamy peanut butter
¼ cup (52 g) coconut oil, melted
2 Tablespoons honey
1 large egg, room temperature
1 cup (125 g) whole wheat flour
½ teaspoon baking soda
Ingredients for peanut butter frosting:
½ cup (142 g) greek yogurt
¼ cup (65 g) natural creamy peanut butter
Instructions for donuts:
Preheat oven to 350° F. Grease two 6-cup donut tins and set aside.
In a mixing bowl, combine mashed bananas, peanut butter, coconut oil and honey. Mix until well combined.
Add egg and mix until incorporated. Stir in flour and baking soda just until combined.
Transfer batter to prepared donut tins. Bake at 350° F for 15 to 20 minutes or until a toothpick inserted in one of the donuts comes out clean.
Let donuts cool for a few minutes in the pan before transferring them to a wire rack to cool completely.
Instructions for peanut butter frosting:
In a mixing bowl, combine greek yogurt and peanut butter until smooth and creamy. Use a knife or offset spatula to spread the frosting on the cooled donuts. Sprinkle with crushed biscuits if desired and serve to your pup!
Recipe via ifyougiveablondeakitchen.com
2. Rosemary dog donuts
Ingredients:
1 1/2 cups whole wheat flour
1/2 cup olive oil
1 egg
2 medium sprigs fresh rosemary
1/4 cup + 2 tablespoons water
1/4 cup cream cheese
Instructions:
Preheat the oven to 350 degrees Fahrenheit. Strip the rosemary from its stems.
In a medium mixing bowl, combine the flour, egg, olive oil, and half of the rosemary. Mix well.
Add in the ¼ cup water and mix well again. If you think your mixture is too thick, add in a tablespoon more of water at a time until you reach the desired consistency.
Place the batter in a frosting bag and evenly distribute among each of the donut cavities in your pan. Bake for 13 minutes. Let cool in the pan for 5 minutes, then remove to a cooling rack to finish cooling for another 15 minutes.
Place the cream cheese in a small bowl and microwave for 20 seconds then stir well. Add the 2 tablespoons of water and stir until combined.
Dip the top of your donuts in the cream cheese and sprinkle with the leftover rosemary. Store in a sealed container in the fridge for up to a week.
Recipe via lovefromtheoven.com
3. Apple peanut butter dognuts
Ingredients for donuts:
3 tablespoons vegetable oil *see notes
1/2 cup creamy peanut butter **see notes
1 cup unsweetened applesauce
2 tablespoons honey
1 teaspoon baking powder
2 cups whole wheat flour
Ingredients for drizzle:
2 tablespoons creamy peanut butter
Instructions:
Preheat oven to 350 degrees. Spray your donut pan with nonstick baking spray. The donuts will stick slightly but can be removed with a skewer. Set aside.
In a large mixing bowl, add in the vegetable oil, peanut butter, applesauce and honey. Stir with a spatula until the peanut butter is incorporated. It will look slightly broken because of all of the applesauce.
Add in the whole wheat flour and baking powder and stir until combined.
Place the batter into a disposable piping bag or large storage bag. Cut the tip or corner of the bag.
Pipe the batter into the donut pans. Don't overfill your pans.
Place into the preheated oven and bake for 10 minutes or until done. The edges will be slightly golden and the donuts will feel firm when you press down on them.
Remove from the oven and place them on a paper towel. Let cool for about 10 minutes. Remove them from the pan with the help of a skewer. You don't need to flour your pan.
Let cool completely and prepare your peanut butter drizzle.
Place the 2 tablespoons of peanut butter in a sandwich bag and microwave for 20 seconds. This will slightly soften the peanut butter so it's easier to pipe. Cut a very small hole into the sandwich bag.
Move your hand back and forth over top of each dognut using even pressure. Remove any extra peanut butter hanging in the center of your dognut with the skewer or your finger will work too. The drizzle will not harden, so it can be a little messy depending on how you store them.
Store in an airtight container at room temperature or in the fridge.
Notes:
*You can melt 3 tablespoons of refined coconut oil to take the place of the vegetable oil in this recipe.
**Make sure the peanut butter does NOT contain artificial sweeteners such as xylitol. I prefer using natural creamy peanut butter.
Recipe via cookiedoughandovenmitt.com
4. Carrot and apple doggie doughnuts
Ingredients:
2 cups 315 g brown rice flour
2 eggs
1 cup 235 g unsweet applesauce
2 teaspoons honey
1/3 cup 80 ml filtered water
1 medium organic apple finely diced about 105 g
1/2 large carrot grated (about 25 g)
2 tablespoons coconut oil melted, plus more for greasing the pan
Instructions:
Preheat the oven to 350°F. Grease the cavities of a nonstick doughnut pan with coconut oil; set aside.
Combine all of the ingredients in a large bowl. Stir together until a thick batter forms.
Transfer the batter to a piping bag or a zip-top bag with the corner snipped. Pipe the batter into the doughnut pan cavities to the very top (the batter will not rise much as it bakes). Rap the pan on the counter top to level the batter.
Bake for 10 minutes. Let the doughnuts cool in the pan for 5 minutes, and then turn out onto a wire rack to cool completely.
Repeat the process with the remaining batter.
Serve cupcakes to delighted pups plain, or frost with strained Greek yogurt or natural peanut butter.
Recipe via sprinklebakes.com
5. Mini gluten-free strawberry doggie donuts
If you're looking for a wonderfully healthy and mouth-wateringly delicious doggie donut recipe that you'll be able to whip up in 15 minutes, these gorgeous strawberry gluten-free mini donuts have our tick of approval.
Using organic ingredients and able to be stored in the freezer un-iced for up to three months, these gorgeous treats are sure to get a huge paws up from your canine companion.
Recipe via Bobby & Bambi's DIY.
Get the best advice, tips and top tech for your beloved Pets
Kathryn is a freelance writer who has spent the past three years dividing her writing time between her two great loves - pets and health and wellness. When she's not busy crafting the perfect sentence for her features, buying guides and news pieces, she can be found hanging out with a very mischievous Cocker Spaniel and a super sassy cat, drinking copious amounts of Jasmine tea and reading all the books.