Best dog toothbrush
Keep your pet pooch's teeth and gums clean and healthy.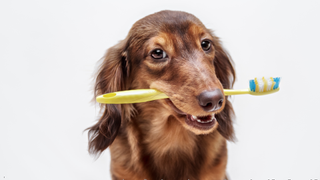 (Image credit: Getty Images)
A first-rate dog toothbrush will remove food debris, prevent the buildup of plaque and tartar and help keep your furry friend's teeth clean and gums healthy. There are two typical designs for dog toothbrushes. Long-handle toothbrushes are like human toothbrushes and come with different size brush heads for different size breeds. Finger toothbrushes fit over the finger, have softer bristles, and are good for difficult-to-reach areas. We've put together a selection of the best of both worlds to help you choose the right one for you.
Top pick
Give your pet pooch good dental hygiene for over twelve months
This set comes with six double-ended toothbrushes which should be enough to last for at least a year with a daily brushing routine. The dual-headed brushes have a small brush on one end and a large brush on the other end of an 8.5-inch long handle. This makes the toothbrush ideal for small and large dog breeds. The bristle hardness is just right to remove food, plaque, and tartar without damaging your dog's gums. A neat touch is the choice of two colors, useful if you have more than one dog. Simply choose one color for one dog and assign the other color to your other dog.
Best budget buy
Dual head and finger toothbrushes to suit all dog breeds
This convenient variety pack contains four dual head long handle toothbrushes and four-finger toothbrushes. The dual-head brushes have a small brush head at one end and a large brush head at the other to suit all breeds and a long 8.86-inch handle that makes it easy to reach all areas of your dog's mouth. The finger toothbrushes have a small area with bristles to help you get to more difficult to reach areas and ensure that your dog's gums stay clean and healthy.
Best ergonomic design
An ergonomic design for quick and effective brushing
With the Orgrimmar ergonomic toothbrush, effective and comfortable brushing has never been easier. The head of the dog toothbrush has three brushes that allow the bristles to completely enclose your dog's teeth. The handle is made from rubber, so you can get a stronger grip on the toothbrush, and it's easier to maneuver for the successful removal of plaque and tartar.
Best finger toothbrush
A silicone finger toothbrush with 360-degree cleaning
A dog finger toothbrush is completely different from a typical long-handled toothbrush. This set offers two toothbrushes that slip over a finger and offer 360-degree bristles. This means that you can brush more of your pet pooch's mouth and teeth with less effort. The toofers toothbrush is made from 100% silicone which is safe for your dog and will fit all size fingers. The bristles are softer than traditional bristles, something your dog will like, but still abrasive enough to be effective at removing plaque and tartar and keeping teeth and gums healthy.
Best small dog toothbrush
A smaller brush head for dogs with smaller mouths
Smaller dog breeds typically have smaller mouths than bigger dog breeds, so choosing the right size brush is a must for effective cleaning. These H&H dog toothbrushes are aimed at smaller breeds and come with a single head and ultra-soft bristles. The bristles are designed for smaller teeth and sensitive gums, but they're still effective at removing plaque and tartar and keeping your small dog's teeth clean and healthy. The brushes come in packs of four or eight and in a choice of two colors, ideal if you have more than one pet.
Best for toy breed dogs
A specially designed collection of toothbrushes for toy dog breeds
This is a range of dog toothbrushes specially designed for toy dog breeds. You can choose from Micro Head, Cylinder Head, and Thumb & Finger. If you have an ultra-small breed, then the angled Micro Head is the brush you need. It's designed for dogs 6 pounds and below and has mini-sized bristles to keep teeth and gums clean. The Cylinder Head toothbrush has micro bristles, perfect for all-angle gentle cleaning, while the Thumb & Finger toothbrush is a two-finger glove with bristles on the tip of each finger for hard-to-reach areas.
How to choose the best dog toothbrush
Why you can trust PetsRadar Our expert reviewers spend hours testing and comparing products and services so you can choose the best for you. Find out more about how we test.
Dogs come in many different shapes and sizes, so the main consideration when purchasing a toothbrush for your dog is brush size. Choosing the wrong size will make it more difficult to clean your pet pooch teeth and gums and make it uncomfortable for them.
Our top pick is the Pet Republique Cat & Dog Toothbrush Set. This offers a set of six long-handled toothbrushes that have dual heads for small and large dog breeds. If you are looking for a variety set of dog toothbrushes, then the PenVinoo Dog Toothbrush collection is a good choice. This includes long-handled brushes with small and large brush heads and a set of finger brushes for hard-to-reach areas.
For quick and convenient cleaning, the toofers 360º Dog Fingerbrush Toothbrush is unbeatable. This silicone dog toothbrush fits over the finger and has bristles on all sides, great for quick cleaning and the perfect way to introduce your dog to toothbrushes. If you have a small or toy dog breed then it's hard to go past the H&H Pets Dog Toothbrushes with a small brush head and soft bristles for tiny teeth.
Get the best advice, tips and top tech for your beloved Pets
Steve Jenkins is a freelance content creator and long-time journalist with more than 20 years in the industry. He has written for numerous titles covering tech to pets, with his latest faithful hound always by his side. When not walking his dog, or discussing who's best - cats or dogs? Loud guitars, AFC Bournemouth, Photoshop, and trying to save the world take up the rest of this time.