Best dog toothpaste
A whiter smile and fresher breath are just a brush away.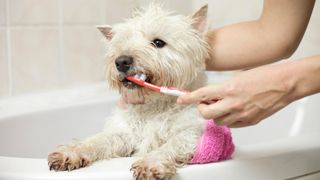 (Image credit: Getty Images)
A good dog toothpaste will hit tartar and plaque hard, banishing bad breath for healthier gums and cleaner teeth. Brightening and whitening for the perfect set of fangs, brushing your dog's teeth regularly with a high-quality toothpaste will ensure their teeth stay in tip-top shape. Flavored with everything from rich beef to fresh mint, take a look at our top picks for giving your furry friend the best dental hygiene.
Best overall
Give your dog fresh breath and clean teeth with this safe-to-swallow toothpaste
Formulated to hit plaque hard while freshening your doggy's breath, this toothpaste offers a clean-mouth feel and comes in three popular flavors your pooch will love. Featuring a unique enzyme system that's been specifically formulated for dogs and cats, the gel is abrasive enough to remove build-up without damaging the teeth or gums. Free from foaming agents, this gentle vet-recommended formula is safe for dogs to swallow and suitable for daily use.
Best budget choice
Brighter teeth and fresher breath is just a brush away
Dogs suffer from a build-up of plaque and tartar just like humans do, but with this tough toothpaste, you can say goodbye to both. Made from a soothing combination of aloe, neem oil, grapefruit seed extract, and baking soda, this grape-flavored paste whitens and brightens as you brush. This vet-formulated toothpaste is gentle on the gums and can be used regularly as part of your furry friend's dental hygiene regime.
Best enzymatic toothpaste
A non-foaming formula and a taste dogs love
Using this dog toothpaste two or three times a week will help take control of your pet pooch's dental hygiene. Its active ingredients help reduce plaque and tartar formation for dogs of all ages, ensuring your dog has better-looking teeth and less pungent breath. Featuring a non-foaming formula that's safe for dogs, you won't need to worry about rinsing your dog's mouth after using it. Available in a single meaty poultry flavor that most dogs will love, this is one of the best enzymatic toothpastes on the market.
Best liquid toothpaste
Tasteless and non-toxic dental hygiene for your dog
Want to give your pet pooch sweet-smelling breath, healthy gums, and clean teeth without having to use a brush? Then you're going to love this liquid that can be added straight into your dog's drinking water. Perfect for dogs who hate having their teeth brushed, this odorless and tasteless formula is 100% non-toxic and safe for daily use. Take the hassle out of brushing once and for all with Oxyfresh Premium Pet Dental Care Solution, the perfect way to keep your canine's chompers plaque and tartar-free.
Best brushless toothpaste
A brushless toothpaste that your dog will love to chew
If you're tired of trying to persuade your pooch to have their teeth cleaned, then these tasty chews might be just the ticket. Formulated for large breed puppies and adult dogs over 40lbs, these chews replicate brushing, sweeping away plaque and tartar while banishing bacteria. With a soft center encased inside an abrasive and crunchy exterior, these all-natural chews feature alfalfa, cinnamon, vanilla, and clove for a sweet and fresh taste that will get rid of bad breath for good.
Best dental hygiene kit
A complete dental kit with dog toothpaste and brush
This handy all-in-one dog dental kit comes with a tube of toothpaste and a toothbrush, allowing you to get to work right away. With a rich beef flavor your dog will love and a hint of healthy mint to freshen their breath, this natural and effective toothpaste does a great job removing plaque and tartar. Infused with baking soda for a whiter and brighter smile, this paste cleans and deodorizes with specially designed enzymes to fight bacteria.
How to choose the best dog toothpaste
Why you can trust PetsRadar Our expert reviewers spend hours testing and comparing products and services so you can choose the best for you. Find out more about how we test.
Just like us humans, dogs love their food, and with a diet that consists primarily of strongly smelling meat and fish flavors, regular brushing is essential. It doesn't just help those dog kisses smell a little sweeter, it also helps protect the gums and keeps teeth free from plaque and tartar.
Our top pick is the Virbac CET Enzymatic Toothpaste (opens in new tab), which fights plaque and tartar for healthier gums and contains no foaming agents, making it safe for daily use. If you're looking for a complete kit that has toothpaste and a specialist dog toothbrush then we highly recommend The Arm & Hammer for Pets Dog Dental Care Fresh Breath Kit (opens in new tab).
If your trying to convince your dog to let you brush their teeth feels like a mission and a half then the hassle-free Oxyfresh Premium Pet Dental Care Solution (opens in new tab) is a great choice. Simply add a few drops into your dog's drinking water and the job is done. Or why not try Ark Naturals Brushless Toothpaste (opens in new tab)? These tasty dental chews do a fantastic job of removing plaque and tartar while also freshening your dog's breath.
Get the best advice, tips and top tech for your beloved Pets
Steve Jenkins is a freelance content creator and long-time journalist with more than 20 years in the industry. He has written for numerous titles covering tech to pets, with his latest faithful hound always by his side. When not walking his dog, or discussing who's best - cats or dogs? Loud guitars, AFC Bournemouth, Photoshop, and trying to save the world take up the rest of this time.
Thank you for signing up to Petsradar. You will receive a verification email shortly.
There was a problem. Please refresh the page and try again.