Best toothbrush for dogs: For a fresh, clean and healthy mouth
Invest in the best toothbrush for dogs and give them five-star dental hygiene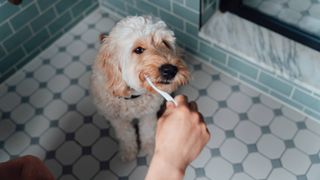 (Image credit: Getty Images)
If you invest in the best toothbrush for dogs and you will soon be getting up close and personal with your pet pooch without holding your nose. It's no secret that dog breath is a stench that many owners shy away from.
Fresh breath is not the only benefit of a regular cleaning routine. It also improves your fur friend's general oral hygiene and helps stop the build-up of tartar and plaque. This will lead to the prevention of gingivitis and gum disease, the main causes of bad breath, and lead to a healthier dog in later life.
But what type of toothbrush or dental care kit do you need? The simplest and most straightforward approach is to invest in a dog toothbrush. Whatever brush you decide to buy, make sure that you get the right size for your dog's mouth.
If you have a small breed, this is especially important. There is nothing worse than trying to use a brush that is too large for their mouth. Ideally, you want to invest in a dog toothpaste to accompany the toothbrush, so a kit is a great hassle-free choice. Alternatively, try a finger brush for anxious dogs. For more top tips be sure to read our vet's guide to how to brush a dog's teeth.
Here, we have put together an essential collection of dog toothbrush options to suit all needs and help you choose the best one for you and your fur baby.
PetsRadar's pick of the best toothbrush for dogs
Why you can trust PetsRadar Our expert reviewers spend hours testing and comparing products and services so you can choose the best for you. Find out more about how we test.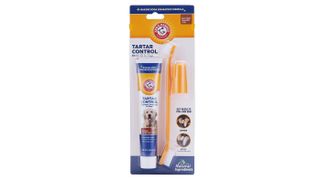 Arm & Hammer for Pets Tartar Control Kit for Dogs
Best overall toothbrush for dogs
Flavor: Banana Mint, Beef | No of brushes: 1 | Age range: All | Brush type: Standard | Material: Plastic
Angled brush heads
Enzymatic toothpaste
Finger brush included
Two flavors
Only one brush cover
When it comes to looking after teeth and gums, Arm & Hammer knows what it is talking about. The company has been in the business of tackling plaque, tartar and gum disease for years and has used that knowledge to create a solution that will help promote your dog's dental hygiene and all the benefits of a healthy mouth.
This kit comes complete with all the essentials you'll need to make sure your pet pooch will have the best looking teeth and the freshest smelling breath in the neighborhood. There's a double-headed toothbrush that is suitable for the majority of dog breeds, Banana Mint flavored toothpaste enhanced with baking soda, a finger brush for close-up cleaning, and a cover to protect the brush when not in use.
It's a small point, but the kit only comes with one brush cover. So you can only protect one brush head at a time. We would have liked to see a cover for both brushes.
The enzymatic toothpaste contains ingredients that help fight tartar and the buildup of plaque. Combined with the soft bristles of the brush it works well and you will start to notice the difference after a while. The Banana Mint flavor seems like an odd choice but dogs like it and it will improve your fur friend's breath. An alternative favour option is Beef, a seemingly more typical choice but not so minty fresh. The Beef toothpaste kit does come with a brush cover.
Finally, if you find that your dog is loving the kit, think about getting the 48 pack kit. This will save you nearly 50 percent on the single pack price and will last for years.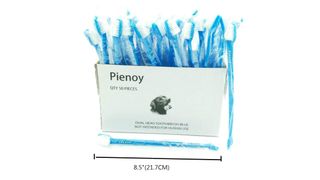 Pienoy 50-Pieces Double-Headed Dog Toothbrush
Best budget toothbrush for dogs
Flavor: n/a | No of brushes: 50 | Age range: All | Brush type: Standard | Material: Plastic
Money saving bulk purchase
Enough brushes for 3 or 4 years
Double-ended brushes.
Soft tapered bristles
Individually wrapped
No added extras
Buying in bulk can bring big savings and that's exactly what you get with this pack of 50 dog toothbrushes. That's at least three or four years' worth of brushes at a budget-friendly price. You can save another 5 percent on the price by subscribing, but we're not sure you need 50 toothbrushes every six months – unless you have a lot of dog teeth to clean.
There are no added extras such as toothpaste, finger brushes, or brush covers, but that leaves you free to choose the extras you want. You can find a toothpaste your pet pooch loves and couple it with these double-headed dog toothbrushes.
With two different-sized heads to choose from, the toothbrushes will work well with dogs of all sizes. The larger head is the perfect choice for general cleaning, while the smaller head is great for getting into difficult-to-reach areas. The big head measures one inch in length and the smaller head is 0.5 inches. That's an ideal size for small dog breeds but on the downside, you only get to use one end of the brush.
Individually packaged to keep the brushes sterile and clean, the toothbrush shaft measures 8.5 inches, making it a good option choice for all sizes of dogs. It allows you to hold the brush shaft wherever you want to control the brush. The bristles are soft and tapered to sweep away any food debris, help stop gum damage, and ensure your pet pooch has a comfortable cleaning experience.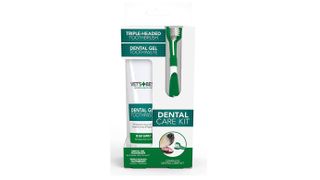 Vet's Best Dog Toothpaste, Teeth Cleaning and Fresh Breath Dental Care Gel Kit
Best triple headed toothbrush for dogs
Flavor: Grape | No of brushes: 1 | Age range: All | Brush type: Triple head | Material: Plastic
Triple headed toothbrush for faster cleaning
Integrated tongue cleaner
Veterinarian formulated toothpaste
Brush not as intuitive as single head
Not for small mouths
Do you want effective dental hygiene for your dog that will give them clean white teeth, fight off tartar, and give them fresh breath? Of course, and that's what you get with this dental care kit. This two-piece set includes a tube of Vet's Best toothpaste and a triple-headed toothbrush to help ensure that your dog's dental hygiene is the best it can possibly be.
Toothpaste is very much a part of the cleaning process and, here, you get a soothing and effective veterinarian formulated gel to clean, freshen and remove plaque and tartar. It uses a mix of vitamin C, clove leaf oil, grapefruit seed extract, and peppermint to create a texture and flavor that many dogs love. Gently introduce them to the toothpaste and see how they get on with it. If they don't like it you can try another to accompany the three-headed soft brush.
The extra heads allow you to clean the top, inside, and outside of a tooth with one brush stroke and from all angles. It's not as intuitive as a single head toothbrush and isn't suitable for smaller mouths, but once you have worked out how to use it effectively, you can get the job done a lot quicker.
The side bristles are set at a 45-degree angle, so they clean the teeth and massage the gums at the same time. The handle has a sure grip and there's an integrated tongue cleaner at the bottom to give all-round oral care.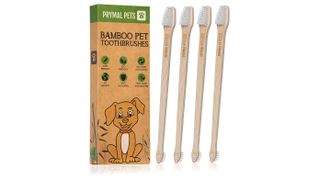 Prymal Pets Dog Toothbrush
Best eco-friendly toothbrush for dogs
Flavor: n/a | No of brushes: 4 | Age range: All | Brush type: Double-headed | Material: Wood
Eco-friendly toothbrush
Recyclable packaging
Strong sturdy shaft
Pack of 4 or 1
No angled head
Do you want to produce less plastic waste and help the environment? With over a billion human toothbrushes thrown away every year, getting your pet pooch an eco-friendly toothbrush can help in a small way. They may be a little more expensive, but you can make a difference to help save the planet.
In this neatly recyclable packaged set from Prymal Pets – all part of the eco-friendly message – there are four double-headed brushes. So you get months of usage and when you run out, you have a ready replacement. If you are unsure that these bamboo brushes are the best choice for your fur friend you can start out with a single. If they like them, buying in bulk means you get them at a discounted price.
The bamboo shaft is straight and sturdy and is 8.5 inches in length, so ideal for larger dogs. Use the large head for bigger dogs and the smaller heads for smaller mouths, or to get into those small harder-to-reach areas. One downside is a lack of an angled head, which can make it more difficult to reach all areas and more uncomfortable for your dog. Both sets of bristles are made from BPA-free plastic, so fewer chemicals, and just the right amount of softness to ensure smooth brushing that won't irritate your dog's gums.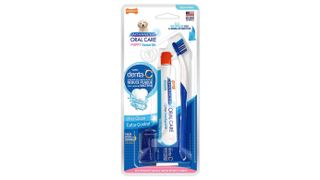 Nylabone Advanced Oral Care Dental Kits for Dogs
Best puppy toothbrush for dogs
Flavor: Original | No of brushes: 1 | Age range: Puppy | Brush type: Standard | Material: Plastic
Brush and toothpaste
Angled head for hard to reach areas
Scientifically formulated toothpaste to help reduce plaque
Kits for adult and senior dogs available
Small finger brush
One flavor
Imagine not cleaning your teeth until you become an adult. Well, this puppy dental care kit will change that for your dog. It is specially formulated to work with young dogs, starting your pet pup on the road to good dental hygiene from an early age.
It's good for them, good for their teeth and good for pet owners. The big benefit for your puppy is that it reduces your dog's risk of oral disease and other serious health problems when they get older. And the big benefits for owners are fewer vet bills and fresher breath, so you won't have to back away when your dog gets close.
The kit contains everything a puppy needs. There is a toothbrush with soft bristles and an angled head to give a better reach to back teeth. There's a 2.5oz tube of puppy toothpaste that comes in the one flavor, Original. It also contains Denta-C, which is scientifically formulated to help reduce plaque. For those hard-to-reach areas or for a different approach to dental hygiene, there is a finger brush to help remove plaque and food debris.
Unlike some of the larger finger brushes in this guide, this one has a small brush head, which means you need to be a little more precise to get the full effect. This can be awkward, especially if you have a wriggler when it comes to brushing.
As your puppy grows, the dental kit grows with them, with Adult Dog and Senior Dog kits also available. These provide much the same care but with bigger brushes and different flavors, including Peanut Butter and Bacon, that grown-up dogs will love.
How to choose the best toothbrush for dogs
Choose the right size
Dogs come in all shapes and sizes and, as you might expect, so do their mouths and teeth. If you have a toy or small breed dog, such as a Shih Tzu, you don't want a large brush that is too big for their mouth, this will make the brush ineffective and pointless. Look for a brush that is specifically designed for small mouths.
For medium and larger breeds, you need a larger brush. Typically a double-ended toothbrush is a good choice for most dogs, but check out the length of the toothbrush shaft. Measure your dog's jaw from the front to their back teeth, though you can estimate this, and it will give you a rough idea of the size of toothbrush you will need. If you get one that is too short, you'll need to put more of your hand in their mouth, which your pooch probably won't appreciate.
Get a kit
Do you need dog toothpaste? Yes, is the simple answer. If you are going to invest in a toothbrush for your dog, you should look at investing in the right toothpaste as well.
One tip – do not use human toothpaste when cleaning your dog's teeth. These contain ingredients that are toxic to dogs and will make them unwell. The solution is to buy an oral hygiene kit that contains both a toothbrush and toothpaste. Be aware that toothpaste comes in different flavors, so you might need to experiment to see what your pet pooch likes.
Buy in bulk
It's not essential to buy in bulk, but if you are cleaning your dog's teeth, you will need to replace your dog's toothbrush on a regular basis, just like you would your own toothbrush. This will make sure that the toothbrush you are using remains effective.
You should expect to replace a dog's toothbrush every three months, but it depends on how often you brush your pooch's teeth. A better indicator is when the bristles start to get frayed and flat, this is the time to invest in a new doggy toothbrush.
So it makes sense that you buy more than one toothbrush at a time. You can get a pack of two, four, or 50, so you are ready to swap when you need to. We would only recommend buying bigger packs after you have tried the brush. If you buy in bulk and they're no good for your dog, you have wasted your money.
Get the best advice, tips and top tech for your beloved Pets
Steve Jenkins is a freelance content creator and long-time journalist with more than 20 years in the industry. He has written for numerous titles covering tech to pets, with his latest faithful hound always by his side. When not walking his dog, or discussing who's best - cats or dogs? Loud guitars, AFC Bournemouth, Photoshop, and trying to save the world take up the rest of this time.