Best rabbit harness: Let them explore in safety
Invest in the best rabbit harness to let you and your rabbit enjoy the great outdoors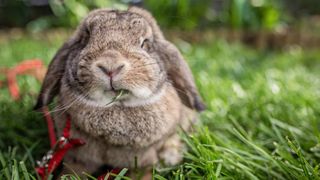 (Image credit: Getty Images)
Need to get outdoors and give your rabbit some fresh air and exercise? But want to keep them safe and stop them running away? Then you could consider getting the best rabbit harness that's going to work for you and your cute little fur baby.
Your rabbit can benefit from some time in a warm, secure hutch - it can act as a sleeping area away from predators, for instance - but it's not natural for them to spend all their time confined to a cage. They need to get out and run and explore, it's good for their health and well-being. But the moment you let them free, they disappear into corners you cannot reach or you simply can't find them until they decide it's time to reappear.
An ideal solution to this is to create a safe, spacious living area for rabbits or invest in a good quality rabbit run; after all you want your bunny to roam free in safety, however it can be an expensive option and you'll still need to keep an eye on your rabbit. There are many pro and cons of a rabbit harness: it's certainly not suitable for every bunny and you'll need to consider leash training. It's worth also keeping in mind that some pet charities don't recommend the use of harnesses; rabbits who are particularly fearful are liable to chew through strap-style harnesses and could injure themselves if they're easily startled so it's vital to think of your rabbit's disposition before opting for this style of exercise.
However, a rabbit harness does give you peace of mind as your fur friend explores. You get to keep them safe while they bounce around and enjoy the outdoors before they decide it is time to get back to that warm and cozy home.
Ready to take your fur baby for a hop and a jump in the great outdoors? Then let us help you choose the best rabbit harness for the job.
PetsRadar's pick of the best rabbit harnesses
Why you can trust PetsRadar Our expert reviewers spend hours testing and comparing products and services so you can choose the best for you. Find out more about how we test.
Niteangel Adjustable Soft Harness
Best overall rabbit harness
Size: S, M, L, XL | Color: Black, Blue, Grey, Pink, Purple, Red, Royal Blue | Weight: 2 pounds | Material: Nylon
Breathable mesh body
Double stitches edges
Seven colors
Sizes are smaller than expected
Velcro straps not that strong
Not sure what rabbit harness to buy? Then step right this way and get your hands on a great all-rounder that has everything you need in a harness. For starters the Niteangel is soft, comfortable and sturdy, something that your fur baby will definitely appreciate.
The design of the mesh body means that it is breathable which lets your rabbit lose its heat when it's in the harness. This stops your fur baby from overheating and getting agitated and uncomfortable when in the harness. The more your rabbit enjoys the harness the more they are going to want to wear it. A durable edge structure sees some neat double stitching that gives the harness its strength and helps stop your rabbit from nibbling the edges.
Available in four different sizes - small, medium, large and extra large - you can find a size for your rabbit without any problems. The medium is a good choice for young and dwarf rabbits while the large is ideal for average-sized adult rabbits. If you've a furbaby that's beyond average the XL will fit a 19-27cm neck and a 32-45cm chest. Just remember to measure up properly to get the best fit. And for fine tuning the perfect fit, the harness is fully adjustable with easy to use Velcro straps, but note they are as strong as expected.
While comfort is key, style shouldn't be ignored and you can make sure that your rabbit is looking their best with a choice of seven colors. Just make sure that you pick one that makes your fur baby look good.
Kaytee Small Animal Harness & Stretchy Leash
Best budget rabbit harness
Size: S, M, L | Color: Blue, Green, Red, Purple | Weight: 2.4 ounces | Material: Nylon
Elastic stretchy leash
Made for durable washable nylon
Buckles and Velcro for a secure fit
For small rabbits only
If you want a rabbit harness that offers comfort and value for money then this harness and leash combo from Kaytee is definitely worth a look. Made from a durable nylon - that can stand a good few washes - the harness is a vest type that sits round the upper body of your pet and has a combination of plastic buckles and velcro to give the right fit for your fur baby.
The thin velcro straps help you get the fit you want but aren't as wide or as strong as other harnesses. But to compensate it has a couple of adjustable snap-in buckles that go around the neck and chest. These help secure the harness and help make sure it stays in place when you are on the move.

While the harness is available in three sizes - small, medium and large - it's made for small pets so only the large is ideal for small to average sized rabbit breeds. But if you have a small breed or a young rabbit that you want to get outside with, the other sizes may be just what you need. One small annoyance is that the manufacturer doesn't give more details on the sizes, just recommendations on what pet it should fit.

But one big plus is the elastic leash that comes as part of the set. With the large harness you get a six foot version that neatly clips onto a D-ring that's sewn into the back of the harness. The flexibility of the leash means that you can keep control of your fur baby with less chance of causing an injury. So you're happy and they're happy.
Filhome Adjustable Rabbit Harness Leash
Best stylish rabbit harness
Size: Small | Color: Blue, Pink | Weight: 1.3 ounces | Material: Cotton, Nylon
Stylish design
Two colors
Well-balanced color-coordinated leash
One size only
This adjustable rabbit harness leash from Filhome is a standard style vest harness but with added pizazz. You can choose from a smart blue star design or a cute pink flower design with both harnesses having matching bow ties to up the style stakes.
So you know your furbaby is going to look good every time they step out in their stylish vest, but what about the practicalities. Does it have substance to go with its undoubted style?
First it's worth noting that this vest style harness only comes in one size. Made for small rabbits you need to measure to make sure it will fit your furbaby. It can accommodate rabbits with 9.4-11 inch necks, 9.8-12.6 inch chests and has a 3.9 inch back. Made from 100% cotton the vest is comfortable, breathable and washable to keep it looking good and fresh smelling.
Beyond the size and material the vest boasts a lot of the features that you would expect from a standard harness. To get the right fit and keep the vest secure there are a couple of long Velcro strips sitting beneath the bowtie in a strongly stitched loop with a chrome D-ring. This is perfectly placed to ensure that the included four foot leash distributes any pressure evenly across the vest masking sure that your rabbit doesn't get neck strain.
PerSuper 2 Pack Pet Rabbit Harness and Leash
Best strap rabbit harness
Size: One size | Color: Blue, Pink | Weight: 3.21 ounces | Material: Nylon
Made from soft and strong nylon
Flexibility on fit
Two harnesses and leashes
Lightweight
Quick to fit
Lacks any frills
Style can be chewed through
Not keen on a vest style harness? Just want something lightweight, simple to use, easy to put on and offers far more flexibility when it comes to fit? This is exactly what you get with a strap harness. It might not have the frills and fancy addons that a vest harness brings but it still has all the essential ingredients you need to get outside with your furbaby.
This lightweight strap harness is made from a strong, durable, quality nylon that has a soft texture to give your rabbit that extra bit of comfort. It is designed so that the neck strap doesn't reach too close to the neck causing less neck strain when out walking. Something that your fur friend will thank you for.
The easy to fit harness is available in two colors - blue and pink. Luckily, you get both in this set so you won't need to worry about choosing one or the other. That will only happen when it's time for a walk. The beauty of both harnesses is the flexibility you get when it comes to fit. It's not a one size fits all harness, but more one size fits a lot. Both the neck and chest straps are fully adjustable giving you 7-10.2 inches neck girth and 7.8-11.8 chest girth. There's no Velcro here, just a couple of plastic snap-in buckles for a quick fit and release.
A small metal D-ring not only allows you to attach the included leash - there's one for each harness , you don't need to share. It also has a bell attached, so if your furbaby ever does get lost you'll be able to find them in double quick time as their bell ring will give them away.
Silena Adjustable Bunny Rabbit Harness and Leash Set
Size: S, L | Color: Black | Weight: 1.13 ounces | Material: Nylon
Cute carrot design
Strong nylon straps
Quick release buckles
Lightweight
Not for large rabbits
One color only
Style can be chewed through
If you want a cute harness to go with your cute furbaby then this simple strap harness could just be what you are looking for. The strap harness itself is not much to look at. Made from soft strong nylon there are multiple adjustment points with quick release buckles and a metal ring to add the included leash. There are no color options here for the straps, it's black or nothing, but we're sure that's not a big deal for many.
What sets the harness apart in the style stakes is its cute carrot design. Attached to the back strap the bright orange carrot is a stark contrast to the black straps and makes the harness almost disappear as the focus is on the carrot that straddles around half the back of your bunny - if you have a small one.
The harness comes in two sizes - small and large. You won't find a medium or extra large here, but you will find a harness that is suitable for small and young rabbits and average sized breeds.
The small harness starts off at a small neck size of 4.72 inches, but can be extended to a maximum of 7.09 inches. The chest size starts at 6.30 inches and goes out to 9.84 inches. The large harness has a range of 6.30- 9.84 inches for neck sizes and 7.87 - 13.39 inches for chest sizes. There is a crossover here in sizes, so if you're not sure if you need a small or large size it's generally a good idea to go with the larger.
Wontee Rabbit Vest Harness and Leash Set
Best suit style rabbit harness
Size: S,M,L | Color: Gray | Weight: 1.76 ounces | Material: Cotton
Stylish suit style design
Soft breathable cotton
Quick release buckles
Only one style and color
Poor placement of leash ring
If you're going to take your handsome furbaby to a special occasion where you can bring your favorite pet, you want them looking their best. And you can do with this stylish formal suit style vest harness.
There is no doubt that the smart grey pinstripe design accompanied by its vintage decor buttons and two pretend pockets will give your rabbit a smart English gentleman look. The suit is made from a cotton cloth fabric which has a soft to the touch texture which is both comfortable and breathable. A soft cotton lining makes it cool in the summer, warm in the winter and ideal for autumn and spring. Available in three sizes - small, medium, large - there is a minimum neck size of 7 inches and a maximum of 11.8 inches. Ideal for most rabbits.
To keep the style looking natural the strong nylon straps line up neatly with the faux pockets and snap into place with the buckles that sit on the front of the vest. The straps are fully adjustable to help get that perfect fit. Note there is no Velcro here, just the straps. But it does mean that the vest won't come undone once fitted and the quick release buckles mean that you can have the vest off in no time.
But dressing up your furbaby isn't the only reason you are buying a vest, there's a small matter of getting out and about for some much needed exercise. You can attach the included leash to a metal D-ring that sits at the neck of the vest. This is great for the style stakes, but can put more pressure on your rabbits neck than a leash placed centrally on a vest. So, you will need to be gentle when out walking, you don't want to give your furbay unwanted neck strain.
How to choose the best rabbit harness
Is it right for your rabbit?
If you're considering leash training your rabbit, it's important to think carefully about your reasons for doing so. Rabbits benefit from roaming in spacious, secure areas so think about whether you can create that type of space in your home or garden in the first instance. Particularly fearful rabbits are unsuitable for leash training.
Vest or strap harness?
There are two choices when it comes to rabbit harnesses - vest or strap. Both have their pros and cons so it's up to you to decide which you think works best for you and your cute little fur friend.
Vest harnesses are the more popular choice, because they are wide and soft and typically fit around a rabbit's body. This means they offer more support and are generally accepted as being the more comfortable option. Their size also means that they come in a wider variety of good-looking designs.
A strap harness doesn't have as much variety in the style stakes, typically you just have a color choice. But they are generally cheaper, easier to fit and are more adjustable so you can get a good fit. You just need to be a little more careful and gentle when using one. Plus, it's worth noting that some rabbits can chew through this style.
The right size
Once you have decided on what type of rabbit harness you want you need to make sure that you are getting the right size. A poorly fitting harness will be uncomfortable and be a waste of money. You will need to measure around your rabbits neck and/or shoulders, the circumference of their waist and their back for full body harnesses. Make sure that the tape is not too tight or too loose.
Adjustable
Just like clothes, the stated size of a harness might not quite match your expectations, so it's a good idea to look for one that offers a decent amount of flexibility. The more adjustable elements a harness has the more likely you are to get the fit that you and your fur friend want.
Get the best advice, tips and top tech for your beloved Pets
Steve Jenkins is a freelance content creator and long-time journalist with more than 20 years in the industry. He has written for numerous titles covering tech to pets, with his latest faithful hound always by his side. When not walking his dog, or discussing who's best - cats or dogs? Loud guitars, AFC Bournemouth, Photoshop, and trying to save the world take up the rest of this time.