10 environmentally friendly cat products
Look after your feline furbaby and the planet with these environmentally friendly cat products that don't cost the earth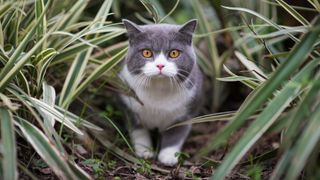 (Image credit: Getty Images)
While you may already be shopping sustainably for yourself, did you know that there are also some wonderful environmentally friendly cat products on the market that can help your kitty keep their ecological paw print small as well? More and more eco-friendly pet brands are popping up every day and their impressive array of cat litter, toys, and accessories, is making it easier than ever for you and your cat to live in ways that keep you and the planet safe. 
With our favorite environmentally friendly cat products spanning a wide range from bamboo food bowls and toothbrushes to wool cat caves and compostable litter, there's never been a better time to sustainably spoil your kitty. 
Environmentally friendly cat products in the US
Environmentally friendly cat products in the UK
How to choose environmentally friendly cat products
Our pets are one of the biggest sources of joy in our lives, but did you know that research has shown that a cat's carbon footprint is about the same as a small car? Yikes! While cats aren't in themselves contributing to climate change, they use the products we've made for them, and that usually involves lots of plastic and other environmentally-destructive materials.
The good news is, making the switch to environmentally friendly cat products may not be as challenging as you think. Sustainable cat care is becoming easier by the day and with a little bit of background knowledge, you can make the switch in ways that are easy and affordable. Here are a few of our favorite tips to get you started...
When it comes to packaging, look for recyclable or biodegradable options.

For food bowls, opt for materials such as bamboo, ceramic, or stainless steel. Most of these options are now dishwasher safe and incredibly durable so you'll get plenty of years use out of them.  

Cat litter is one of the biggest sources of pet-caused pollution as it's usually made from bentonite clay which has been strip-mined. Wherever possible, switch to natural and biodegradable litters, like the ones in this guide. Use a non-plastic litter tray and compostable litter bags.

Many cat beds and accessories are made from harmful and synthetic materials so shop around to find safe and non-toxic alternatives. Steer clear of plastic and materials that have come in contact with pesticides or other chemicals and go for organic and natural options such as cotton, bamboo, or wood. 
Get the best advice, tips and top tech for your beloved Pets
Thank you for signing up to Petsradar. You will receive a verification email shortly.
There was a problem. Please refresh the page and try again.