2020's Five bravest animals: The pets who deserve a medal this year!
Check out these amazing animals from dogs to ducks who have shown their astounding bravery and heroism in 2020.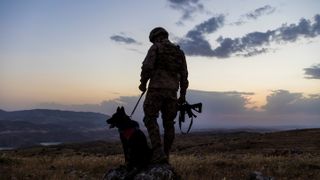 (Image credit: Getty Images)
Animals never cease to amaze us with their ability to make an impact on our lives. And with 2020 being such a difficult year for all of us, what better way to spread some cheer than to take a look at some of the amazing achievements that animals have made this year.
At PetsRadar, we believe animals are incredibly intelligent and play such a vital role in our lives. So if you'd like to hear some stories that will make you feel all warm and fuzzy inside, then read on to see who 2020's 5 bravest animals are.
Many animals are helping people through difficult times this year, but let's take a look at some of the bravest animals who have gone through their own difficult times, including war dogs who have fought for their country and animals who have survived traumatic experiences. Here are 2020's 5 bravest animals...
1. Max the Police Dog
Max is a UK Police dog, and has made our top spot for 2020's bravest animal. Max's superb sniffer dog skills managed to track down a mother and baby who were missing on his very first day on the job. His partner PC Lloyd said that Max joined the force in February 2020 with just a basic understanding of a few commands, but by the time it came to his first shift, he managed to track down a vulnerable woman and her one-year-old child on the edge of a ravine. What a hero! Read the full story here.
2. Remington the Search and Rescue Dog
Similarly, in Texas, US, Remington is a retired search and rescue dog who has fought a lot during his life. Also known as Remi, this beautiful dog has been apart of many deployments to find missing persons, and even helping out during Hurricane Harvey. Remi also helps out local fire departments and brings much comfort to many of the firefighters. He was sadly diagnosed with a tumor which led to his retirement, but he still continues to represent Project K9. Read more about Remi's experience in the force here.
3. Ronnie the Duck
Ronnie is a three-year-old black Cayuga duck, who survived a near fatal fox attack that sadly killed his friends. Ronnie suffered two broken ribs and spinal damage which now means he needs to use a wheelchair to get around. After several vet's visits, Ronnie is on the mend, attending physiotherapy to help him regain his strength. It's a long road to recovery, but this little duck is truly one of 2020's bravest animals! Read more about Ronnie's story, here.
4. Cinders the Pony
Cinders was sadly the victim of a vicious acid attack that left the poor pony severely disfigured when she was just 8 months old. She was taken into the Rainbow Equine Hospital in North Yorkshire, UK, where she began her long road to recovery. Many people donated towards her cause, as she was the world's first animal to have a new pioneering operation that used fish skin to graft onto her burnt face. What an amazing thing for surgeons to do, and Cinders is definitely one of the bravest animals of 2020 for coming out of it a fighter! Read more about Cinders' story here.
5. Blue the Military Dog
Yet another dog has made the list of 2020's bravest animals. Blue was a military dog for seven years, serving alongside soldiers in Afghanistan and Japan. She found many explosives during her time on combat missions, saving many Marines and Sailors. She is now retired and adopted by one of the soldiers she served with – what a true hero! Read more about Blue, here.
Get the best advice, tips and top tech for your beloved Pets
Sarah is a freelance writer and marketer, covering a variety of topics from lifestyle and fitness to sustainability and travel. When she's not writing for PetsRadar or other websites, she can be found looking after her pet chickens or relaxing with a cuppa and a cute doggo snoozing on her lap!