Mali the singing dog raises money for men's mental health charity
Singing dogs never fail to make us smile and one little woofer, Mali, is using his talents as a singing dog to raise awareness for a men's mental health charity.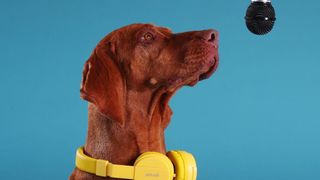 (Image credit: Dudes and dogs)
Talking and singing dogs seem to be everywhere at the moment. First, we had Hugo the dog singing White Christmas, and the latest woofer on the block is Mali, the Hungarian Vizsla from Bristol. Mali has already racked up more than 350,000 views on YouTube in the past month for his appearance in the latest Christmas song for dogs, Raise the Woof!
Raise the Woof! Is a scientifically designed song for dogs that engages them with a set of commands, whistles, bells, and other high-frequency sounds that are appealing to our four-legged friends. Mali the signing dog can be heard woofing throughout the song alongside other doggos, and is even in the music video.
Mr Osman, Mali's owner said Mali's contribution to Raise the Woof! was his way of raising awareness for his local dog walking group Dudes & Dogs that is encouraging men to open up about their mental health.
The community group was started by Mr Osman who found Mali to be really good for his mental health during the Coronavirus lockdown. Dudes and Dogs began in October last year and now offers walking groups in Bristol, Bath, Cheltenham and Bridgend.
Now, Mali the singing dog even has his own limited-edition charity vinyl of Raise the Woof!, of which all sales will raise money towards Dudes & Dogs. Mr Osman said "The idea of sharing music with our four-legged friends is such a good one and we just had to be involved"
Get the best advice, tips and top tech for your beloved Pets
Sarah is a freelance writer and marketer, covering a variety of topics from lifestyle and fitness to sustainability and travel. When she's not writing for PetsRadar or other websites, she can be found looking after her pet chickens or relaxing with a cuppa and a cute doggo snoozing on her lap!