A two-legged Chihuahua and a silkie chicken make the unlikeliest of friends
Penny and Roo are adopted siblings that are inseparable and it's the cutest friendship in the animal world right now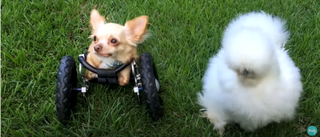 (Image credit: Future)
Alicia Williams, a receptionist at an Animal hospital, rescued a silkie chicken from a testing facility and adopted her when she was just a few weeks old. Her name is Penny and she is super fluffy and cute, and little did she know she'd meet one of the unlikeliest of friends in a dog.
Just a few weeks later, Roo, the Chihuahua was found abandoned in a ditch. Roo only has his two back legs, and despite knowing Roo would need special care and potentially surgery in the future, Alicia did not hesitate in adopting him too and welcoming him into her home. She got him set up with his own pair of wheels that give him a better quality of life, allowing him to roam freely and play just like a regular dog.
Surprisingly, from the moment they met, Roo and Penny really hit it off, and now they are the best of friends and are rarely seen without one another. Chickens are flock animals, but even since the new arrival of other Silkie chickens in the hospital, Penny still chooses Roo as her number one pal.
They both go with Alicia to work every day. They eat together, play together, and sleep together, and Alicia is very happy that they get on so well. She plans to let them live their lives out together. This is the ultimate fluffy friendship.
Get the best advice, tips and top tech for your beloved Pets
Sarah is a freelance writer and marketer, covering a variety of topics from lifestyle and fitness to sustainability and travel. When she's not writing for PetsRadar or other websites, she can be found looking after her pet chickens or relaxing with a cuppa and a cute doggo snoozing on her lap!