Five of the best Cyber Monday pet deals at Amazon
We've found five of the best Cyber Monday pet deals at Amazon to make bargain-hunting that little bit easier for you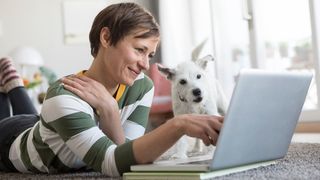 (Image credit: Getty)
We've found some the very best Cyber Monday pet deals at Amazon for you and listed them below in the hope that it will both save you some cash and make bargain-hunting that little bit easier for you.
We'd recommend that you don't delay when you come to ordering any that take your fancy, as many are subject to time limitations as well as limited stock. So strike and strike fast if you want to be certain of bagging that bargain. 
Can't find anything you like or need? Click some of the links we've included below to browse what's on offer from some of the other major, pet supply retailers on Cyber Monday.
Furbo Dog Camera
| RRP: $249 | Now: $133.99 | Save: $115.01 (46%) at Amazon.com
The Furbo Dog Camera will make your pooch feel like you're there, even when you're not. This camera not only lets you see and talk to your dog, but it also allows you to toss treats to him when you're not home.View Deal
PetSafe ScoopFree Ultra Automatic Self Cleaning Hooded Cat Litter Box
| RRP: $189.99 | Now: $99.95 | Save: $9.90 (47%) at Amazon.com
With the ScoopFree Covered Self-Cleaning Litter Box, there's no scooping, cleaning or refilling your cat's litter box for weeks. It uses crystal litter that provides 5 times better odor control than traditional clumping litter by absorbing urine and dehydrating solid waste.View Deal
Tractive LTE GPS Dog Tracker
| RRP: $49.99 | Now: $31.99 | Save: $18.00 (36%) at Amazon.com
The Tractive LTE GPS DOG tracker enables you to view your dog's location from anywhere, anytime. Track and monitor your furry friend in real time without any distance limit.
Mikki Grooming and Shedding Tool Moult Master Brush Blade
| RRP: £32.49 | Now: £11.50 | Save: £20.99 (65%) at Amazon.co.uk
Designed and used by professionals, the Mikki Grooming and Shedding Tool effortlessly removes loose and unwanted dead hair from your pet's coat, keeping fur healthy, shiny and clean with the added bonus of reducing hair around the house.
PetSafe Microchip Activated Cat Flap
| RRP: £48.93 | Now: £36.69 | Save: £12.24 (25%) at Amazon.co.uk
Preventing curious or unwanted animals from entering your home, the PetSafe Microchip Cat flap exclusively opens for your Pet, then locking once they are safely inside. Works with most Microchips.
Cyber Monday pet deals from around the web
Dave has 20 years experience in publishing during which he launched many successful magazine titles including How It Works, All About Space and All About History. He's also the proud pet parent to a partially paralysed, retired police dog named Vinnie. When he's not busy giving Vinnie the love and care he deserves, Dave's the Editor in Chief on PetsRadar.
Get the best advice, tips and top tech for your beloved Pets
Thank you for signing up to Petsradar. You will receive a verification email shortly.
There was a problem. Please refresh the page and try again.