Ellevet CBD oil for dogs: American pet care company introduce CBD pet treatments
Specialized CBD for dogs is becoming a reality thanks to the efforts of Portland-based company, ElleVet Sciences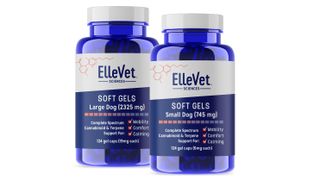 (Image credit: EllieVet)
Christian Kjaer and Amanda Howland, the founders of Portland-based ElleVet Sciences, are firm believers in the beneficial powers of CBD treatments for our pets, so much so that they joined forces with the Cornell University College of Veterinary Medicine to hammer home their belief that CBD can transform the lives of our canine companions.
What is CBD?
CBD stands for cannabidiol – a chemical compound, or cannabinoid, derived from the Cannabis sativa plant, otherwise known as marijuana. Consuming CBD won't result in the high experienced by someone who smokes a joint, because this high is produced by a totally different active ingredient – delta-9-tetrahydrocannabinol, also known as THC – which isn't found in CBD. In a nutshell, CBD is the non-psychoactive part of the marijuana plant. Although more research is required, studies on humans have shown that CBD can, when used in certain ways, reduce inflammation, provide pain relief and decrease anxiety – without the sedative, psychoactive side effects associated with marijuana.
CBD for dogs
For ElleVet Sciences co-founder Amanda Howland, there wasn't a single lightbulb moment which led to her realization that dogs could benefit from CBD, too. As a child, Amanda dreamed of becoming a vet, but ended up working within the field of public health research, and watched with interest as the benefits of CBD became more accessible to humans. "When I heard stories about CBD being used as a human treatment, in the form of drugs like Epidiolex, I made the immediate leap to its potential applications in veterinary medicine," recalls Amanda. "My partner Christian had worked in animal science and he saw the potential, too. I started learning everything I could about CBD and reached out to several veterinary schools to find out if anyone was interested in conducting a clinical trial. Within six months we had one taking place at Cornell University and had developed what we felt was the best possible combination of cannabinoids for CBD dog chews."
The science behind CBD for dogs
ElleVet Sciences' founders, Christian and Amanda, say that their CBD pet products work by supporting pets' endocannabinoid systems – the cell-signalling systems which play an important role when it comes to the central nervous system, the health of which has a crucial impact of mobility and comfort. "Cannabinoids such as CBD work with the endocannabinoid system to bring issues in the body, such as discomfort and mobility, back into a state of balance," explains Amanda. Although ElleVet Sciences' products work in the same way as many CBD-based products designed for human use, their key selling point is that they were designed with dogs in mind. "Dogs experience discomfort, joint problems, aging-related issues and stress in the same way humans do, but they metabolise substances differently, which means they require different dosing," points out Amanda. ElleVet Sciences' product range currently includes chews and capsules, as well as an oil designed to be added to food or administered directly into the dog's mouth.
Can all dogs benefit from CBD?
In a word, yes, although the dogs which stand to benefit the most from ElleVet Sciences' products are older dogs with mobility issues and joint-related discomfort. However, the company has also created products designed to ease anxiety in dogs. These products include their Calm and Comfort Chews, which are recommended for use prior to stressful situations such as visits to vets and grooming parlours, or when dogs are separated from their owners for short periods of time.
The competition
Today, there are numerous pet care companies which make CBD pet products, but Amanda feels it's the company's work with Cornell University which sets theirs apart. "We are the only pet company to have our products tested in a clinical trial at Cornell, which has shown that our products work for 80 per cent of dogs. We also have a published paper proving the safety of our products, and have tested them in several pharmacokinetic studies to help determine the correct dosage. No other company has done the extensive research that ElleVet Sciences has carried out."
What's next?
Amanda believes that we'll soon see further studies which prove the benefits of other cannabinoids. "Over the next 10 years we think there will be further research into the lesser-known cannabinoids, to explore how they aid the overall effect of hemp products, and we are already doing this with nine ongoing clinical trials," reveals Amanda, who hopes that cats will soon be able to enjoy the benefits of CBD, too. "CBD can be used for many different species, but the dosing is different for each one, and it's also weight specific. We've conducted studies relating to its use in cats, and they went really well, although they don't seem to love the taste, so we are currently working on a delicious chew designed especially for cats."
Get the best advice, tips and top tech for your beloved Pets
Tamara Hinson is a freelance writer who grew up with huskies but unfortunately now has a husband who is allergic to dogs. Luckily she has a neighbour who lets her dog-sit her Maltese terrier and a nearby greyhound rescue centre where she can walk the residents.