Introducing the elf dog! Roxy and Riley bring some much needed Xmas cheer
Riley the elf dog and his owner take pet Christmas cosplay to the next level.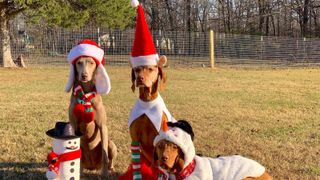 (Image credit: Linda Kush )
It's fair to say that the elf dog puts most of the other attempts we've seen at festive pet dress-up to shame.
Sure, there have been some decent attempts out there, but what we see here goes beyond, both in terms of commitment and attention to detail.
In a year that hasn't been the best, to put it mildly, Linda Kush has attempted to bring some Christmas cheer by photographing her two dogs, Roxie and Riley, in a variety of poses. A former dog trainer, she has been involving her dogs in her photoshoots since 2018.
One has Riley, sporting antlers and a red nose, pulling a festive-looking Roxie along on a sled, accompanied by some presents and a helpful (actual) elf.
Another has Riley sat at a table, toasting the festive season by doing the same to a marshmallow. Evidently wary about the prospect of leaving Riley alone with an open flame, Roxie is at hand, fire hat and hose at the ready.
One more highlight: Riley getting his annual haircut, courtesy of Roxie. Judging by how still he is, he obviously knows better than to move around while Roxie is wielding a pair of scissors.
Speaking to the Metro, Linda said that thanks to the dogs' seemingly unending patience, "Each image takes no longer than five minutes to complete." Sounds like time well spent to us.
Needless to say, the dogs have been a hit. With another little helper due to join in their photoshoots - Roxie's seven-month-old sister, Reka - there'll be plenty more where this came from in the years ahead, and Linda clearly enjoys the positive impact they're having.
"My dogs are my world, and it's lovely to know we have made so many others smile."
Get the best advice, tips and top tech for your beloved Pets
Steve writes and proofreads buying guides, news stories and advice for Pets Radar, drawing on his lifelong experience as a pet owner. Currently sharing his house with two cats and a dog, he draws on the many highs and occasional lows of pet ownership he has borne witness to in his writing. He has worked in publishing for 15 years as an editor, sub editor and writer on a range of titles, such as SciFiNow, How It Works, All About History, Real Crime and Horrorville. You can follow him on Twitter @stevewright22