National Mutt Day 2022: What is it and how can you get involved?
National Mutt Day celebrates mutts, mongrels and mixed breed dogs. Here's everything you need to know about joining in with the fun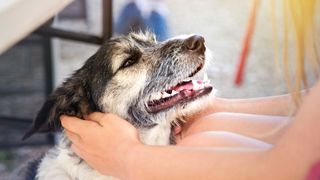 (Image credit: Getty Images)
If pure breed dogs aren't really your thing, National Mutt Day is a celebration you can definitely get behind. Pure breeds may get all the attention, but the vast majority of dogs in shelters are of mixed breed, so why shouldn't they get some love too?
There's a lot to be said for owning a mutt rather than a pedigree dog; not only will they cost you a lot less – especially if you adopt from a shelter – but they also tend to be healthier, smarter and longer-lived than pure breeds, as well as being better-behaved and just as loving, and equally amenable to a game with one of the best dog toys.
For many people, mixed breeds are absolutely the best dogs, and National Mutt Day is a brilliant way to celebrate them and highlight the challenges that some of them encounter. Here's everything you need to know about National Mutt Day and how you can get involved.
What is National Mutt Day?
National Mutt Day – also known as National Mixed Breed Dog Day – was created back in 2005 by Colleen Paige, an animal welfare advocate and pet and family lifestyle expert. It's all about embracing, saving and celebrating mixed breed dogs.
Approximately 80 per cent of dogs in shelters are mixed breeds in need of a new home, and sadly they tend to get overlooked in favor of pedigree dogs. National Mutt Day aims to educate people about these dogs' amazing qualities and characteristics, and encourage them to adopt mutts instead of going to a shelter in search of a cheap pure breed.
There are many wonderful things about mixed breed dogs; in particular each one is likely to be a unique mix of genetic traits, so your mutt will have its own distinct look and personality.
And owning a mixed breed is a strong ethical choice, too; public desire for pedigree dogs has resulted in questionable practices by rogue breeders and puppy farms, resulting in over-breeding that produces sickly and neglected animals.
Mutts, mongrels and mixed breeds need your support, and even if you can't adopt one right now, there are other ways you can support National Mutt Day; read on for more information.
What day is National Mutt Day 2022?
The great news is that even if you miss the upcoming National Mutt Day, there's still a chance to join in later in the year. It falls on two days every year: 31 July and 2 December, so the next National Mutt Day is on Sunday, 31 July.
How can you make a difference on National Mutt Day and beyond?
1. Donate to shelters
The big way in which anyone can support National Mutt Day is by donating to animal shelters. They do amazing work 24/7, rescuing abandoned or neglected pets, providing them with the help they need and finding them new, loving homes, but all this costs money.
Even a $5 donation can make a big difference, and if you'd like to donate do a shelter there's an easy way to do it. Our friends at Chewy have created Chewy Gives Back, a page that can hook you up with local shelters and animal rescue charities in need of support. Simply enter your zip code and it'll direct you to wish lists from shelters and charities in your local area.
2. Spay or neuter your dog
The reason that so many shelters are under pressure is that there are too many dogs (and cats, and other animals) out there. You can do your bit to help by ensuring that your pet is spayed or neutered, as well as providing them with collars and ID. Plus, keep your dogs on leashes when they're not on your property.
3. Arrange a fundraising event
If you want to go a bit further in helping your local shelter or animal charity, why not arrange fundraising event? There are all sorts of ways in which you can raise money, and have fun doing it too. Bake sales, concerts and band nights are fab fundraising options, as are pub quizzes and raffles. You could also speak to your local school about setting up a themed day, or even do it at work.
Alternatively, you could explore ways of providing shelter animals with things they need. Shelters often need knitted blankets and jumpers to help their animals keep warm and cosy, so why not start a collection in your community?
4. Adopt a mutt…
Of course if you do have a dog-shaped hole in your life, adopting a mixed breed dog can be incredibly rewarding. There are lots of ways to go about adopting a dog rather than buy from a breeder, including rescuing a dog from abroad or adopting an older dog.
The easiest way find a new best friend is either to search your local shelter's website, or by using the Shelter Pet Project.
5. …or foster one instead
If taking on a dog for life is too much of a commitment for you, you can still help out rescue dogs in the short term. Many rescue dogs simply don't cope well with shelter life and instead benefit from a temporary home while they're being matched up with their forever home, and you may be able to provide them with that.
Foster homes can be essential to shelters when they're short on space, too. Find out more about fostering by visiting your local shelter's website.
6. Volunteer at your local shelter
Even if you can't adopt or foster a dog, you could still improve animals' lives by volunteering at your local animal shelter. They're often on the lookout for dog walkers and even cat cuddlers, and you may have other skills that they might find helpful, including social media, marketing and maybe even carpentry!
7. Share your own story on social media
Already have a mutt in your life? National Mutt Day is the perfect opportunity to share your story on social media and raise awareness. Be sure to use the #NationalMuttDay hashtag so that other dog lovers from around the country can get to know your pooch and learn about its life, and maybe your experience could inspire other people to get in touch with their local shelter and adopt their own mutt!
Is National Mutt Day the same as Mayday for Mutts?
It's not; Mayday for Mutts is a similar celebration of mixed breed dogs, but it takes place on the first Sunday of May. And why not? These dogs need all the support they can get, so why not get involved with that as well as with both National Mutt Days each year?
Get the best advice, tips and top tech for your beloved Pets
Jim is a writer, performer and cat-wrangler based in Bath, who last year adopted a pair of sibling rescue cats who turned out to be effectively feral, and has spent a lot of time since then trying to get them accustomed to people (some success) and each other (ongoing project).