Can you take a cat on a train, bus or tram?
Wondering if you can take your cat on a train or other forms of public transport? We walk you through everything you need to know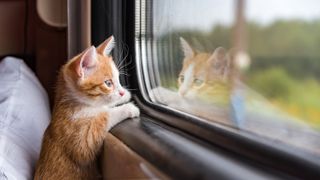 (Image credit: Getty Images)
If you're the proud pet parent to a feline fur baby and you use public transport a lot, you may be wondering if you can take your cat on a train, bus or tram. Good news is the answer is a big, fat yes!
Whether you're simply wanting to take your kitty to the vet or move apartment and don't have access to your own vehicle or you're wanting to take a cross-country trip, traveling with a cat using public transport is entirely possible.
While our feline friends don't take as kindly to being in a moving vehicle as our canine companions do, there are plenty of things you can do to help make the trip a more comfortable experience for them.
We recommend that you invest in a good quality cat carrier and furnish it with a cozy blanket and a few toys to keep them occupied on the journey. It's also worth having a stash of the best cat treats on hand that you can use to reinforce good behavior.
Below, you'll find everything you need to know to take your cat on a train, bus or tram, plus our favorite public transport tips and tricks to help the journey run smoothly from start to finish.
Planning on taking to the sky instead? No worries. Our top tips for flying with a cat has got you covered there too.
Taking a cat on a train
If you're wanting to take your cat on a train, you're in luck because in recent years train companies have revised their policies to allow cats in carriers to board their trains.
While the rules around this will vary depending on the train company you're choosing to travel with, it's a great option for those of you who are wanting to undertake cross-country travel but would prefer not to fly.
Before you travel with your cat on a train, it's important to check with the train company to see if your cat requires a pre-booked ticket or whether you can just turn up on the day. There may also be rules around weight and distance of travel too, so we recommend you ask about that before trying to board.
Amtrak in the US, for example, will only allow cats to travel on their trains for journey's that are under seven hours in length. They also have a requirement that both the cat and the carrier have a combined weight of less than 20 lbs.
In the UK, you're allowed to take up to two cats on the train with you as long as they're both in a carrier. They can travel for free if placed on the floor or under the seat in front of you, but if you've placed the carrier on the seat beside you, expect to be charged an additional fare.
Tips for traveling with your cat by train
Here are a few other important tips that will help make traveling with your cat by train a pleasant experience for you both:
1. Reduce the number of connections
If at all possible, try to book a direct train as this will minimize any stress or anxiety your cat may be feeling. It's also good for you too as it means you don't have to be trying to get any luggage you might have as well as your cat from one platform to another.
2. Avoid traveling during peak periods
We highly recommend you travel outside of peak times, avoiding the morning and mid-afternoon/early evening rush hours when people are trying to get to and from work and school. You'll find the trains much quieter off-peak and as a nice bonus, you'll likely get a cheaper fare too!
3. Consider the weather
Yes, we know, you're traveling in a train so that sounds like an odd thing to have to think about, right? But just remember that in the depths of winter or the height of summer, the platform can be super chilly or stiflingly hot at certain times of the day. Factor this into your timing and you'll ensure a more comfortable trip for both you and your kitty.
4. Think about meal times
Cats are quite prone to suffering from motion sickness, so we recommend you feed your cat around 4-5 hours prior to traveling to ensure their body has had plenty of time to digest it. This will prevent any accidents on board and reduce the risk of nausea.
5. Pack some snacks
While you don't want your kitty eating heavy meals on the train, it's worth packing some cat treats to give them something to nibble on and don't forget to take a water bowl and some water along as well to ensure they stay hydrated.
6. Find a quiet place to sit
Once you're on board the train, look for a quiet place to sit as this will help your cat to feel more relaxed. If you can afford the ticket, first class is always a good option, but don't worry if you can't stretch to that as many trains have designated quiet areas that you can sit in.
7. Consider the placement of the carrier
If the carriage you're in has plenty of spare seats, you might want to place the carrier on the seat next to you by the window so that your cat knows you're beside them. If that isn't possible, or your kitty is particularly skittish, under the seat in front of you will give them plenty of privacy.
8. Ensure you're visible to your cat
Wherever you pop the carrier, make sure your kitty knows that you're there. You can either cover the sides and back of the carrier and leave the front open, or, if they travel better with the carrier completely dark, pop something inside with your cat that smells like you.
Taking a cat on a bus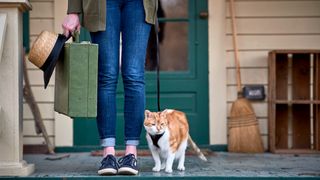 Whether you're wanting to head off on an adventure to a different city or state or you're moving into a new home, the bus is a popular choice of public transportation for a lot of us.
Unfortunately, traveling on the bus with your cat is a little bit more challenging than traveling by train and will really depend on what country or state you live in. In the UK, for example, some companies, such as National Express, will only allow service dogs on their coaches, while local bus companies may allow cats to travel at the driver's discretion.
The same applies to many bus companies in the US, with bigger national companies like Greyhound sticking to the 'service dogs only' policy and some small bus companies operating the same discretionary policy as in the UK.
Tips for traveling with your cat by bus
Here are a few tips to refer to if you're wanting to take your cat on the bus:
1. Speak with the bus company
Because the rules around cats on buses are so variable, we recommend that you phone up the bus company and make sure that they will accept your cat in their carrier prior to your day of travel.
2. Check requirements
If the bus company gives you the green light to bring your cat on board, check to see if there are any specific requirements you need to adhere to. For example, does your cat require a ticket or seat reservation for the journey? Does the carrier need to meet any specific measurements? Is there a combined weight limit?
3. Avoid traveling during busy times
This is even more important on buses than it is on trains as unlike the latter, which will have multiple carriages for you to choose from, the former is far more limited in space, so traveling outside of peak times will ensure a quieter trip for you both.
4. Be aware of other passengers
Children in particular are prone to wanting to come up and say hello when they see an animal boarding the bus and if you have a nervous cat, this may serve to make them even more stressed and anxious. It's worth covering the carrier over before stepping onto the bus to minimize the risk of your kitty becoming overwhelmed.
5. Put your cat into a harness
If you're going on a long bus trip and there's going to be rest stops along the way or if it's a short trip and you're wanting to let your kitty out of their carrier as soon as you get off the bus, we highly recommend investing in one of the best cat harnesses. This will allow you to give your feline furkid some freedom to stretch their legs without fear that they might run off!
Taking a cat on a tram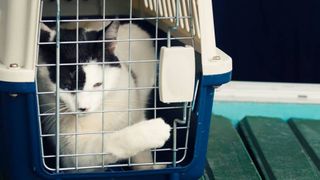 Not all countries and cities have trams, but if you live in the likes of San Francisco, it's well worth knowing what the rules are around bringing your cat on a tram. And yes, you can do it, but you'll want to read the guidelines carefully to ensure you know what is and isn't allowed.
For example, in San Francisco, cats may not ride on the tram between the peak hours of 5 am and 9 am and again between 3 pm and 7 pm, Monday to Friday. After 9 am and before 3 pm, you can take one cat on the tram with you as long as you have them in a closed carrier and that carrier is either on your lap or under the seat in front of you.
You'll find similar rules in place in other cities that have street cars and trams, such as Toronto, with most companies happy to allow cats to board as long as guidelines are observed around travel times and carrier regulations.
You will also be required to pay the same fare for your cat as you've paid for yourself in order for them to be allowed to board. We recommend that you follow the tips outlined above for trains and buses to ensure your kitty has a comfortable journey.
An additional tip...or two!
Make sure that you always travel with a health certificate if you're going on a trip that's going to see you crossing state lines or borders between one country and another. It's also a good idea to have on you all other relevant paperwork that shows that your cat has had all their vaccinations.
In addition to this, you'll want to ensure your cat is microchipped and that their identification tag has up-to-date information. If you want a little bit of extra peace of mind, consider fitting your kitty with one of the best pet trackers as if you do become separated at any point, you'll be able to locate them quickly and easily.
Get the best advice, tips and top tech for your beloved Pets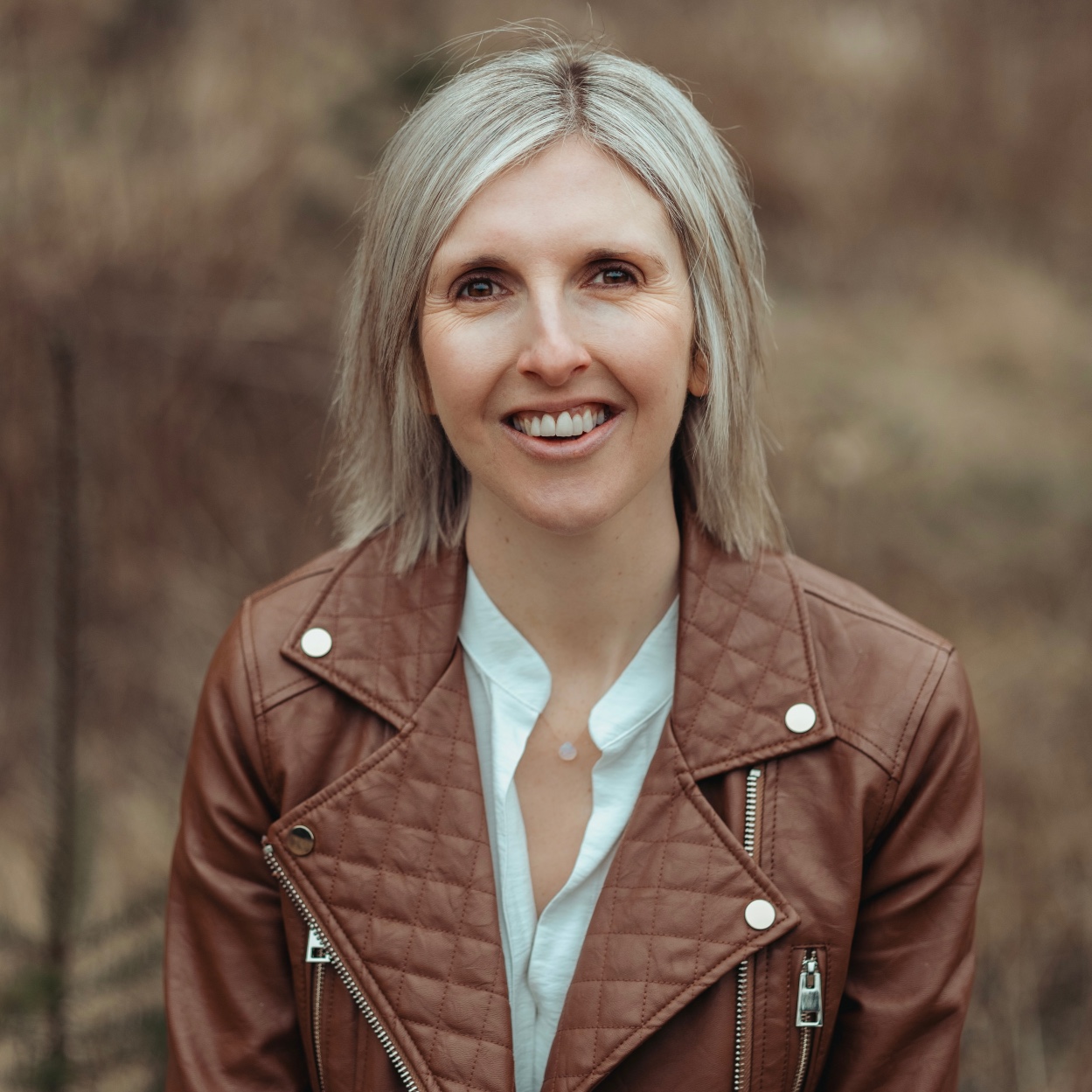 Kathryn is a freelance writer who has been a member of the PetsRadar family since it launched in 2020. Highly experienced in her field, she's driven by a desire to provide pet parents with accurate, timely, and informative content that enables them to provide their fur friends with everything they need to thrive. Kathryn works closely with vets and trainers to ensure all articles offer the most up-to-date information across a range of pet-related fields, from insights into health and behavior issues to tips on products and training. When she's not busy crafting the perfect sentence for her features, buying guides and news pieces, she can be found hanging out with her family (which includes one super sassy cat), drinking copious amounts of Jasmine tea and reading all the books.