Best cat food bowl: Six pieces of dinnerware to make moggie mealtimes marvelous
Our guide to the best cat food bowl has the perfect match for your kitty's needs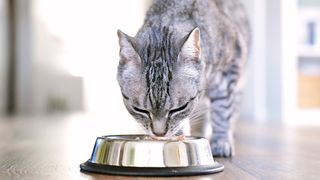 (Image credit: Getty Images)
When it comes to choosing the best cat food bowl for your moggie, you'd think it would be a fairly simple purchase to make. After all, what could there possibly be to think about other than the size and color? Well, as we discovered, quite a lot!
Being the awesome pet parent that you are, it's likely you've put a lot of thought into the best cat food to feed your precious kitty, but did you know that the bowl you choose to put it in can help make digesting that food easier? We certainly didn't, but it's true. An elevated cat food bowl puts less strain on your cat's neck, spine, and hips, making for a more comfortable and natural eating experience.
The best cat food bowls offer plenty of other benefits too. If your cat is a fan of the best wet cat food and more of it ends up on the floor than in their stomach, then a feeder with protective walls can save on food wastage and time spent cleaning. And speaking of cleaning, bowls that are dishwasher safe or that can be easily wiped down are a great time saver.
If you are out of the house a lot, or if you're needing to restrict your cat's food intake for weight management reasons, then a feeder that operates on a timer can be beneficial. These are particularly great for dispensing the best dry cat foods at selected times throughout the day in portion sizes of your choosing and take the hassle out of feeding.
And of course, if you're anything like us, then you want style as well as substance. The best cat food bowls come in a range of designs and colors, from sleek and modern to cute and playful, so you're bound to find one that fits your home's decor and your cat's personality.
So now that you know more about cat bowls than you probably ever thought you needed to, it's time to dive in and explore your options so that you can find the best cat food bowl for your much-loved moggie.
1. Neater Feeder: Best overall cat food bowl
Neater Feeder for Cats
Say goodbye to mess with the best cat food bowl on the market
Capacity: 1 cup food | Dimensions: 12.9" x 8.8" x 4.8" | Material: Stainless steel bowls and plastic base
Slightly elevated for better neck position
Easy to clean
Great design for minimal food and water spillage
Expensive
If all that time spent on your hands and knees wiping up spilled food and water is leaving you feeling like you're living Cinderella's life before she got to go to the ball, then the Neater Feeder is about to replace your old pumpkin of a cat bowl with a luxury food vessel that will have you back on your feet where you belong.
The Neater Feeder is the ultimate solution if you have a messy eater on your hands, with the protective walls containing any food or water splashes that can happen when your excitable kitty realizes it's time to chow down again. The dual-reservoir design means any spilled food is contained in the upper reservoir, while spilled water drains into the lower reservoir, keeping your floors clean and dry.
We love that the crew at Neater Pets have designed this feeder with both you and your cat in mind. Not only can you say goodbye to cleaning your floor of spilled food and water, the plastic structure and stainless-steel bowls are dishwasher safe, and they're available in a variety of colors to blend in with your home's decor. The base also comes with non-skid rubber pads so if your moggie likes to move their bowl around while eating you can rest easy knowing it won't tip over.
And there's plenty for your cat to love too. The bowls hold a generous 1 cup of food and 1.5 cups of water, and the elevated design reduces neck strain and makes for a more comfortable dining experience. You can also purchase the feeder with leg extensions that enable you to raise the feeder if you have a larger breed of cat.
Okay, so, confession time: the Neater Feeder isn't the cheapest cat bowl on the market, but in our opinion, it's the best one, so if your budget can stretch to it we know you and your cat are going to love it.
2. Van Ness Ecoware Cat Food Bowl: Best budget cat food bowl
Van Ness Ecoware Cat Food Bowl
Save money while saving the environment with this eco-friendly cat food bowl
Capacity: 1 cup | Dimensions: 1.25" x 5.25" x 5.25" | Material: 47% bamboo and silicone base
Eco-friendly materials
Shallow and wide design
Will not chip or crack
Not dishwasher safe
The Van Ness Ecoware cat food bowl is getting rave reviews all over the place, and it's not hard to see why. This budget-friendly buy isn't just kind on your wallet, it's also kind on the planet and your kitty, having been designed to provide maximum comfort at mealtimes.
Thoughtfully crafted from 47% bamboo and with a non-skid silicone base, it is eco-friendly, chemical-free, heavy-metal free, and BPA-free, making this the perfect non-hazardous purchase. The circular-shaped bowl was designed to prevent whisker stress and fatigue, which can occur when cats eat out of bowls that touch and over-stimulate their whiskers. It also comes with a cheerful graphic design and three color choices.
This bowl may be a cheap buy, but that's where the economy ends. We're impressed by the durable design for a cat bowl in this price range, which is unbreakable under normal use, and won't chip or crack. It's even degradable when exposed to typical composting conditions. A cute cat bowl that's also tough and environmentally friendly? Now that's what we call a win-win-win!
You'll love that the highly polished surface of this Van Ness bowl makes it super easy to clean, and the kitchen-grade silicone non-skid base helps prevent sliding, spilling, and scratching of floors. It's also versatile, and can be used for both wet and dry food.
Because of the eco-friendly construction, this bowl isn't dishwasher safe, as it can cause cracking and flaking, so be sure to wash it by hand. But we reckon for a bowl of this quality and price, that's a tiny drawback.
3. Prima Pets Silicone Food and Water Bowl: Best collapsible cat food bowl
Prima Pets Collapsible Travel Bowl with Carabiner
The best cat food bowl for your next fur-filled adventure
Capacity: 1.5-5 cups | Dimensions: 7" x 7" x 3" | Material: Silicone
Available in two sizes
Portable and convenient
100% pet safe
Can degrade over time
If you and your favorite feline like hitting the road together or you simply don't like having unsightly food bowls cluttering up your home, then this brilliant collapsible silicone food bowl from Prima Pets could be just what you need.
Great for keeping your kitty cat hydrated on long road trips, the portable design is a real space saver too, which makes it a great choice if you and your fur baby often vacation together, and you don't want to be carting a bulky bowl with you. Expand it when you want to use it and then collapse it into a slim disk when you're done.
You'll love that this bowl comes in two masculine and two feminine shades and two sizes that hold anywhere between 1.5 and 5 cups of food or water. And while we know the number of pet parents who go walking with their cat is small, if you're one of them then this bowl also comes with a handy carabiner clip that you can attach to your backpack.
We like that this cat bowl is super safe for your kitty, made from food-grade silicone with a BPA-free plastic rim. It's dishwasher safe too, so just pop it on the top rack, and it'll come out sparkling clean every time.
Now, while there is a whole lot to love about this cat food bowl, it'd be remiss of us to not mention the downside. Unlike canvas models, silicone isn't as durable, and over time you may find that cracks start to appear in the folds and the bowl starts to degrade and come apart. You'll need to be using this bowl a lot before that starts to happen though, and folding it with care will help prolong its lifespan.
4. K&H Thermo-Kitty Cafe: Best cat food bowl for outdoor cats
K&H Thermo-Kitty Cafe Bowl
Warm your cat's tummy on cold days with this heated cat food bowl
Capacity: 1.5 & 3 cups | Dimensions: 14" x 8.5" x 3" | Material: Stainless steel
Heated bowls
Energy efficient
Vet and expert recommended
Can give off a plastic odor when heated
If you have a cat who loves to roam and spends little time indoors then the K&H Thermo-Kitty Cafe is a winner for those chilly autumn and winter months. Thermostatically controlled, these two stainless steel bowls sitting on a heated base do a great job of keeping fresh food and water from freezing over, even in sub-zero temperatures. After being out and about, there's nothing your kitty will love more in the colder months than coming home to a warm meal.
This energy-efficient cat bowl uses just 30 watts, keeping your electricity costs low, and being thermostatically controlled means you can set it to turn on and off automatically. While the heating element can't be removed, simply keep it unplugged during the warmer months.
There's also a 5.5-foot steel-wrapped cord, perfect to reach most sockets, and all of the electronics are safely sealed inside the bowl. It's been MET laboratory tested to ensure it meets the highest safety standards, and there's a 1-year warranty to provide extra peace of mind.
We love that the base is easy to wipe clean, and the two stainless steel bowls can be removed and placed in the dishwasher. The two bowls come in different sizes, one can hold 1.5 cups and the other 3 cups, and can be used for both food and water.
The only thing some reviewers don't seem to like about this product is the plastic smell it can give off when first heated. But that issue aside, this is another quality product from reputable brand K&H that is bound to get the big paws up from your cat.
5. PetSafe Healthy Pet Simply Feed Automatic Cat Feeder: Best automatic cat food bowl
PetSafe Healthy Pet Simply Feed Automatic Cat Feeder
Schedule your cat's meals with this automatic cat food bowl
Capacity: 24 cups | Dimensions: 8" x 2.25" x 12.5" | Material: Stainless steel
Schedule up to 12 meals a day
Removable stainless-steel bowl
Slow feed option
Batteries not included
If you've ever been woken early in the morning to the sound of a purring noise in your ear, or paws kneading you, then you'll know what it's like to have to drag yourself out of bed blurry eyed and stumble to the kitchen to feed your famished feline. The good news is you can kiss those unwanted early starts goodbye thanks to this automatic cat food bowl from PetSafe.
You're going to love the convenience this feeder offers you. It comes with a large hopper that holds up to 24 cups of dry or semi-moist kibble, which is caught in an attached stainless-steel bowl when it's released. The easy-to-navigate LCD screen lets you program up to 12 feeds a day in ⅛ cup to 4 cup portions so it's a great way of managing portion control, especially for overweight moggies. There's also a slow feed option that gradually dispenses the set portion over 15 minutes, great for cats who are prone to gobbling down their food too fast.
We like that this feeder has a pet-proof design with a hopper lid, auto-locking keypad, and plastic barriers on the conveyor belt, perfect for extra-motivated cats who like to try and get at their food before mealtime. It's also battery operated, and should run for a year before you have to change them. The conveyor system needs hand washing, but the stainless-steel bowl and plastic feeder parts can be popped into the dishwasher for easy cleaning.
Given that this feeder comes at quite a price, we'd have liked to have seen the batteries included, but that one small gripe aside, this is a great way to take the stress and hassle out of your days and keep your kitty happy.
6. PETKIT CYBERTAIL Elevated Cat Bowl: Best elevated cat bowl
PETKIT CYBERTAIL Elevated Cat Bowl
The best cat food bowl for safer and healthier eating
Capacity: 1.5 cups | Dimensions: 13" x 6.3" x 5" | Material: Stainless steel & ABS
Reduces neck burden
Improves digestion
Shaped to prevent whisker fatigue
No replacement bowls available
If you're after style and substance then this eye-catching elevated cat bowl from PETKIT CYBERTAIL is hard to beat.
The two stainless steel bowls sit on an ABS base, and are raised and tilted forward for easy feeding. Elevated bowls help reduce the burden on your cat's neck as they're no longer having to tilt it downwards to eat. They can also help ease digestion, as the 15-degree tilt allows for food to be chewed and swallowed at a more natural angle. Many reviewers state that feeding their cats from an elevated bowl has stopped issues such as vomiting after eating.
The shape of the feeding bowls also helps prevent whisker fatigue, and promotes an eating posture that is gentler on the hips and spine, great if you have a cat with arthritis. The rounded edges also make it easy for your cat to lick the bowl clean and enjoy every last morsel of food.
This is a great choice if you have a messy eater on your hands as the elevated bowl and incline makes food spillage less likely. The stainless-steel bowls are also rust free, non-leaching, and durable. With rubberized grips on the bottom, the feeder stays firmly in place no matter how much vigor your kitty attacks their food with.
You'll love how easy these bowls are to use and clean too. Bowls can be easily rotated and locked into place, and when they need cleaning, simply release and pop in the dishwasher.
While the PETKIT CYBERTAIL is at the pricier end of the spectrum, and we'd like it if there were replacement bowls available to purchase. All in all, this is a sleek and modern cat food bowl that your cat's health will thank you for.
How to choose the best cat food bowl
Did you know that whisker stress is a thing? How about cat acne? If you answered no, then don't worry, because you're not alone – we didn't either! But it's true, your cat's whiskers can be super sensitive and just like a hormonal teenager, they can get acne. The good news is that choosing the right cat food bowl can eradicate both these things.
A great first place to start is by examining what a bowl is made of. While those plastic bowls with playful designs might look cute, many cats have an allergy to plastic that gives them those nasty bumps and blackheads on their chin. To minimize the possibility of a reaction, opt for stainless steel, ceramic, or eco-friendly materials like bamboo.
When it comes to whisker stress, think size and shape. If your kitty is prone to lifting food out of their bowl and dropping it on the floor, it could be because their current bowl is too small and their whiskers are touching the sides. Wide bowls are a great choice for preventing this.
Deep bowls that are elevated and tilted forward are also worth considering if mess is an issue or your cat suffers from digestive issues. They allow your cat to maintain a more natural posture, which reduces neck strain and makes digesting food easier.
An automatic feeder is fantastic if you're out a lot or when you go away overnight, as you can program the feeder to dispense wet or dry cat food at certain times throughout the day. It's also a good option for monitoring portion control and managing your cat's weight.
If you hate having food bowls cluttering up your home, or if you and your feline travel together a lot, why not consider a collapsible food bowl? They're perfect for long road trips, and the silicone ones are easy to clean. Plus, when you're done, they fold down into a disk and can be easily stored.
Finally, no matter what bowl you choose, make sure to place it in a quiet spot to ensure your moggie's mealtime is calm and peaceful.
Get the best advice, tips and top tech for your beloved Pets
Thank you for signing up to Petsradar. You will receive a verification email shortly.
There was a problem. Please refresh the page and try again.