Best cat food bowl 2023: Help your feline friend dine in comfort
Eliminate neck strain and promote optimal digestion with the best cat food bowl and put the magic back into mealtimes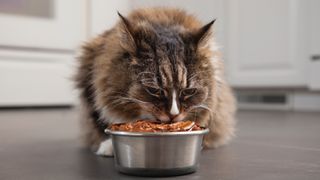 (Image credit: Getty)
While selecting a cat food bowl may not seem like a purchase that requires a lot of thought, believe it or not, choosing the right design can make all the difference when it comes to your feline friends level of comfort at mealtimes.
Most of us tend to spend the bulk of our time trying to decide on the best cat food to put in our kitty's bowl as opposed to the bowl itself, but as it turns out, the vessel that holds your cat's kibble or wet dish is just as important as the nutrient content of the food itself.
When it comes to deciding on a cat bowl, the first thing you want to consider is whether your furkid has any health issues. If they tend to inhale their wet cat food or dry cat food the minute you put it down in front of them and suffer from digestive issues because of it, you might want to consider one of the best anti-vomit bowls for cats.
Designed to create a more natural eating position, anti-vomit bowls (often referred to as elevated food bowls) allow food to travel with ease from the mouth down into the digestive system, reducing the risk of gastrointestinal upsets and vomiting. They're also ideal for cat's who suffer from arthritis as the reduce the pressure placed on the neck, leading to a more comfortable eating experience.
Of course, if you're out of the house a lot during the day or take the odd overnight trip, then the best automatic pet feeders get our vote every time. These little beauties allow you to schedule several meals in multiple portion sizes that will be dispensed across a certain time period, ensuring your moggy never misses a meal. Not only are they good if you're out and about a lot, but it also means you can say goodbye to those 5am 'feed me' wake up calls.
If you'd rather opt for a simple and traditional cat bowl, you'll be relieved to know that such a thing does exist. We tend to favor wide and shallow bowls as opposed to narrow and deep as this helps to reduce the risk of whisker fatigue in cats, a painful condition that can make eating uncomfortable. It's also a good idea to go for stainless steel, ceramic or glass as these tend to be more hygienic.
Below, you'll find our guide to the best cat food bowls, with all our favorite designs that are lining the shelves in 2022....
PetsRadar's pick of the best cat food bowls
Why you can trust PetsRadar Our expert reviewers spend hours testing and comparing products and services so you can choose the best for you. Find out more about how we test.
Best overall cat food bowl
Specifications
Dimensions:
12.9" x 8.8" x 4.8"
Material:
Stainless steel bowls and plastic base
Reasons to buy
+
Slightly elevated for better neck position
+
Easy to clean
+
Great design for minimal food and water spillage
If all that time spent on your hands and knees wiping up spilled food and water is leaving you feeling like you're living Cinderella's life before she got to go to the ball, then the Neater Feeder is about to replace your old pumpkin of a cat bowl with a luxury food vessel that will have you back on your feet where you belong.
The Neater Feeder is the ultimate solution if you have a messy eater on your hands, with the protective walls containing any food or water splashes that can happen when your excitable kitty realizes it's time to chow down again. The dual-reservoir design means any spilled food is contained in the upper reservoir, while spilled water drains into the lower reservoir, keeping your floors clean and dry.
We love that the crew at Neater Pets have designed this feeder with both you and your cat in mind. Not only can you say goodbye to cleaning your floor of spilled food and water, the plastic structure and stainless-steel bowls are dishwasher safe, and they're available in a variety of colors to blend in with your home's decor. The base also comes with non-skid rubber pads so if your moggie likes to move their bowl around while eating you can rest easy knowing it won't tip over.
And there's plenty for your cat to love too. The bowls hold a generous 1 cup of food and 1.5 cups of water, and the elevated design reduces neck strain and makes for a more comfortable dining experience. You can also purchase the feeder with leg extensions that enable you to raise the feeder if you have a larger breed of cat.
Okay, so, confession time: the Neater Feeder isn't the cheapest cat bowl on the market, but in our opinion, it's the best one, so if your budget can stretch to it we know you and your cat are going to love it.
Van Ness Ecoware Cat Food Bowl
Best budget cat food bowl
Specifications
Dimensions:
1.25" x 5.25" x 5.25"
Material:
47% bamboo and silicone base
Reasons to buy
+
Eco-friendly materials
+
Shallow and wide design
+
Will not chip or crack
The Van Ness Ecoware cat food bowl is getting rave reviews all over the place, and it's not hard to see why. This budget-friendly buy isn't just kind on your wallet, it's also kind on the planet and your kitty, having been designed to provide maximum comfort at mealtimes.
Thoughtfully crafted from 47% bamboo and with a non-skid silicone base, it is eco-friendly, chemical-free, heavy-metal free, and BPA-free, making this the perfect non-hazardous purchase. The circular-shaped bowl was designed to prevent whisker stress and fatigue, which can occur when cats eat out of bowls that touch and over-stimulate their whiskers. It also comes with a cheerful graphic design and three color choices.
This bowl may be a cheap buy, but that's where the economy ends. We're impressed by the durable design for a cat bowl in this price range, which is unbreakable under normal use, and won't chip or crack. It's even degradable when exposed to typical composting conditions. A cute cat bowl that's also tough and environmentally friendly? Now that's what we call a win-win-win!
You'll love that the highly polished surface of this Van Ness bowl makes it super easy to clean, and the kitchen-grade silicone non-skid base helps prevent sliding, spilling, and scratching of floors. It's also versatile, and can be used for both wet and dry food.
Because of the eco-friendly construction, this bowl isn't dishwasher safe, as it can cause cracking and flaking, so be sure to wash it by hand. But we reckon for a bowl of this quality and price, that's a tiny drawback.
ZUOFENG Collapsible Travel Silicone Cat Bowl
Best collapsible cat food bowl
Specifications
Capacity:
1.5 cups /350ml
Reasons to buy
+
BPA Free
+
Easy to clean
+
For food and water
If you and your favorite feline are hitting the road together or you simply don't like having unsightly food bowls cluttering up your home, then this brilliant collapsible silicone cat food bowl is purrrfect for you.
Great for keeping your kitty cat hydrated on long road trips, the portable design is a real space saver too, which makes it a great choice if you and your fur baby often vacation together, and you don't want to be carting a bulky bowl with you. Expand it when you want to use it and then collapse it into a slim disk when you're done.
You'll love this bowl that can hold up to 350ml of water and up to 1.5 cups of food. And while we know the number of pet parents who go walking with their cat is small, if you're one of them then this bowl also comes with a handy carabiner clip that you can attach to your backpack.
We like that this cat bowl is super safe for your kitty, made from food-grade silicone with a BPA-free plastic rim. It's dishwasher safe too, so just pop it on the top rack, and it'll come out sparkling clean every time.
This collapsible bowl also comes with a handy clip so you can attach it to a backpack or bag when on the road, or sending your kitty of to the cat-sitter for the weekend.
K&H Thermo-Kitty Cafe Bowl
Best for outdoor cats
Specifications
Dimensions:
14" x 8.5" x 3"
Material:
Stainless steel
Reasons to buy
+
Heated bowls
+
Energy efficient
+
Vet and expert recommended
Reasons to avoid
-
Can give off a plastic odor when heated
If you have a cat who loves to roam and spends little time indoors then the K&H Thermo-Kitty Cafe is a winner for those chilly autumn and winter months. Thermostatically controlled, these two stainless steel bowls sitting on a heated base do a great job of keeping fresh food and water from freezing over, even in sub-zero temperatures. After being out and about, there's nothing your kitty will love more in the colder months than coming home to a warm meal.
This energy-efficient cat bowl uses just 30 watts, keeping your electricity costs low, and being thermostatically controlled means you can set it to turn on and off automatically. While the heating element can't be removed, simply keep it unplugged during the warmer months.
There's also a 5.5-foot steel-wrapped cord, perfect to reach most sockets, and all of the electronics are safely sealed inside the bowl. It's been MET laboratory tested to ensure it meets the highest safety standards, and there's a 1-year warranty to provide extra peace of mind.
We love that the base is easy to wipe clean, and the two stainless steel bowls can be removed and placed in the dishwasher. The two bowls come in different sizes, one can hold 1.5 cups and the other 3 cups, and can be used for both food and water.
The only thing some reviewers don't seem to like about this product is the plastic smell it can give off when first heated. But that issue aside, this is another quality product from reputable brand K&H that is bound to get the big paws up from your cat.
PETLIBRO 6L Automatic Cat Feeder
Best automatic cat food bowl
Specifications
Dimensions:
7.5 x 7.5 x 15 inches
Material:
Stainless steel
Reasons to buy
+
Multiple meal scheduling options
+
Voice recorder
+
Dual power supply
If you've ever been woken early in the morning to the sound of a purring noise in your ear, or paws kneading you, then you'll know what it's like to have to drag yourself out of bed blurry eyed and stumble to the kitchen to feed your famished feline. The good news is you can kiss those unwanted early starts goodbye thanks to this automatic cat food bowl from PETLIBRO.
With an impressive 6-liter capacity, this automatic cat food bowl features a flexible feeding timer that lets you program in 1-4 meals per day and up to 9 portions per meal, great for cats who tend to eat too fast and make themselves ill. The transparent hopper means you can easily see how much kibble is left and the desiccant bag means food always stays fresh.
The feeder utilizes a dual-power supply, so if the power goes off, you'll have the batteries to fall back on which means your feline friend will never miss a meal. There's also a voice recorder, so you can record a brief 10s message that lets your cat know that it's dinner time, and both the food tank and tray are easy to remove for cleaning.
Kitty City Raised Cat Food Bowl Collection Stress Free Pet Feeder and Waterer
Best elevated cat bowl
Specifications
Dimensions:
5 x 6.88 x 4 inches
Reasons to buy
+
Dishwasher safe
+
Huge capacity
+
Comfortable feeding angle
These two elevated cat bowls are perfect for keeping your kitty's neck comfortable at mealtimes. With a raised pedestal design that promotes a healthy posture for digestion and relieves pressure on the neck and spine, these affordable bowls will help make mealtimes more enjoyable.
Wonderful for senior cats who suffer with arthritis or those with sensitive stomachs, these elevated bowls have a whisker-friendly oval design, plus an easy-access front. The modern style and colors will look great in your home and each boasts an impressive 10.8 ounce capacity.
Dishwasher safe when placed on the top rack, the bowls are sturdy and durable, so they're guaranteed to go the distance. The only issue that some pet parents note is the depth of the bowls, with some saying their smaller cats struggled to get to the bottom of their food.
We feel that for most felines, this won't be a problem, and given how affordable this dual set is, we reckon they're well worth trialing if you're looking to create a more natural and relaxed eating environment.
VIVAGLORY Stainless Steel Cat Feeding Bowls
Best non-slip cat bowl
Specifications
Dimensions:
23.88 x 20.83 x 7.11 cm
Material:
Stainless steel, silicone
Reasons to buy
+
Easy to clean
+
Non-slip
+
Variety of sizes
Reasons to avoid
-
Bowls tricky to get out of holders
This set of two bowls is convenient and mess free for giving your kitty their meals. You can choose from a variety of sizes, however for cats, the smallest sizes (200ml and 400ml) seems to be the perfect fit. The bowls come with a raised silicone mat that will stop your cat from making a mess on your floor, and instead catch any spillages around the edges of the mat.
The stainless-steel bowls are sturdy and safe for your pet, plus they're easy to clean and dishwasher safe, making these bowls a hygienic choice. The mat is also flexible and foldable meaning you can take this with you anywhere and feed your cat fuss-free.
The mats come in a variety of colours and the bowls fit snugly inside the silicone holders so that the bowls don't slip or slide about during feeding time.
PETKIT CYBERTAIL Elevated Cat Bowls
Best stainless steel cat bowl
Specifications
Capacity:
6 ounces per bowl
Dimensions:
13" x 6.3" x 1.9"
Material:
Stainless steel bowls and plastic base
Reasons to buy
+
Tilted bowls to reduce neck strain
+
Stylish and high-quality design
+
Easy to clean
Reasons to avoid
-
Capacity isn't as generous as other bowls
If you're looking for the perfect blend of style and substance, then look no further than these elevated feeding bowls from PETKIT. Premium quality, solid, and dishwasher safe, these bowls are tilted to improve digestion and reduce neck strain.
Made from uncoated food-grade and heat-resistant stainless steel sat atop a sturdy and durable plastic base, the deep and wide shape prevents whisker fatigue and the gently rounded edges make it easy for your feline furkid to get their food out.
The slightly inclined surface helps to reduce food spillage and the rubberized grips on the bottom of the base hold the feeding tray firmly in place. The bowls release easily for cleaning and can both hold around ¾ cup of food. Overall, an elegant and affordable set of feeding bowls that will add a touch of class to the modern home.
Best ceramic cat food bowl
Specifications
Dimensions:
5.51 x 1.77 x 5.51 inches
Reasons to buy
+
Strong and sturdy
+
Dishwasher safe
+
Hard to tip over
+
Easy to clean
If you're looking for a trusty cat food bowl that won't let you down, then look no further than the TRIXIE Ceramic Cat Bowl.
This feline accessory may look a bit plain but if looks aren't important to you, you'll be impressed by its good quality and decent size. If your kitty is particularly prone to spilling their meal across the floor, the bowl's weight and sturdiness could be just what you need as it's much harder to tip over than other bowls.
You can use it to either contain food or water, while its ceramic design is so easy to clean once empty, perfect for the messiest of felines.
It lacks any special features like elevation or automatic feeding, but its raised sides are high enough to prevent food from falling out, whilst being low enough for most cats to tuck in with ease.
If you're not fan of plastic options, this is a great choice; whether you prefer the benefits ceramic can provide or feel its more overall hygienic for your cat.
How to choose the best cat food bowl
Did you know that whisker stress is a thing? How about cat acne? If you answered no then don't worry because you're not alone, we didn't either! But it's true, your cat's whiskers can be super sensitive and just like a hormonal teenager, they can get acne. The good news is, choosing the right cat food bowl can eradicate both these things.
From considering the right material to thinking about shape and weight, here's how to decide which cat food bowl is best for your feline.
Material
A great first place to start is by examining what a bowl is made of. While those plastic bowls with playful designs might look cute, many cats have an allergy to plastic that gives them those nasty bumps and blackheads on their chin.
To minimize the possibility of a reaction, opt for stainless steel, ceramic or eco-friendly materials like bamboo.
Size and shape
When it comes to whisker stress, think size and shape. If your kitty is prone to lifting food out of their bowl and dropping it on the floor, it could be because their current bowl is too small and their whiskers are touching the sides. Wide bowls are a great choice for preventing this.
Depth
Deep bowls that are elevated and tilted forward are also worth considering if mess is an issue or your cat suffers from digestive issues. They allow your cat to maintain a more natural posture which reduces neck strain and makes digesting food easier.
Smart features
Choosing one of the best automatic pet feeders is fantastic if you're out a lot or when you go away overnight as you can program the feeder to dispense wet or dry cat food at certain times throughout the day. Just like the best smart pet bowls, they're also a good option for monitoring portion control and managing your cat's weight.
If you hate having food bowls cluttering up your home or if you and your feline travel together a lot, why not consider a collapsible food bowl? They're perfect for long road trips and the silicone ones are easy to clean. Plus, when you're done, they fold down into a disk and can be easily stored.
Types of cat food bowl
Bamboozled by which type of cat food bowl is perfect for your feline? With literally thousands on the market, here's our breakdown to some of the types of cat bowl you'll likely to encounter, including benefits and drawbacks so you can be sure you're making the right choice for your feline.
Elevated cat food bowl
If your feline suffers from any digestive difficulties, then an elevated cat food bowl looks to help your cat swallow with the aid of gravity. It's also ideal for older felines who experience problems in their joints, including arthritis or stiff muscles.
Even for the healthiest of felines, pet owners may find merit in the idea of buying a raised bowl for hygiene and cleanliness reasons. As the bowl sits off the ground, spillage is reduced and the extra height can help reduce dust and fur particles landing in your feline's meal.
They do tend to be more expensive than the average bowl, however.
Automatic feeders
For when you're out of the home, an automatic feeder is a convenient and fun way to deliver your kitty their next meal. These machines can typically be programmed to feed your cat with their usual amount of food, but some feeders may end up feeding them too much due to auto-filling once a cat's dish becomes empty.
It can an expensive option too, but it's great for convenience.
Traditional cat food bowl
This is likely to be the option you're most familiar with. A traditional cat food bowl is often made from ceramic or stainless steel; its circular design is simple and functional.
There's typically no bells and whistles but you'll likely want to consider the material here. For instance, if your feline is prone to food spillages, heavy ceramic can be a great choice.
Get the best advice, tips and top tech for your beloved Pets
Kathryn is a freelance writer who has spent the past two years dividing her writing time between her two great loves - pets and health and wellness. When she's not busy crafting the perfect sentence for her features, buying guides and news pieces, she can be found hanging out with one very mischievous Cocker Spaniel, drinking copious amounts of Jasmine tea and attempting to set numerous world records for the longest ever FaceTime calls with her family back home in NZ.
Thank you for signing up to Petsradar. You will receive a verification email shortly.
There was a problem. Please refresh the page and try again.