Best guinea pig accessories: Keep your cavy content
The best guinea pig accessories to beat boredom and look cute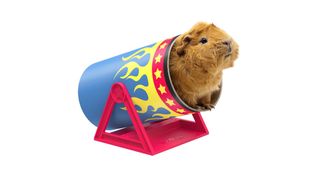 (Image credit: Amazon)
Do you really need guinea pig accessories? Nibble. Play. Nap. Repeat. They don't have a bad life, do they?
But while you may think toys and accessories are a luxury, plenty of vets think they can encourage physical activity and tackle boredom and stress, helping to keep your guinea pig in tip-top physical condition. So, a tunnel might be great for a game of chase, while a cozy 'house' can give nervous pets a safe place to hide and relax.
Of course, guinea pigs have a habit of chewing and gnawing pretty much everything, so you might be tempted to skip swanky accessories, but even this behavior comes with a benefit – it can give your pet purpose and keep their teeth in good shape.
From fitness aids and puzzles to the cutest of toys (we all love to take pictures of our pets), there's definitely something for every guinea pig in our gnaw-some guide.
1. Happy Pet Nature First Grassy Hideaway: Best overall guinea pig accessory
Cozy hideaway keeps pets chilled and looks good too
Dimensions: 41 x 31 x 6cm | Material: 100% natural grass | USP: No pesticides used
Natural material
Looks great in the hutch
Provides a cosy place to hide
It will get severely nibbled
Guinea pigs love to hide away and nap in a cozy bed – just like the rest of us. Of course, an old shoebox would do the trick, but if you want to treat your pet and make their hutch look more attractive in the process, the Happy Pet Nature First Grassy Hideaway will appeal.
Guinea pigs only sleep for around four hours a day, so when you're picking a good hideout, it's worth considering what else your furry friend will be able to use it for. This grassy hideaway simulates a more natural environment, providing more stimulation for them, as well as a midnight feast between naps.
Although this is great for your guineas, expect to have to replace this hideaway in time as it will get severely nibbled! While this may be a little annoying, it's great for keeping your guinea pig's teeth healthy and gives them a good activity to get their teeth into. Plus, with no pesticides used, you know they are not eating any nasties.
The bonus of this particular box is that it is made of natural materials, so can be easily recycled or composted, unlike some other hideaways with metal frames or plastic parts. The grass also offers a great natural vibe for the guinea pig hutch, allowing your pigs to slumber in style, as well as having somewhere calm and natural for these timid little creatures to call a retreat.
If your cavy is hard to catch (as most are), this box could well make your life easier. It's nice and lightweight, enabling you to pull it towards you to capture a guinea and take it inside for playtime so they have somewhere to hide in your house. The only downside is that while it may look, and smell, great in the short-term, it's likely to be nibbled and get soggy, so you might not want it in your lounge (or wherever you play with your guinea pigs) for long. That said, it is easy to dispose of and cheap and cheerful, so you can always update it.
2. Rosewood 3D Nibble Stix: Best budget guinea pig accessory
Cute wooden veg for stimulation and dental care
Set: Five-piece | Dimensions: 16 x 4 x 11.5cm | Suitable: for small animals | Weight: 40.8g
Five-piece set
Cheap and cheerful
Good for guinea pigs' teeth
Some animals don't like the smell
Did you know that your guinea pig's teeth grow up to 8cm per year? The best way to stop them from getting out of hand – and to avoid an expensive visit to the vets to get them trimmed – is to encourage your pig to gnaw on wood.
Rosewood's 3D Nibble Stix come in a fruity five-pack and are cheap and cheerful alternatives to logs. Plus, they are much cuter as they are shaped like little fruit for your guinea pig to nibble on. Despite being crafted into adorable shapes, these wood chews are on the same price point as their more natural log alternatives (if you're not lucky enough to forage for logs yourself of course).
The Nibble Stix are made from all-natural wood and colored with pet-safe dyes, so you're not gambling with your guinea pig's health for the sake of having a cuter looking chew. They're also scented, which let's face it is never a bad thing in a guinea pig hutch, although some pigs may not warm to the scent. Indeed, some people have said that their pets were not impressed.
The shape of these particular chews encourages play alongside some serious nibbling, with the apples, carrots and oranges all being rollable… and guinea pigs love to roll things! This will provide extra stimulation for your guineas, but may be frustrating for smaller pigs that might struggle to hold onto them when they want a really good gnaw. We'd suggest placing one near a hard surface, such as the back of your hutch, to make sure they're really able to chow down when they want to.
These toys may not be a substitute for your pet's five-a-day but will help their dental health. They would also be good for the 'gram and won't break the bank. What's not to love?
3. SnuggleSafe I'll Eat My Hat Sombrero Small Animal Toy: Best for photo opportunities
A cute little hat that's great for the 'gram and tasty too
Dimensions: 15 x 6 x 14cm | Size: One size fits all | Material: Loofah and straw
Cutest toy ever
Great treat for nibbling
Cheap and cheerful
Your pet may not wear it
If you can find a cuter outfit for your guinea pig, we'll eat our hats. Snugglesafe's "I'll eat my hat" sombrero is the most Instagram-able guinea pig gift out there and your pet will love it too.
This tiny sombrero is woven out of loofah and straw, making it delicious for your guinea pig and completely compostable too…if there is any left, which we doubt.
The hat, which measures 15cm wide and 4cm tall, is designed to perfectly fit on your little pig for the most ridiculously cute photos. There are even earholes, meaning they can share it with a rabbit if they are feeling generous!
But beyond the photo potential, this sombrero is basically a tasty taco for a guinea pig, with crisp straw providing a great treat and loads of nutrients (and we can confirm the spice level is mild, if non-existent).
Needless to say, like a basket of delicious tortilla chips or a bulging burrito, this hat won't last long, but like steaming hot Mexican street food, it will bring you so much joy. We recommend getting your camera ready as you place it on your pet before you say adios to their new headgear/dinner.
Although it's a cheap and cheerful gift for your pet, there are similarly-priced treats that will last longer. But, if you're looking for a tasty snack for your guinea pig that will make an adorable photo you'll treasure for a lifetime, we recommend adding one of these to your basket.
4. Haypigs! Cavy Cannonball Tilting Tunnel: Best for in-hutch exercise
Get your guinea pig in shape with this fabulous tilting tunnel
Material: pet safe polypropylene plastic and chewable pet
Great for a game of chase
Good price point
A great photo opportunity
Plastic parts
Needs to be monitored for damage
You already have bowls, a bottle and a hideaway. Now, it's time to pull out the big guns… or should we say cannons. The Haypigs Cannonball Tilting Tunnel is as much fun for your pigs as it looks.
This show-stopping toy may look playful, but it serves a serious purpose too. Tunnels encourage guinea pigs to move around and explore, and if you have more than one, they're brilliant for games of chase to really give your pets a workout. The see-saw mechanism will give your guineas a new experience to stop them from getting bored, while more timid pigs can simply hide inside.
You can expect all guinea pigs to love the interactive nature of this toy, although it may take a while for them to pluck up the courage to conquer the tilt. This toy is easily portable, so it's a good way to switch up playtime inside the home. Encourage them to race through it at top speed, as they are usually inside a small hutch.
The main reason we love this particular tunnel is for its eye-catching aesthetic, and frankly how funny your guinea pig will look when it's fully loaded into the cannon. Not only will your pig have fun running around and napping in this toy, but it will also provide great photo opportunities and something to make you smile every time you walk past the hutch.
If you're really loving the circus theme and want to go to town, Haypigs makes a whole host of circus accessories, from a food bowl resembling a lion tamer's podium to a circus wagon hay stand, so you can transform your guinea pig's home into the Big Top.
The tunnel is made of cardboard with a sturdy plastic triangular base, making it safe for even the chunkiest of pigs. The cardboard will be difficult to clean and you can expect it to get nibbled over time, so owners should keep an eye out for damage to the plastic, but this toy is one of the most playful out there for you and your pet.
5. Rosewood Woven Tumblers: Best for world-conscious owners
Set of three striking cubes make for tasteful toys
Quantity: Three | Dimensions: 3.5cm x 3.5cm x 3.5cm | Material: Palm leaf and abaca
Hand woven in the Philippines
Biodegradable
Visually attractive
They may become damp and smelly
Let's face it, guinea pigs will never be able to master a Rubik's Cube, but they can play with the next best thing – a set of three attractive little cubes with geometric patterns on them.
The Rosewood Woven Tumblers will appeal to eco-conscious owners who want to play their part in making the world a little better, as these cubes are handwoven by village co-operatives in the Philippines, according to the brand.
The cubes themselves are like little works of art, composed of folded palms, giving them a variety of smooth, woven textures and more spiky folds, which will likely prove irresistible to guinea pigs looking for something to nibble and gnaw.
Described as 'durable but destructible,' they are made to be nibbled as well as rolled, pushed and tossed about, providing stimulation for your pigs, before they disintegrate. Each toy is approximately 3.5cm long, making them small and lightweight for pigs to move around.
Made of palm leaf and abaca, a species of banana tree native to the Philippines grown for its textile, rope- and papermaking fiber, they are biodegradable once your guinea pigs have finished with them.
The company notes that the cubes should be regularly inspected to ensure there is no serious damage that may cause your pets problems. As they are liable to get soggy in a hutch, they might make a better plaything for sessions indoors, that way you can supervise your playful pet and keep the cubes in good nick, meaning they will last a little bit longer. Although, the price point means you can buy them again and again.
6. Rosewood Naturals Small Animal Treats Celebration Cake: Best for birthdays
A tasty treat for your guinea pig's birthday – or just because!
Weight: 231g | Dimensions: 13.5 x 13.5 x 10.5cm | Ingredients: Edible, cellulose fibre walls with a carrot and coconut lid, topped with flower petals
Looks like a real cake
Contains natural ingredients
Good photo opportunity
Needs a little supervision
If you are perusing our guide to find the perfect present for your pet, you are in luck, because we've not only sorted the gifts but the catering too. A birthday isn't really a birthday without a cake, so why should your guinea pigs miss out?
The Rosewood Naturals Small Animal Treats Celebration Cake looks just like a real birthday cake. The only difference is that it's made from ingredients that are yummy for guinea pigs. The main ingredient is carrot, but it also boasts accents of coconut for the "frosting" and parsley balls for the cake topper, which we've heard is the chocolate fudge cake of the guinea pig world. It's also a nice hard texture, contributing to wearing down their little gnashers.
The cake "frosting" layer itself lifts up, allowing you to pop your pet's favorite treat inside the cake. A lot of people opt for hay, which is great as it encourages playful foraging, and if you have a fussy guinea pig it will be a great way of encouraging it to take a look. Hiding treats inside will also extend the life of the cake, which let's face it, won't last long. But in theory, at least you can refresh the contents daily with fresh fruit and vegetables.
The cake is large enough to feed a couple of guinea pigs for a week, and you can expect it to be swarmed if you have a herd of the fluffy creatures. Pictures online show them circling the treat like fluffy sharks.
Yes, the cake is on the pricey side for a one-off treat and other nibble sticks undoubtedly offer better value. But if you're looking for an extra special treat, this is a good option and will ensure you can also take a birthday photo of your pet to record their piggy milestone. Let them eat cake!
How to choose the best guinea pig accessories
When choosing an accessory for your pet and its home, there are plenty of factors to consider: budget, sustainability and visual appeal as well as health benefits.
Accessories that encourage your pet to exercise and gnaw are great for their health. Wooden and straw chews help keep guinea pigs' teeth growth in check, while tubes can help them run off those treats. Similarly, little hideaways can help stressed and timid pets relax a little by providing them with safe and comforting spaces, which can be especially handy if you have a new pet that's settling in.
If you're in the market for a new hideaway or accessory, you may as well choose one that's good looking. There are so many options available from rustic to novelty, so there's something to suit everyone's taste – you just need to pick a theme.
Luckily, many toys are designed to be 100% natural as they are almost guaranteed to be nibbled, but it's worth double-checking how sustainable and eco-conscious they are. Most toys get damp or partially eaten in a matter of weeks (or even days) so it's nice if they are compostable.
Your budget obviously plays a role in any purchase, particularly as many of these accessories are not designed for the long-term. To get the best value for money, look for accessories that are multi-purpose and are not single-use.
However, sometimes it's worth splashing out, on a birthday cake for example. While the accessory won't last forever, a photo of your precious piggy in an edible hat or funny tube will last a lifetime!
Get the best advice, tips and top tech for your beloved Pets
Thank you for signing up to Petsradar. You will receive a verification email shortly.
There was a problem. Please refresh the page and try again.