Best guinea pig accessories: The top toys for your pets
Invest in the best guinea pig accessories and toys and watch your pocket pet thrive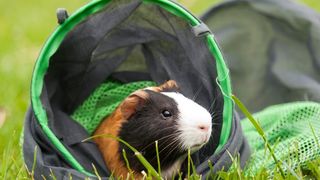 (Image credit: Getty)
The best guinea pig accessories are well worth investing in if you're looking for ways to keep your pocket pet happy and healthy. Not only are these playthings ideal for giving your furry friend the physical stimulation they need, they'll also challenge their minds, providing them with a great mental workout.
Often when we think about toys for pets, we think about dogs and cats, but guinea pigs are highly intelligent and love to play. In fact, they need enrichment activities so much that they can suffer from depression and ill health just like we humans can if they don't have enough to keep them occupied and entertained.
Just like the best rabbit toys, guinea pig accessories come in a range of different kinds and we recommend investing in a few different options to ensure your little one has plenty of variety. Guinea pigs are big on chewing, hiding and foraging, so tunnels, hammocks, balls and treat toys are all great options that will tap into these natural instincts.
One thing worth noting is that when you're selecting guinea pig accessories, it's really important to look for options that have been designed specifically with these little fur balls in mind. Smaller toys that have been created for other pocket pets can pose a choking hazard and rope toys are always risky as they can easily get themselves tangled up in these.
Alongside considering the types of accessories you're wanting to invest in, you'll also want to consider how much space is in your guinea pigs cage as you don't want to over crowd it. If you feel their enclosure is a bit too small to accommodate the toys they need to stay physically and mentally fit, we recommend you consider investing in one of the best rabbit runs, which can be attached to your guinea pigs cage to provide more space.
PetsRadar's pick of the best guinea pig accessories
Why you can trust PetsRadar Our expert reviewers spend hours testing and comparing products and services so you can choose the best for you. Find out more about how we test.
Happy Pet Nature First Grassy Hideaway
Best overall guinea pig accessory
Specifications
Dimensions:
41 x 31 x 6cm
Material:
100% natural grass
Reasons to buy
+
Natural material
+
Looks great in the hutch
+
Provides a cosy place to hide
Reasons to avoid
-
It will get severely nibbled
Guinea pigs like nothing more than having a cozy hideaway to snuggle up and nap in – just like their owners! If you want something a little more attractive and more natural than an old cardboard box, then you should consider this Happy Pet Nature First Grassy Hideaway. It's chemical free and made of all-organic materials so is completely safe, which isn't likely to be true of that old shoe box.
Of course, they do more in their snugs than just sleep – which they typically only do for 4 hours a day – they use them to hide away and practice their innate nesting behavior. They also nibble at them, and this grassy hideaway's walls will provide them with the perfect spot for a midnight snack.
Of course, this does mean your new purchase will slowly disappear, and it may need replacing in time, but it's worth it: Grass is great for keeping your guinea pig's teeth healthy and with a no pesticide-guarantee, you know they aren't eating anything bad for them. Its price is low enough that you won't be lightening your wallet too much if they do go through them fast. Also, when it does get to the time to replace it, this hideaway can be easily composted, unlike others composed of plastic or metal parts.
The box is lightweight and portable, meaning if your pig likes to hide away from your questing hand when you want to play with them, you can take the box with your pet inside to where you want to go – provided it hasn't got too soggy and chewed of course!
Overall, this is a great little double-entrance grass den, which won't feel artificial to your guinea pig while giving a great natural vibe in their hutch. It's great for letting your timid pigs hunker down somewhere calming that will smell, look and feel familiar to them.
Best budget guinea pig toy
Specifications
Dimensions:
16 x 4 x 11.5cm
Suitable:
for small animals
Reasons to buy
+
Five-piece set
+
Cheap and cheerful
+
Good for guinea pigs' teeth
Reasons to avoid
-
Some animals don't like the smell
Did you know that your guinea pig's teeth grow up to 8cm per year? The best way to stop them from getting out of hand – and to avoid an expensive visit to the vets to get them trimmed – is to encourage your pig to gnaw on wood.
Rosewood's 3D Nibble Stix come in a fruity five-pack and are cheap and cheerful alternatives to logs. Plus, they are much cuter as they are shaped like little fruit for your guinea pig to nibble on. Guinea pigs love fruit, but be sure to check what fruit is okay for your furry friend (see Can guinea pigs eat grapes?).
Despite being crafted into adorable shapes, these wood chews are on the same price point as their more natural log alternatives (if you're not lucky enough to forage for logs yourself of course).
The Nibble Stix are made from all-natural wood and colored with pet-safe dyes, so you're not gambling with your guinea pig's health for the sake of having a cuter looking chew. They're also scented, which let's face it is never a bad thing in a guinea pig hutch, although some pigs may not warm to the scent. Indeed, some people have said that their pets were not impressed.
The shape of these particular chews encourages play alongside some serious nibbling, with the apples, carrots and oranges all being rollable… and guinea pigs love to roll things! This will provide extra stimulation for your guineas, but may be frustrating for smaller pigs that might struggle to hold onto them when they want a really good gnaw. We'd suggest placing one near a hard surface, such as the back of your hutch, to make sure they're really able to chow down when they want to.
These toys may not be a substitute for your pet's five-a-day but will help their dental health. They would also be good for the 'gram and won't break the bank. What's not to love?
Best guinea pig bed
Reasons to buy
+
Variety of styles and sizes
+
Machine washable
+
Non-slip bottom
Reasons to avoid
-
Sizes are on the small side
We are seriously crushing on this adorable bed from JanYoo and if you think the pig design is cute just wait until you check out the rest of the designs in the series!
Available in a range of sizes from small (6.7"L x 7"W x 5.1"H) to XL (11.02"L x 12.99"W x 8.29"H) and featuring a warm and plush cotton fill, your guinea pig will stay super cozy as they sleep the night away.
The inner mat is removable, making it a breeze to machine wash, and the non-slip bottom means the bed will stay firmly in place, reducing the risk of accidents.
If you've been looking for a snuggly hideaway for your furry friend to retreat to when they need some peace and quiet, then this sweet bed from JanYoo is the perfect choice. Not only is is seriously comfortable but it looks great too, making it a win-win for both you and your pocket pet.
eCOTRITION Snak Shak Edible Hideaway
Best hideaway guinea pig accessory
Specifications
Dimensions:
9.5 x 5.75 x 6.5 inches
Reasons to buy
+
100% edible activity log
+
Natural wood look
+
Available in a variety of shapes and sizes
Reasons to avoid
-
Some guinea pigs may not like the honey taste
This 3-in-1 activity log acts as a fun hideaway, a great-tasting treat, and taps into your pocket pets natural chewing instincts, providing plenty of enjoyment for your guinea pig and excellent value for money for you!
Made with a golden honey flavor, the log is 100% edible so your furry friend can play and nibble at the same time. It has a lovely natural wood look and is available in a variety of different styles.
Measuring 9.5 x 5.75 x 6.5 inches the log will comfortably fit one guinea pig and it's lightweight at just 1.9 pounds but still sturdy, so you don't have to worry about it tipping over while your pet is inside.
This is a fantastic accessory if you're looking for something that will provide both physical and mental enrichment.
WINOMO Pet Hammock Hamster Hanging Toy Hut
Best hammock guinea pig toy
Specifications
Dimensions:
15 x 6 x 14cm
Material:
Loofah and straw
Reasons to buy
+
Comfy snuggly hide-away
+
Encourages exercise
+
Durable and long lasting
Reasons to avoid
-
Not suitable for large guinea pigs
This super soft hammock is a great place for your guinea pig to hide away in after a long day snuffling, squeaking and grazing around their cage. Although snuggly soft, the structure is sturdy and firm, meaning it will take the weight of your furry friend with no issues. The hammock material itself has refined stitching to ensure durability and longevity. It's also hand-washable, so you can give it the occasional spruce up should the occasion arise.
You can adjust the height of this hut-shaped hammock to match your guinea pig's athletic talents, and climbing in and out will give them some much needed exercise. Once in, it's a great fuzzy nest for them to rest in comfortably while watching the world go by.
It is suspended on anti-rust and corrosion-resistant chains which are very strong, meaning you won't need to worry about them snapping. The hanging clips are easy to attach and remove, meaning you can move the hammock around the place easily, giving your guinea pig a change of scenery if you so wish.
The chocolate brown color makes this a stylish addition to any cage, and as well as being the perfect place to relax, it's also a fun plaything to climb in and out of.
Haypigs! Cavy Cannonball - Tilting Tunnel
Best guinea pig toy for in-hutch exercise
Specifications
Material:
pet safe polypropylene plastic and chewable pet
Reasons to buy
+
Great for a game of chase
+
Good price point
+
A great photo opportunity
Reasons to avoid
-
Plastic parts
-
Needs to be monitored for damage
You already have bowls, a bottle and a hideaway. Now, it's time to pull out the big guns… or should we say cannons. The Haypigs Cannonball Tilting Tunnel is as much fun for your pigs as it looks.
This show-stopping toy may look playful, but it serves a serious purpose too. Tunnels encourage guinea pigs to move around and explore, and if you have more than one, they're brilliant for games of chase to really give your pets a workout. The see-saw mechanism will give your guineas a new experience to stop them from getting bored, while more timid pigs can simply hide inside.
You can expect all guinea pigs to love the interactive nature of this toy, although it may take a while for them to pluck up the courage to conquer the tilt. This toy is easily portable, so it's a good way to switch up playtime inside the home. Encourage them to race through it at top speed, as they are usually inside a small hutch.
The main reason we love this particular tunnel is for its eye-catching aesthetic, and frankly how funny your guinea pig will look when it's fully loaded into the cannon. Not only will your pig have fun running around and napping in this toy, but it will also provide great photo opportunities and something to make you smile every time you walk past the hutch.
If you're really loving the circus theme and want to go to town, Haypigs makes a whole host of circus accessories, from a food bowl resembling a lion tamer's podium to a circus wagon hay stand, so you can transform your guinea pig's home into the Big Top.
The tunnel is made of cardboard with a sturdy plastic triangular base, making it safe for even the chunkiest of pigs. The cardboard will be difficult to clean and you can expect it to get nibbled over time, so owners should keep an eye out for damage to the plastic, but this toy is one of the most playful out there for you and your pet.
Rosewood Boredom Breaker Trio of Fun Balls
Best guinea pig toy for chewing and playing
Specifications
Dimensions:
3.5cm x 3.5cm x 3.5cm
Material:
Natural seagrass, water hyacinth and rattan
Reasons to buy
+
Good for engagement
+
All natural ingredients
+
Great for rodent teeth
Reasons to avoid
-
They may become damp and smelly
This twin pack of play and chew balls will provide your guinea pig friends with hours of entertainment. These are described as boredom breakers, and they do just what they say on the tin – they can brighten your guinea pig's day by letting them do what they would do in the wild - gnawing, hiding, nudging and generally destroying things!
The balls are made from pet safe materials - natural seagrass, water hyacinth and rattan – so you can be confident your furry pals aren't going to be nibbling on anything that may harm them. They also contain no glue, plastic or metal, just 100% organic ingredients.
Although simple in design, they provide some fun ways for your guinea pig to engage with them: They can be pushed and thrown around – some reviewers say their guinea pigs even play football with them! You can put treats inside them and watch them try to figure out how to get to them out, or they can just chew and nibble on them to their heart's content. And if they are choosing to chew on these, they won't be chewing on their hutch or any other more expensive guinea pig accessories you may have invested in.
They are great for their teeth too. Rodent's gnashers never stop growing, so they need to keep nibbling and gnawing often to wear their teeth down and keep them in pristine condition, and these are great for that purpose.
If your guinea pig lives with other rodents, these are suitable for rabbits and hamsters too.
Rosewood Naturals Small Animal Treats Celebration Cake
Best for special occasions
Specifications
Dimensions:
13.5 x 13.5 x 10.5cm
Ingredients:
Edible, cellulose fibre walls with a carrot and coconut lid, topped with flower petals
Reasons to buy
+
Looks like a real cake
+
Contains natural ingredients
+
Good photo opportunity
Reasons to avoid
-
Needs a little supervision
If you are perusing our guide to find the perfect present for your pet, you are in luck, because we've not only sorted the gifts but the catering too. A birthday isn't really a birthday without a cake, so why should your guinea pigs miss out?
The Rosewood Naturals Small Animal Treats Celebration Cake looks just like a real birthday cake. The only difference is that it's made from ingredients that are yummy for guinea pigs. The main ingredient is carrot, but it also boasts accents of coconut for the "frosting" and parsley balls for the cake topper, which we've heard is the chocolate fudge cake of the guinea pig world. It's also a nice hard texture, contributing to wearing down their little gnashers.
The cake "frosting" layer itself lifts up, allowing you to pop your pet's favorite treat inside the cake. A lot of people opt for hay, which is great as it encourages playful foraging, and if you have a fussy guinea pig it will be a great way of encouraging it to take a look. Hiding treats inside will also extend the life of the cake, which let's face it, won't last long. But in theory, at least you can refresh the contents daily with fresh fruit and vegetables.
The cake is large enough to feed a couple of guinea pigs for a week, and you can expect it to be swarmed if you have a herd of the fluffy creatures. Pictures online show them circling the treat like fluffy sharks.
Yes, the cake is on the pricey side for a one-off treat and other nibble sticks undoubtedly offer better value. But if you're looking for an extra special treat, this is a good option and will ensure you can also take a birthday photo of your pet to record their piggy milestone. Let them eat cake!
Best guinea pig toy for exploring
Specifications
Dimensions:
3.81 x 17.78 x 20.32 cm
Suitable for:
Small animals
Reasons to buy
+
Perfect for exploration and play
+
Collapsible to easily fold up and store
+
Can be attached to an extension tunnel for extended fun
Reasons to avoid
-
Some pets may chew on the ties!
If your curious guinea pig enjoys burrowing and exploring, then they will love this tunnel! Designed to encourage play and exercise, small pets can run through, hide or even rest in this exciting toy.
The tunnel comes in two sizes, medium and large, to accommodate your furry friends and allow room to freely roam. It can be placed in a cage or pet playpen, and is collapsible to easily store away. Best of all, it's durable, easy to clean and won't leak through – which is always a plus!
The only issue one owner mentioned was their guinea pig enjoyed chewing on the sewn-on ties at the end of the tunnel, so you might want to look out for this. But overall, owners stated how much their happy guinea pigs enjoyed playing in it.
If you want to maximise on the fun, the tunnel can be attached to a tent or additional tunnel sold separately. This is bound to keep your guinea pigs occupied for hours!
Best guinea pig treat toy
Specifications
Dimensions:
2.8-inch/7 cm diameter
Suitable for:
Small animals
Reasons to buy
+
Great mental and physical workout
+
Adjustable treat opening
+
Small size great for guinea pigs
This fun and interactive treat toy is designed to be pushed and rolled by your guinea pig as they work to release the treats inside, providing a great mental and physical workout.
Measuring 2.8 inches with a 7cm diameter and sporting a bright and colorful yellow design, this small toy has an adjustable opening and is perfect for hiding kibble, diced carrots, peas, and dried fruit.
A great boredom buster that taps into your guinea pigs natural foraging skills, this is the perfect toy to keep your furry friend occupied during the day or night.
How to choose the best guinea pig accessories
When choosing an accessory for your pet and its home, there are plenty of factors to consider: budget, sustainability and visual appeal as well as health benefits.
Accessories that encourage your pet to exercise and gnaw are great for their health. Wooden and straw chews help keep guinea pigs' teeth growth in check, while tubes can help them run off those treats. Similarly, little hideaways can help stressed and timid pets relax a little by providing them with safe and comforting spaces, which can be especially handy if you have a new pet that's settling in.
If you're in the market for a new hideaway or accessory, you may as well choose one that's good looking. There are so many options available from rustic to novelty, so there's something to suit everyone's taste – you just need to pick a theme.
Luckily, many toys are designed to be 100% natural as they are almost guaranteed to be nibbled, but it's worth double-checking how sustainable and eco-conscious they are. Most toys get damp or partially eaten in a matter of weeks (or even days) so it's nice if they are compostable.
Your budget obviously plays a role in any purchase, particularly as many of these accessories are not designed for the long-term. To get the best value for money, look for accessories that are multi-purpose and are not single-use.
However, sometimes it's worth splashing out, on a birthday cake for example. While the accessory won't last forever, a photo of your precious piggy in an edible hat or funny tube will last a lifetime!
If you'd like more information on these little critters before you become a pet owner, check out our article on How long do guinea pigs live? Your top six guinea pig questions answered.
Get the best advice, tips and top tech for your beloved Pets
Sarah is a freelance journalist specialising in science and nature. Having spent years in national newspaper newsrooms, she escaped to Cornwall and hopes to explore the beaches with a rescue dog soon.