Seven great DIY dog beds: Create your own doggie snooze zone
Take a look at these great DIY dog beds to get some creative inspiration for your own project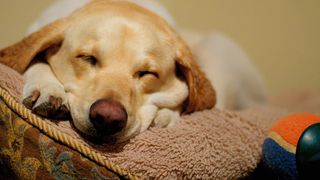 (Image credit: Getty Images)
In case you are unaware, DIY dog beds are a popular concept across the blogosphere. And indeed, there's a lot to be said for them.
While there are many excellent-quality specialist dog beds out there, the fact is that a lot of people simply don't have the money to spend on something entirely new, especially at a time when many are feeling the financial pinch more than ever.
With this in mind, an increasingly large number of people are deciding to make their own beds – and as you will see when you read through this article, the results are truly impressive. If you're not sure what size your dog needs, you can check out our guide on how to choose the right size dog bed. If you don't have the time to make your own, then take a browse through our selection of the best large dog beds.
Some are contraptions made from leftovers saved from the junkyard, while others are more artisan in feel, with the creators letting their inner designer go wild. Some are themed, while others are a bit more random in design aesthetic. One thing they do share in common: their doggie residents look pretty darn snug.
With so many impressive DIY dog beds out there, it would feel remiss of us not to showcase some of the best ones we've seen here. Whether you're looking for creative inspiration or simply want to indulge in some aspirational Pinterest action, we're sure you will like what you see.
To keep things varied, we've gone for a mix in our list. Some of them are easy enough to make with things you can find lying around the house, while other examples might require that bit more effort to come to fruition. Once you've finished reading, why not attempt to create something of your own? Even if it's not perfect, we're sure your dog will appreciate it…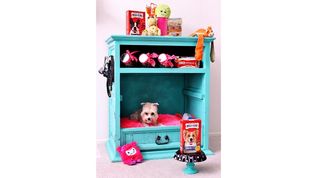 This fits the best of both worlds: some people like pet furniture to blend in with the human furniture, and some dogs like sleeping inside something that is a bit more enclosed, allowing them to feel safe and secure, hence why kennels are so popular. Here, an ingenious ready-made solution has been devised for dogs and humans with these particular preferences - simply remove some drawers from a cabinet, add some bedding, and you have a fully customizable doggie cave! It really is that straightforward.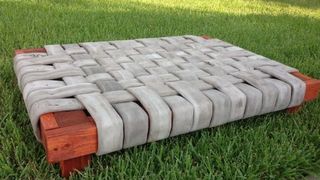 Those of you with big dogs will be aware of some of the pitfalls of owning one. As lovable as the big old lunks are, they do have a certain habit of, erm, destroying things. Especially flimsy-looking beds. Ideally, you need something durable for them, and what better than something designed to hold together in close proximity to burning buildings? Sure, this one's a bit more of a challenge to create, and you could do with a handyman's workshop, but this is one bed that is guaranteed to stand the test of time. Surprisingly comfortable too.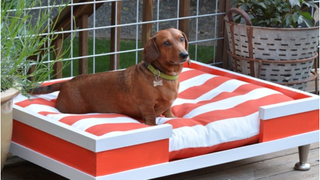 If you're the sort of person who wants your pup snoozing in style, then this is one project we would advise you to attempt to tackle. Made from plywood and possible to put together in an afternoon – should your DIY skills be of a reasonable standard – this is one surprisingly easy to put together dog bed. This one has an orange and white color scheme, although really you could go in any direction you choose, depending on your preferences. In any case, with this in the garden - or indeed, in the house - your pup will definitely look the part.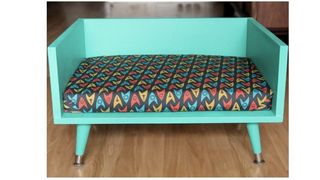 There are times when things going wrong can lead to things going very right. When the wood used for this piece wouldn't take to staining, the inventors of this creation instead decided to use their favorite Pantone paint – the rather snazzy retro-style results of which you can see right before you. Topped off with a rather appropriate Star Trek pattern decor for the bedding, and you have one bed that there'll be no shortage of dogs willing to boldly go in. When it comes to DIY dog beds, this truly is the final frontier.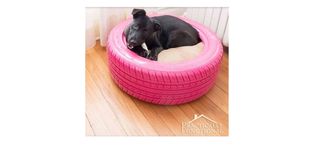 Our favorite ideas are the deceptively simple ones that turn out to be ingenious. Perfect for dogs that like sleeping in enclosed spaces, and for humans who just happen to have an old tyre lying around the place and don't want to buy an actual dog bed, you can create an ideal sleeping locale here with minimal effort. Here, they've gone for pink paint, although you don't have to be wedded to that one. You can probably easily have it finished in an afternoon, and then you'll have something that even the most hardy dogs will be hard-pressed to wear out.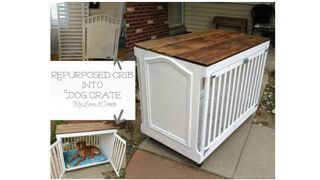 Crate training has become an increasingly common training method for dogs, but as you might expect, the crates aren't always the cheapest things to get hold of. The good news is that they can be very easily repurposed, as this ingenious example shows here. With this run-of-the-mill crib, it's easy enough to transform it – all that's required is a bit of disassembly and subsequent assembly, and a bare minimum of DIY skills. Obviously, you have to bear in mind the size of your dog – if your pooch is of the larger variety then you might be advised to shop around a bit – but as long as you have the relevant knowhow, you could create a safe, comfy, and secure environment for your dog, and all at a greatly reduced price. It just goes to show: you don't have to spend a fortune on a good dog bed.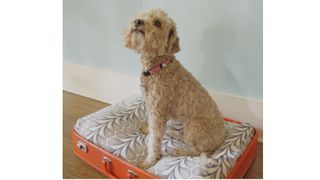 Simplicity is very often a vital component of a winning formula, and so it proves to be the case here with this colorful-looking suitcase bed. Putting it together isn't exactly a challenge: all you need to do is unscrew the top of the suitcase, and place a sufficiently sized cushion inside it. If the cushion/pillow you have is too small, then simply stuff it with something in order to fill it out (it's probably a good idea to tuck the corners in too). The results speak for themselves, providing a cheap and cheerful means to provide your dog with a decent-sized bed. Like most of the other beds in this list, saving money requires you to have the requisite parts lying around the house, but if you have those then you're onto a winner here. Another option: leave the lid attached, and it could function as a travel bed - an enormous one, admittedly, but still.
Get the best advice, tips and top tech for your beloved Pets
Steve writes and proofreads buying guides, news stories and advice for Pets Radar, drawing on his lifelong experience as a pet owner. Currently sharing his house with two cats and a dog, he draws on the many highs and occasional lows of pet ownership he has borne witness to in his writing. He has worked in publishing for 15 years as an editor, sub editor and writer on a range of titles, such as SciFiNow, How It Works, All About History, Real Crime and Horrorville. You can follow him on Twitter @stevewright22