Thanksgiving dinner for dogs! Five delicious canine-friendly recipes
Throw the ultimate Thanksgiving dinner for dogs that will have other pet parents and their pooches turning green with envy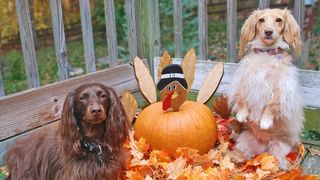 (Image credit: Getty Images)
We've pulled together our guide to hosting the perfect Thanksgiving dinner for dogs containing our favorite recipes as the big feast is just around the corner! They may eat the best dry dog food all year round, but we're sure your canine companion will appreciate the chance to join in the fun with these dog-centric holiday goodies.
While you may still have Halloween on your mind (check out our picks for the best Halloween dog costumes), the next festive holiday will be here before you know it. If you want to get a jump start on menu planning, then you can breathe a sigh of relief because you're in the right place. But first, a few safety tips!
Dogs love to counter-surf, which is why accidental poisonings are so common over Thanksgiving. When preparing the human elements of your festive feed, keep your dog locked out of the kitchen or safely in their crate to avoid them chowing down on anything they shouldn't.
Although it can be tempting to feed your dog all those turkey bones, they have the potential to harm your dog's digestive tract so they're best scraped into the bin. Stuffing is another delectable dish that's irresistible to dogs but needs to be avoided, especially if it's made with onions and garlic, which are toxic to your canine companion. Read our guide to what human foods can dogs eat for more info.
The good news is, there's plenty of yummy Thanksgiving foods that are on the menu that will leave your pooch feeling like they're one of the gang. Sweet potatoes, green beans, and pumpkin are all chock-full of important vitamins and minerals to help keep your dog in tip-top shape. Turkey meat (without the fatty skin) is also a great treat. There are even some delicious fur baby-friendly desserts to satisfy those with a sweet tooth. If these don't appeal be sure to take a look at how to make your own homemade dog treats for more ideas and options.
So, without further ado, let's get you sorted with a Thanksgiving dinner for dogs that'll have your four-pawed neighbors queuing up around the block.
If you're looking for more advice, tips, and recipes, be sure to check out the following: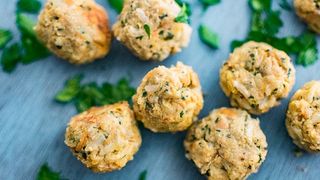 Prep time: 15 minutes
Baking time: 20 minutes
Makes 15-20 meatballs
Ingredients
½ lb ground turkey
½ cup pumpkin puree
1 egg
½ cup spinach, loosely packed
2 tbsp parsley
½ cup carrot, finely grated
1 cup brown rice, cooked
Instructions
Preheat the oven to 400F and prepare a baking sheet
Start cooking the brown rice
In a food processor, blend the pumpkin, egg, spinach, and parsley
Add this mixture to the ground turkey in a large bowl and mix
Next, mix in the grated carrot and rice
Take a spoonful of mixture and roll in your hands into a ball. Place onto the sheet and cook for 15-20 minutes
Tip
Don't worry if you don't have a food processor. You can still make these meatballs, just chop and mix by hand.
To check if the meatballs are ready, simply poke them with a fork. If they crumble easily, continue cooking for 3-5 minutes.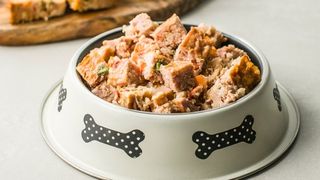 Prep time: 10 minutes
Baking time: 45 minutes
Makes 4 servings
Ingredients
1 lb lean, ground turkey
1 large egg
⅓ cup old fashioned oats
⅓ cup diced tomatoes (with liquid and no sodium)
½ cup carrots, finely diced
½ cup green beans, diced (fresh or frozen and thawed)
½ cup brown rice or quinoa, cooked
Instructions
Preheat the oven to 375 degrees Fahrenheit
Cook the brown rice or quinoa
In a large bowl, thoroughly combine all the ingredients. Spread mixture into a 5 x 7-inch loaf pan and bake for 45 minutes
Slice and chop into bite-sized pieces. Store covered in the refrigerator, or freeze
Tip
This is a great make-ahead recipe. Once cooked, cool the loaf, slice into individual servings and store in a freezer safe bag or container. Remove the slices as you need them and defrost them in the fridge overnight.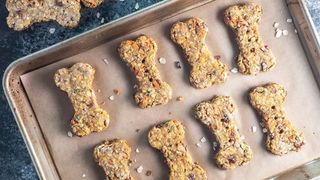 Prep time: 35 minutes
Baking time: 25 minutes
Makes 25 biscuits
Ingredients
1 lb ground turkey
2 tbsp canola oil
2 medium-sized carrots
2 medium-sized sweet potatoes
1 cup rice flour, plus extra for rolling
1 cup quick cook oats
½ tsp garlic powder
1 tsp cinnamon
½ tsp ground ginger
3 tbsp honey
2 eggs, well beaten
⅓ cup dried cranberries, chopped
1 tbsp parsley, chopped
Instructions
Preheat oven to 350°
In a large skillet brown turkey with 2 tbsp of canola oil until cooked through. Drain turkey to remove excess oil and set aside to cool
Trim ends off of carrots, cut into thirds and place in a bowl, cover with water and microwave for 4 minutes on high; remove from water and set aside. When cooled, cut carrots into a fine dice; a little less than a 1/4"+
Prick both sweet potatoes with a fork, about 5-6 times each. Microwave on high for about 4 minutes or until soft all the way through. When cooled, remove skins and mash until there are no lumps
Add the dry ingredients into a small bowl: rice flour, oats, garlic powder, cinnamon and ginger, mix well
Next, into a medium mixing bowl add the sweet potato, honey and egg - mix well to incorporate everything evenly, then add in the turkey, carrots, cranberries, and parsley and stir to combine
Lastly, add in the dry ingredients to the wet; using your hands mix everything well and form mixture into a ball and place on a rice flour dusted surface
Roll out with a rolling pin to about a 1/4" thickness (not any thinner)
Using your favorite cookie cutter, cut out biscuits and place on a cookie sheet lined with parchment paper
Cook for about 25 minutes or until the edges start to become a light golden brown
Allow to cool completely
Tip
Store these biscuits in an airtight container in the fridge for up to a week or freeze them and defrost as needed.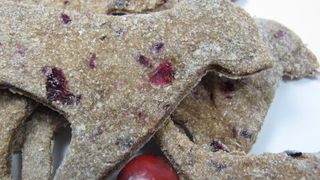 Prep time: 10 minutes
Baking time: 10-15 minutes
Makes 2-3 dozen treats
Ingredients
1 cup fresh cranberries
1 cup apple sauce
2 cups whole-wheat flour
1 tsp ground cinnamon
¼ cup milk, almond milk, or water
Instructions
Preheat the oven to 350 degrees Fahrenheit and line a baking sheet with parchment paper or a silicone baking mat
Puree cranberries and mix with the apple sauce. Once combined add milk, cinnamon and whole wheat flour until dough is well mixed
Knead dough into a ball and roll onto a heavily floured surface 1/4 inch thick and cut with a cookie cutter of your choice
Place on a prepared baking sheet and bake for 10 to 15 minutes or until browned at the edges
Cool and refrigerate
Tip
If you don't have fresh cranberries, you can substitute with dried cranberries. Skip the puree step and mix the dried cranberries with the apple sauce.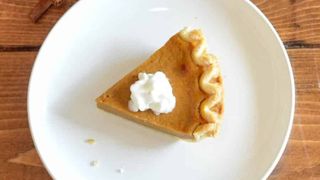 Prep time: 30 minutes
Baking time: 50-55 minutes
Makes 6 servings
Ingredients
1 medium sugar pumpkin
1 tbsp vegetable oil
1 9-inch single crust pastry shell
½ tsp ground ginger
½ tsp ground cinnamon
4 eggs, lightly beaten
1 cup honey, warmed slightly
½ cup milk
½ cup heavy whipping cream
Instructions
Cut pumpkins in half, and remove seeds. Lightly oil the cut surface. Place the cut side down on a jelly roll pan lined with foil and lightly oiled. Bake at 325 degrees Farenheit until the flesh is tender when poked with a fork. Cool until just warm. Scrape the pumpkin flesh from the peel. Either mash, or puree in small batches in a blender
In a large bowl, blend together 2 cups of the pumpkin puree with the spices. Beat in eggs, honey, milk, and cream. Pour the filling into the pie shell
Bake at 400 degrees Fahrenheit for 50 to 55 minutes, or until a knife inserted 1 inch from the edge of the pie comes out clean. Cool on a wire rack
Get the best advice, tips and top tech for your beloved Pets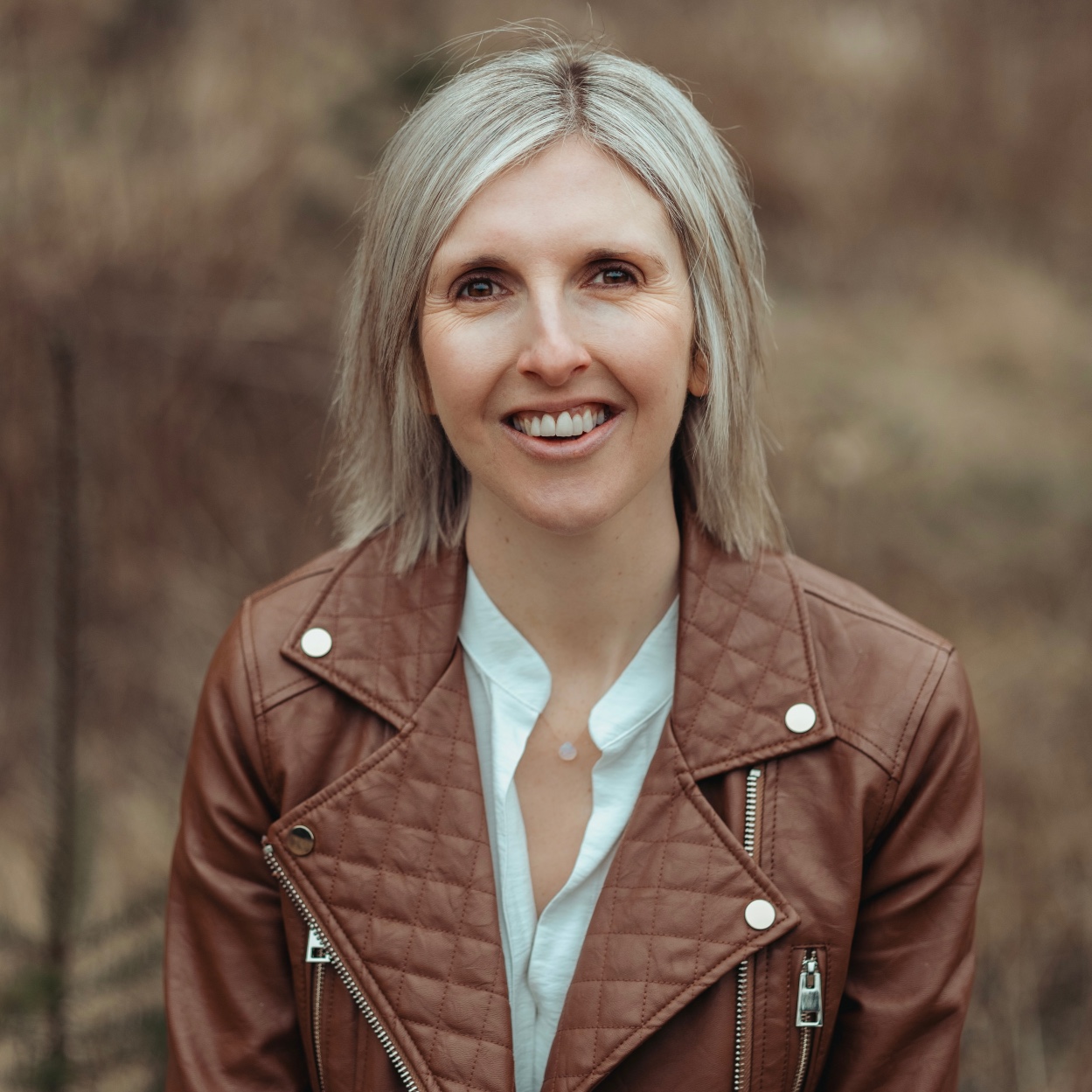 Kathryn is a freelance writer who has been a member of the PetsRadar family since it launched in 2020. Highly experienced in her field, she's driven by a desire to provide pet parents with accurate, timely, and informative content that enables them to provide their fur friends with everything they need to thrive. Kathryn works closely with vets and trainers to ensure all articles offer the most up-to-date information across a range of pet-related fields, from insights into health and behavior issues to tips on products and training. When she's not busy crafting the perfect sentence for her features, buying guides and news pieces, she can be found hanging out with her family (which includes one super sassy cat), drinking copious amounts of Jasmine tea and reading all the books.